Trend We're Crazy Over: Neon
Give your summer wardrobe just the right amount of seasonal pop with these striking pieces.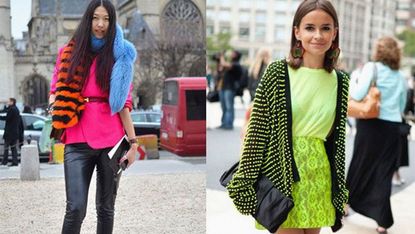 (Image credit: Future)
It might be time to retire those monochromatic shades, and turn to something a bit more bright. Pops of neon are in full effect this summer, from blazing satchels to glowing nails, and we are totally gaga for the trend!
Our favorite way to wear neon is to stick with one standout item, like Proenza Schouler's PS11 Clutch or Christopher Kane's Neon Biker Jacket. It's easy to go overboard, but adding the right amount of pizzazz to an outfit gets us giddy.
1. Zara High Heel Sandal, $90 2. Comme Des Garçons Neon Orange Zip Wallet, $230 3. American Apparel Neon Nail Polish, $6 4. Christopher Kane Neon Wool-Blend Crepe Biker Jacket, $768 5. Proenza Schouler PS11 Citron Bag, $1,950 6. Nasty Gal Silk Circle Skirt, $200
Best friends and blogging partners Roberta Oglakchya and Rachel Hurn-Maloney founded The Ray and the Ro to show off stylish looks, share their wishlists, and break down runway fashion.