There's an Entire Exhibit in Paris Dedicated to YSL's Most Gorgeous Designs and It's a Must-See
*Books ticket to France*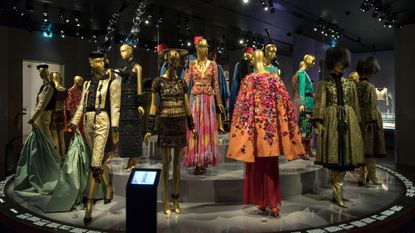 (Image credit: Musée Yves Saint Laurent Paris)
Ready to book a flight to Paris? (Answer: Always.) But if you need another reason, here's one: The newly opened YSL exhibit, The Musée Yves Saint Laurent Paris, celebrates who Yves Saint Laurent was as a person and the magnificence of his groundbreaking work.
The exhibit held in the Hôtel Particulier—where the designer spent almost 30 years working—takes museum-goers deep into the YSL archives and the world of Yves Saint Laurent. Iconic personal shots of Laurent shot by Irving Penn and Andy Warhol are displayed throughout the exhibit. An entire section is devoted to his personal sketches, giving visitors an inside look to his design approach and aesthetic.

The edit of clothing, though limited, features the best of his designs—the Mondrian dress, "le smoking suit," and pieces from his last collection. Some of his most memorable editorials, including the famous German model Veruschka in French Vogue, are displayed throughout.

Unlike other exhibits, this one gives a very intimate look into how the icon worked. The office space he worked in has remained untouched and the desk, which he used from 1962 onward, is decorated with personal pieces such as French bulldog figurines (reminiscent of his dog, Moujik), his signature glasses, and a walking stick gifted to him by his mentor, Christian Dior.
The exhibit, which is located at 5 avenue Marceau, is open to the public Tuesdays to Sundays, 11:00 am to 6:00 pm and until 9:00 pm on Fridays. It first opened to the public on October 3rd, 2017 and will remain open until September 9th, 2018. Tickets for adults can be purchased online for 10 EU and tickets for tours can be purchased for 23.00 EU/person. Visit MuseeYSLParis.com for more information, and take a peek at the exhibit below.
Katie Attardo is the Accessories Editor at Marie Claire, covering all things fashion and jewelry-related.