5 Incredibly Low-Effort Ways to Dress Better in 2018
Not quite "wear pants!" but almost.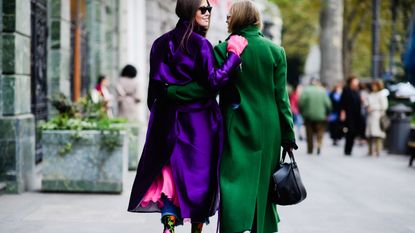 (Image credit: Tyler Joe)
As we look back on the past 11 months, we ask ourselves "how much progress have I made since January 1?" Then we laugh, because the answer is likely "I feel so attacked right now." (Unless you have done something, in which case, nice.) But it's not too late to make up for lost time as the sand starts trickling down the hourglass two grains at a time—at least not in the style department. Here, five small ways to dress better in 2018, because you can still look good when everything feels bad.
Like Green Tea or Drinking More Water, a Good Coat Will Solve All Your Problems
Quick, before the doctors who don't want you to know get me: A well-made, well-fitting coat will make 80 percent of your fashion problems disappear, mostly because it's like a tarp you can keep on even indoors, rendering invisible most missteps in fit or taste. Exploded soy sauce all over your cream angora sweater (it was a tribute to Nicholas Hoult in A Single Man)? Put a coat on it. Said f*ck it and had a calzone for lunch, and now your pants need to be unbuttoned? Who cares—that's a Céline shearling hiding my bloat, pal.
19 Warm Winter Coats to Help You Stand Out in a Crowd of Black Puffers
No More Cross-Body Bags (opens in new tab) with the Super Long Straps Except in Situations Where You Need Both Hands, Such as Travel or Moshing
I am still seeing this, which is fine. But it'd be a lot cooler if we didn't and got bags that are top-handle and/or didn't slap the lower hip.
In Fact, I Am Going to Go as Far as Saying That Simply Switching to a Top-Handle Bag Would Do Wonders for Your Chicness Levels
Because you get that retro sensibility and strength of shape you see very much in these newfangled squishy buckets. A sparkly drawstring pouch is fun for evening, but for real life, when the clothes themselves are slouchier, some structure elsewhere is nice.
1. Vanina, $620 BUY IT (opens in new tab)
2. Sun Jellies, $18 BUY IT (opens in new tab)
3. Elizabeth & James, $345 BUY IT (opens in new tab)
4. J.Crew, $138 BUY IT (opens in new tab)
5. Mango, $60 BUY IT (opens in new tab)
Don't Be Afraid to Wear as Many Accessories as Possible at Once, Like You're Iris Apfel or Something
Once upon a time, I didn't even like wearing big earrings with sunglasses, because, with my commuting headphones on, too much visual interest was concentrated around my head. (I know.) I, and fashion, have gotten over that, so if you too have had a similar aversion, feel free to crowd a lot of sparkly things near your face. Then add oversize aviator glasses and blue eyeshadow.
Do More/the Most
In the recent past, a lot of us were locked in a stupid battle with one another to see who could wash their hair the least and wear the plainest, most boring clothes with only the width of our sleeve rolls for distinction. Now, trying is in again, or rather, not being afraid to look as if you've thought about your outfit. Match stuff. Really consider your accessories (a good zone-out activity). Lay outfits out on your bed, even if you've done that the whole time (in secret) with solid sweaters and selvedge jeans. Caring is cool.
Chelsea Peng is a writer and editor who was formerly the assistant editor at MarieClaire.com. She's also worked for The Strategist and Refinery29, and is a graduate of Northwestern University. On her tombstone, she would like a GIF of herself that's better than the one that already exists on the Internet and a free fro-yo machine. Besides frozen dairy products, she's into pirates, carbs, Balzac, and snacking so hard she has to go lie down.