What Happens When a Normal Person Hires a Stylist
Hint: a lot.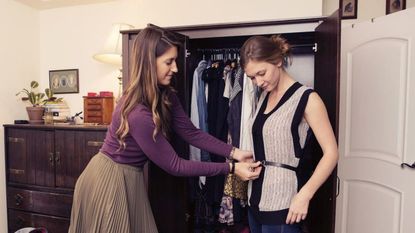 (Image credit: Taylor Jewell)
Marie Claire Newsletter
Celebrity news, beauty, fashion advice, and fascinating features, delivered straight to your inbox!
Thank you for signing up to Marie Claire. You will receive a verification email shortly.
There was a problem. Please refresh the page and try again.
There comes a time in a woman's life when she craves a style of her own. After spending hours upon hours of my precious youth staring blankly into my closet, trying to create interesting outfit combinations from my same old stuff, I became one of them.
My typical process for getting ready is probably familiar to most: I wear about 20% of my clothes, in go-to outfits that I recycle regularly. Every two or three months—sick of the outfits that have shown up in every recent photo taken of me—I rush off to a store to find something that will finally, maybe "pull my wardrobe together." Instead, more black T-shirts (black is classy, right?) and skinny jeans (can't go wrong with skinny jeans!) find their way into my small New York City closet, along with at least one special, novelty item like a frilly skirt or trendy blouse that I saw in a celebrity photo. Unfortunately, some pieces only make sense on Kendall Jenner.
Two months later the cycle begins again. I am woman enough to admit that while there are a lot of things I'm good at in life, fashion is not one of them. It just doesn't come naturally. And as a freelancer who works from home, I don't even have an office or coworkers to dictate an acceptable dress code. So jeans it is. On the nights I have dinner plans or a party, I might resemble Lisbeth Salander one day, Betty Draper the next. But I don't want costumes. I want style.
If you have plumbing problems, you hire a plumber, right? So I decided to hire a stylist.
There are approximately one million personal stylists in New York City, or at least that's what it felt like while trying to pick one out. Some stylists have listings on Yelp, while others work exclusively with celebrities or people with oodles of money. I developed a checklist for my ideal candidate: a portfolio of normal-looking people she's styled; no glaring spelling errors or poorly designed website, since I was paying someone for their taste; and a rate I could afford. I wanted to keep the styling fees near $600—a solid chunk of change, yes, but not an outrageous splurge when you consider the painful cost of my bought-and-unworn clothing purchases every single year.
Valerie Halfon of Shop With Val checked all my boxes. We had a brief phone consultation, where she gave me a polished pitch on her services. She seemed friendly, but clearly in charge. Though her rates were very affordable, there was no doubt that Shop With Val was a business, not a fashionista's hobby. So I booked a package that consisted of a three-hour wardrobe consultation, then three hours of shopping (with her setting up the clothing in a dressing room ahead of time).
Val came over on a cold Monday in October. She was fully adorned in jewelry—layered necklaces, rings, bracelets—and had long, perfectly curled hair. This was someone who clearly cared about what she wore, right down to the sparkly nail art. Meanwhile, I was wearing a black T-shirt dusted in white sweater lint. We were off to a great start.
The two of us sat down at my kitchen table and discussed my measurements, style goals, and favorite brands. ("Uh…I guess I saw a shirt at this store once that I really liked," I said, eloquently.) All I knew, besides my shirt and pants sizes, was that I wanted clothes that were sophisticated enough to wear to a nice dinner in Manhattan, yet comfortable enough that I would realistically sit in them all day at work in the privacy of my own home. (Where they would no doubt be combined with a cozy pair of slippers.)
Next, we trudged downstairs to my bedroom closet. My thin, felt hangers got a nod of approval since they were not only space saving but gentle on clothing too (yay!). The piles of wrinkled shirts stuffed onto my shelves received a brief-yet-professional grimace (oops). With the exception of socks and underwear, Val and I looked at every item of clothing I owned, one at a time.
There was plenty to cringe over. I had a floral, almost Hawaiian, silk shirt that I'd saved since eighth grade just because I was so proud to still fit into it. Val said she could immediately tell how old it was because the clothing company didn't use this sizing system anymore, and hadn't "in a very long time." I had a ruffled skirt with something resembling a petticoat frilling out from underneath it—an attempt at professional wear during my college internships. There was an old prom dress I was holding onto just in case I ever needed a fairy-princess costume in a pinch. Val allowed me to keep it, but only for costumes, please.
First came those rejects, then clothes that could be salvaged with some accessorizing or other styling TLC. For my many loose, comfortable shirts, Val suggested a belt around the waist to accentuate my curves. Other clothing went to the dry-cleaners. "It really brightens them up," Val said, and once they were wrinkle-free, they'd actually be desirable picks again.
Finally, there was the clothing that needed to be tailored. At 5'10, many of my nice skirts and dresses hit me unflatteringly at mid-calf. I'd accepted that most things were either too long or too short for me, and I'd just have to deal. Apparently you can pay people to customize your clothes. Magic! A beloved gold dress that belonged to my mother in the early '90s was a favorite, but I didn't love the very dated mermaid hem, which once again cut me off at the calf. We decided to give it a modern makeover by cutting it off at the knee.
The jumble of clothing on my bed was intimidating, but a a pattern emerged. I really like the colors blue and black. I prefer solids to patterns. I enjoy well-made, minimalist piece with small details like lace or studs to make them interesting.
With these clues in mind, Val and I headed out for part two: shopping at a stately department store, Lord and Taylor. Most of the pieces she picked out for me were items just to round out the wardrobe I already had, and ever-so-slightly step it up—so tan booties instead of my usual sneakers, skinny black pants that were essentially dressy leggings, the all-important blazer to make an outfit dinner-appropriate. It was a shopping spree straight out of a movie montage.
Like those rom-com heroines, I left the revolving doors feeling strangely at peace. I had hired Val expecting a process that was half psychic reading, half extreme makeover. But a personal stylist—or a good one, at least—doesn't dress you up in trendy costumes or make you over into someone you're not. She gives you the tools you need (like conviction) to stop searching for the better, chicer version of yourself. I could take who I was, tie a belt around it, and step outside.
Follow Marie Claire on Instagram for the latest celeb news, pretty pics, funny stuff, and an insider POV.
Celebrity news, beauty, fashion advice, and fascinating features, delivered straight to your inbox!