Here's What Happened When I Hung Out with Pro Surfers at the Biggest Surf Competition of the Year
Up close and personal with the Billabong women's surf team.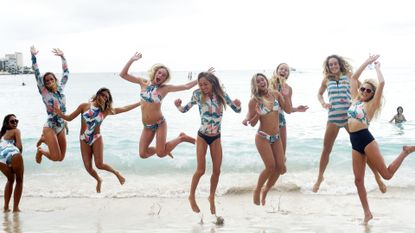 (Image credit: Morgan Maassen)
I have to admit, when I got invited to witness the Billabong Pipe Masters—known as the "Super Bowl of Surfing"—I immediately thought of Blue Crush. (How could you not?) And when I got there, my dreams were realized. This was everything I hoped for. I only had one question: Kate Bosworth, where you at?
The competition takes place on Oahu's North Shore every year, and this year's Billabong Pipe Masters, in memory of Andy Irons, was one of the closest competitions in history—so, you know, pretty exciting. The event itself is held at Pipeline, a surf reef break that creates some of the most dangerous and awe-inspiring waves in the world. Awesomely enough, I got exclusive access to this insanely intense event. Here's what went down and why you should totally be paying attention next year.
Things You Never Knew About Surf Competitions? They Can Last a Long, Long Time
The surfing world is without a doubt one of the coolest, closest-knit communities, and I was lucky enough to catch a glimpse of what it is like by hanging with the most popular babes around–the Billabong Women's Team (Laura Enever, Isabelle Nichols, Justine Dupont, Courtney Conlogue, Alessa Quizon, Frankie Harrer, Macy Callaghan and Moana Jones). This year, it was extra special, as Billabong just launched their capsule swimwear collection at the event.
Pipe Masters completely relies on Mother Nature for its scheduling (for the other newbies to surfing—there is a term called "swell" which is basically when the wind is strong enough to power the waves), so the competition can last weeks. Yes, weeks. So what do you do to bide your time until you can watch some seriously sick surfing? You dive with sharks. Obviously.
Joined by surfer babe Courtney Conlogue—and sporting the newest Billabong Surf Capsule pieces—the ladies and I dove into the water and cruised around with 10-plus-foot-long Bermuda sharks sans cages thanks to Island View Hawaii. (Ahhhh.) Courtney, being the fearless woman she is, swam right alongside them and even grabbed one of the sharks fins for a quick second. I, um, did not. While amazing, all I can say is: Never again.
Learning How to Surf with the Billabong Women…Intimidating? Absolutely
Doesn't surfing look so graceful and easy? Well it's not.
The Billabong Women's surf team and influencers including Kaitlynn Carter and Malia Murphey headed off to a day of surfing at Waikiki beach and I was going along for the ride (quite literally). Decked out in the new Spring16 styles from the Billabong Surf Capsule Collection, we hit the waves—me with my intermediate (but by no means pro-level) swimming ability. Courtney Conologue taught and rode tandem with Kaitlynn (and not going to lie, Kaitlynn has skills!). I made it through...so there's that.
After, I was exhausted and thankfully it was time for dinner before a 10-hour flight (ugh). I joined Billabong executive team members and partners from around the globe at Billabong women's private estate in Velzyland for an intimate farm to table dinner produced by Gourmet Events Hawaii, catered by Chef Chai, and organized by the Oahu Visitors Bureau. We enjoyed some appetizers and cocktails before sitting down at the bohemian-inspired outdoor table setting and feasting on a three-course dinner and dessert. All of that made immediately getting on the 10-hour flight a bit better, but I can't wait to say aloha to Hawaii—and surf some waves—again soon.
Follow Marie Claire on Instagram for the latest celeb news, pretty pics, funny stuff, and an insider POV.