Tory Burch on the Surprising Career Decision That Got Her Where She Is Today
The designer answers our rapid-fire quiz about everything from work to love to TV binges.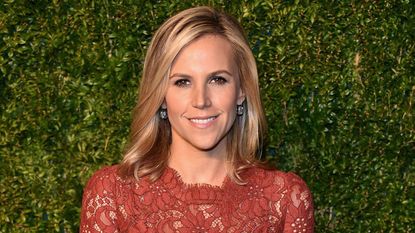 (Image credit: Getty Images)
1. If I weren't a designer, I'd be: A psychiatrist—I love problem-solving.
2. Best career advice I've gotten: Think of negativity as noise.
3. The three qualities that got me where I am today: Passion, hard work, and tenacity.
4. Moment I felt I made it: I don't think in those terms. I never want to rest on our laurels—there is so much more I want to do.
5. Most agonizing career decision I've ever made: Leaving LVMH to become a stay-at-home mom for four years. It ended up being the best decision I ever made.
6. Easiest career decision I've ever made: Accepting my first job out of college for a Yugoslavian designer named Zoran—I was thrilled to have a job in fashion and excited about moving from Philadelphia to New York.
7. Work I'd do for free: Flower arranging.
8. Favorite perk of the job: Inspiration trips with my team.
9. Worst pitfall of the job: There are never enough hours in the day.
10. My career in five years: Hopefully a better CEO and designer—always curious and constantly learning.
11. How I made my first dollar: I worked at the Benetton store in the King of Prussia [Pennsylvania] mall. I got a lot out of the experience—first and foremost, the keen ability to fold sweaters.
12. The person I admire most is: My mother, Reva Robinson. She is my best friend, my greatest mentor, and an eternal optimist. She lives her life by the motto the glass is half full.
13. Last thing I binge-watched: Homeland—scary how relevant it is.
14. Book that left a lasting impression on me: One Hundred Years of Solitude. Gabriel García Márquez is an incredible storyteller; every sentence is extraordinary.
15. Song I'd want played at my funeral: "Amazing Grace" by the Neville Brothers, but does it have to be at my funeral?
16. First album I bought: Neil Young's Harvest. I remember sitting in my bedroom listening to it over and over.
17. On my bucket list: Becoming fluent in French—I'm working on it but it might take a while.
18. If I could live in a foreign country, it would be: France but the West Indies is a close second.
19. What every woman should try once in her lifetime: Bungee jumping—but only once.
20. My perfect day would begin with: Tennis with my boys.
21. My perfect day would end with: A clambake on the beach with family and friends.
22. One thing I'm exceptionally good at: Multitasking.
23. One thing I'm epically bad at: I am not much of a cook.
24. Superhero power I'd want to have: It has to be about time—how do we make it stand still?
25. How I clear my mind after a crappy day: I take a hot bath.
26. Something nice I did for myself recently, because hey, why not: Traveled to Antigua with some of my friends—incredible.
27. If I could compete in an Olympic sport, I'd like it to be: Tennis. Growing up, I wanted to be Chris Evert.
28. The last time I felt beautiful was: Hopefully not too long ago.
29. The beauty essential you have to pry out of my cold, dead hands: Sunscreen and moisturizer —and if they have done their job, my cold, dead hands will look okay.
30. My first kiss: On a biking trip in the summer after 8th grade.
31. The three qualities I thought I wanted in a partner: Brilliance, honor, kindness, and integrity—four!
32. The three qualities I know now matter: All of the above.
33. Advice to a woman with a broken heart: My mother would be the person all of my friends would go to for advice. She would say, "It only takes one and he may be right around the corner. Move on."
34. Moment I knew I was in love: When I hired a French tutor.
35. Craziest thing I did for love: You would have to ask [fiancée] Pierre-Yves [Roussel].
36. What your high school boyfriend would say about you: "She actually does like wearing a dress every now and then."
A version of this article appears in the September issue of Marie Claire, on newsstands now.
Marie Claire email subscribers get intel on fashion and beauty trends, hot-off-the-press celebrity news, and more. Sign up here.