The Item I Wear To Death: Longchamp's 'Le Pliage' Backpack
I'll take a new one every year until I die, thanks.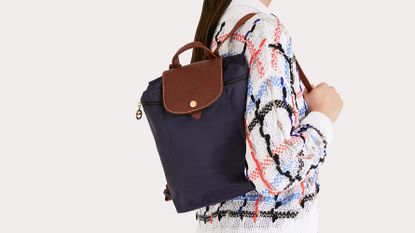 (Image credit: Longchamp)
Marie Claire Newsletter
Celebrity news, beauty, fashion advice, and fascinating features, delivered straight to your inbox!
Thank you for signing up to Marie Claire. You will receive a verification email shortly.
There was a problem. Please refresh the page and try again.
Every week, our editors will be sharing "the item they wear to death," whether it be a basic white tee or a super-trendy jumpsuit. Prepare yourself (and your credit card) for some guilt-free shopping.
My mother and I have certain rituals. Every time I visit home, she makes a special trip to buy a specific pasta sauce that I can't bear to tell her I don't like. When I leave, she won't budge from the train platform, waving frantically through the window, until I'm out of sight. And each Christmas she gets me an obsessively practical present ("Oh, wow, it's a...pair of ski gloves!"). Which brings me to how, on Christmas Day of 2015, my sister and I both found ourselves—unexpectedly and reluctantly—the new owners of Longchamp "Le Pliage" backpacks.
"Hmmm," said my sister, who was 15 at the time and could get away with naked exasperation.
"Ah," I said. (At 25, I no longer had an excuse.) Then: "How...useful!"

It was useful. An anxious mother's dream, the foldable bag has a secure interior pocket, plenty of space, adjustable leather straps, and is waterproof, tear-proof, shock-proof, you name it. It was nice enough. And it would, I knew, be banished to the back of my closet until I decided to Rid Myself of Clutter come January and give it to Goodwill.
Now, thinking about the fate that could have befallen my beloved Le Pliage, I'm almost emotional.
I don't know precisely how the Le Pliage backpack became the best thing that had ever happened to me. (Maybe my mom cast a spell on it?) One day, I was a normal bag consumer, trying out a satchel one year, a spacious handbag another. And suddenly, I was a person who knew, deep in my bones, that I would only ever buy versions of the Le Pliage backpack—it comes in nine colors!—for the rest of my life. Suddenly I was telling anyone who would listen about this magic lightweight bag that I could fit everything into—my laptop, a book or two, a charger, a magazine, a water bottle—like I had found Jesus. Suddenly, I was my mother.

Until the Pliage came into my life, I thought of the "handbag" as an unwieldy kind of extra limb, a necessarily evil that I would no doubt forget on the subway, leave unzipped, or accidentally hit a pedestrian with. But in the years since I began using Le Pliage—I measure my life into two parts: pre- and post-Pliage—I've kind of forgotten I carry a bag at all.
I've shoved all manner of things in it: a shirt, a baseball cap, a moisturizer, an iPad, a half-dozen packs of gum, a fifth of vodka (I kid! But it would totally fit). Never does it run out of space, except when I ask too much of it, like when I tried to shove eight books in there for a vacation and it protested. I don't blame you, Le Pliage! I blame myself. (Note: Longchamp is not paying me to say this. I can't imagine my earnestness is particularly on-brand.)
I mean, I love this bag so much, I took it with me to meet Hillary Clinton.
I took it all the way to Australia (where I had been promised sunny weather and was bitterly let down).
I took it with me to roam the streets of New York, trying on finger puppets.
And when I eventually shuffle off my mortal coil, you will have to pry the Pliage from my cold, dead hands. (I don't have a photo of that. Yet!)
This has been my ode to Le Pliage. If you're as moved as I am right now, you can shop the bag itself in any of its nine shades, below.
Longchamp, $125 SHOP IT
RELATED STORIES
Celebrity news, beauty, fashion advice, and fascinating features, delivered straight to your inbox!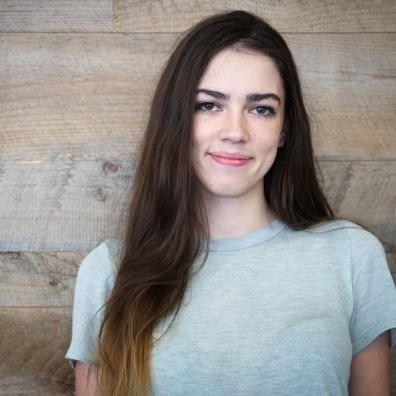 Jenny is the Director of Content Strategy at Marie Claire. Originally from London, she moved to New York in 2012 to attend the Columbia Graduate School of Journalism and never left. Prior to Marie Claire, she spent five years at Bustle building out its news and politics coverage. She loves, in order: her dog, goldfish crackers, and arguing about why umbrellas are fundamentally useless. Her first novel, EVERYONE WHO CAN FORGIVE ME IS DEAD, will be published by Minotaur Books in 2024.