We Wore Clothes from Bachelorette JoJo Fletcher​'s Fashion Line and Went on One-on-One Dates
This was definitely less stressful than a rose ceremony.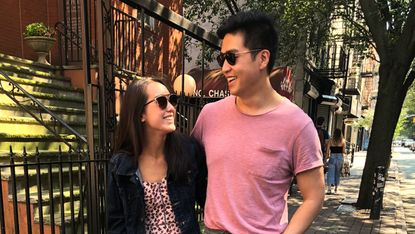 (Image credit: Courtesy)
When I received an email about Bachelorette alum JoJo Fletcher's new clothing line (opens in new tab), I immediately Slacked my coworkers about it. I don't follow the Bachelor franchise as closely as some of my colleagues, having only watched Ben Higgins season and then Fletcher's follow-up, but even I knew the fashion line was primed for the super-fan community. Fletcher has that undeniable cool-girl style and the personality to be a star beyond the ABC series—she has 2.2 million Instagram followers (opens in new tab) alone.
After finding love with Jordan Rodgers in 2016, Fletcher and her man moved in together in Dallas, Texas. She ventured into the business world, flipping houses (opens in new tab) in her spare time and collaborating with Dermalogica (opens in new tab) on a limited-edition skin kit for "besties." Her ultimate brand baby, however, has been her debut fashion line, Fletch (opens in new tab), which officially launched in June and offers fans a chance to finally obtain her coveted style. "I created Fletch to help every girl feel even more badass and beautiful than they already are," she tells me via email. "I wanted to create a line of signature pieces that I'd want to wear all summer long, and at an affordable price."
The current summer collection features trendy skirts, dresses, jumpsuits, and more, with prices ranging from $34 to $148. I thought it was fitting that the website had a category called "date-night," as Fletcher's been through dozens of dates...publicly. (The date-night category has since been replaced by "Chill, Babe." and "Comfy + Causal.")
So, I tapped my fellow Bachelorette-loving colleagues and sister to play dress up in Fletcher's clothes and go on dates with their SOs. It wasn't hard finding enthusiastic volunteers—the Bachelor community is massive—but despite offering pieces in sizes XS to XXL, several women who wanted to participate couldn't find anything that fit them. If there's one pain point for fans, it's that the line could stand to be more inclusive. (Perhaps we will see more sizes in future Fall/Winter collections?)
Although no roses were given out on our dates, I thought everyone was a winner in their amazing outfits. Without further ado, the looks...and the men!
Marina & Woon
"Woon and I had double-date plans at Clinton Street Bakery (this delicious brunch spot in NYC), which was the perfect excuse to wear this casual rose-printed minidress. I styled it with Krewe sunglasses and a denim jacket even though it was 90 degrees outside. (I thought the restaurant would be cold; it wasn't.) I wore my white Soludos espadrille flats with the dress for the ultimate summertime vibe. When I asked Woon what he thought about the outfit, he said, 'it's very Marina,' so I took that as a compliment. To top it all off, he accidentally matched me because this pink shirt was one of the only ones that paired well with his pants.
I always wear shorts under my minidresses, but I forgot this time around and I felt a wee bit exposed. Luckily, it wasn't windy that day. The dress fit my 5'4 frame comfortably, but I imagine the garment would feel a lot shorter on someone taller or curvier. Overall, this was an effortless dress to wear for brunch on a lazy Sunday." —Marina
Shop Marina's exact dress: Fletch Rose Print Sundress (opens in new tab), $124
Danielle & Scott
"My first thought as I unpacked the jumpsuit from JoJo Fletcher's 'date night' category: This is...a lot. Scarlet red. With a high neckline. And a strappy back. And flare-cut legs. Any one of those features puts me a little bit outside my fashion comfort zone, let alone all in one item of clothing. But I love The Bachelor/ette franchise, and JoJo in particular. And, well, I was given this assignment for work, so wear it I would.
I happened to be heading off that week on vacation, spending one night in Monaco. If I couldn't wear this outfit in Monte Carlo, a place where every other car is a Maserati and the median household income is 'filthy rich' (and where no one I knew—except my boyfriend—would see me being an incredible poser), where could I wear it?
It turns out all of my hesitations were unwarranted. The jumpsuit, despite how much it has going on, works. Luckily, I'm tall (a little over 5'8") and not curvy (never thought I'd be glad of that), which meant the piece fit my body type. (I realize I am in the minority here, and that's something JoJo should work on.) The sash at the waist actually gave me one, and the crisscross straps highlighted my back—a part of my body I like showing off.
When I emerged from the bathroom, ready to head out on our date, my boyfriend's eyes lit up. 'Wow!' he said, and later complimented my backside. We had a pretty unforgettable date (though I have to give the setting some credit for that, too). Sorry for doubting you, JoJo, you know your stuff." —Danielle
Shop Danielle's exact jumpsuit: Fletch Mojave Jumpsuit (opens in new tab), $148
Jenny & Lucas
"I wore this dress on a date with my boyfriend of a year, during a visit to an unexpectedly classy Italian restaurant. (Seriously, we just searched 'pasta' on Google Maps and started walking.) I couldn't quite figure out what to do with the sleeves, so I let them hang down by my upper arms and hoped for the best. This worked fine—except I risked flashing the entire (aforementioned classy) Italian restaurant if I didn't wear a bra, and if I did, then my bra straps were just hanging out around my biceps. (With the benefit of hindsight, a strapless bra might have been the answer.)
Panic over potential public nudity aside, I did like this dress a lot. It was light and floaty and fit well. It would have been perfect for a summer wedding, and if I have any cocktail-attire summer weddings coming up that I've forgotten about, this dress will be my first choice. I will probably investigate the strapless bra situation before committing to this, though." —Jenny
Shop Jenny's exact dress: Fletch Tulip Print Mini Dress (opens in new tab), $129
Diana & Frank
"I decided to wear this dress to celebrate Frank's birthday. We ate at Bohemian, which is a modern Japanese restaurant in NYC's East Village. I paired this dress with my Chanel classic slingback sandals, a nude cross body bag (not pictured), and stud earrings because I wanted the dress to feel semi-casual. I then made us pose against a white wall–I used Beyoncé's OOTD shots (opens in new tab) as inspo.
The dress has a lot of special details like the ruffles, built-in sash, and a split skirt, but my favorite part was the one-shoulder strap. Frank really liked the midriff cutout and when we walked down the street, a stranger shamelessly yelled 'Dayummm, girl' at me. That was really awkward, but I guess the dress was a hit all around? While I felt cute in the look, the strap on my right side (the one that appeared to be 'falling off') was a little constricting, especially when I tried to raise my arms. But, it does look GREAT in photos. I also usually only wear black outfits, but when Frank saw me in this red dress, he said he felt like he got the 'final rose'...maybe I found my new date-night staple?" —Diana
Shop Diana's exact dress: Fletch Lola Ruffle Dress (opens in new tab), $124
RELATED STORY
Marina Liao is the former fashion news editor at MarieClaire.com, where she covered celebrity style (from Meghan Markle to Katie Holmes), fashion trends, and shopping advice, plus conducted original interviews with industry insiders. She's also had many opportunities to write content in other areas such as beauty, food, tech, and even home. Her previous fashion stints include POPSUGAR and Cosmopolitan.