How to Make Your Boring LBD Feel New Again
Go from 💤 to 💃 with 💎.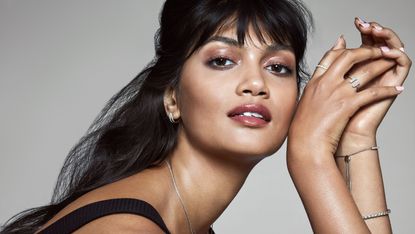 (Image credit: Mikael Schulz)
Marie Claire Newsletter
Celebrity news, beauty, fashion advice, and fascinating features, delivered straight to your inbox!
Thank you for signing up to Marie Claire. You will receive a verification email shortly.
There was a problem. Please refresh the page and try again.
The thing no one wants to say about the trusty, versatile, eternally chic LBD is that a close synonym is boring. If it's timeless enough to have a permanent spot in your closet, it's likely fuss and frill-free too.
The easiest way to breathe new life into the piece hiding in the back of your closet is via your accessories. And since bags and shoes are often out of sight during an event or meal, their power as a style-updater tends to get diluted. Jewelry, on the other hand, is front and center the entire time.
Different combinations of the latter can elevate the simplest dress for an upscale dinner or make it feel boho-casual and ready for low-key drinks. Below, we style the same LBD with different jewelry to prove that nobody puts something sparkly in a corner.
A square-neck dress in deep noir doesn't scream bohemian off the bat, but the just-right jewelry will make you rethink that. Invest in a pair of classic hoops, then look for other pieces with hippie-chic design DNA.
Beading and tassels are elements common in most boho jewelry, but read as upscale in rich 14k. Layer them on for a carefree look that can make even the most tailored LBD feel ready to be worn barefoot on the beach.
The recent explosion of rose gold in popularity means that your old party dress feels instantly new when complemented with the warm hue. While there's nothing wrong with mixing metals, you can pack a lot of punch when deciding to go exclusive.
Really go all in by picking a rose piece to bedeck every open space of skin: Wrists, necks, ear lobes, and fingers can all be made rosy. Echo the tone with your makeup look, opting for a pink-toned blush or lip.
One of the many reasons to love an LBD? Its role as the perfect palette for accessories. Consider it a blank slate and pile on gemstones of every hue. There are zero rules to pay attention to when rifling through your jewelry box. Mix metals, warm and cool tones—everything (restraint isn't rewarded). Case in point? A trio of rings worn on a single finger, proving that pieces don't have to be made to be stacked in order to do the job.
For the ultimate color oomph, pick a single area of your makeup look to saturate with a poppy hue. We opted for the eyes here, using a vivid lilac color above and below to complement the jewelry.
Signal that an understated dress is ready for a more formal event by wearing all of your favorite delicate pieces together. Lightweight and crazy versatile, style experts are always extolling the value of investing here because you can literally wear them with anything. The necklace or bracelet that looks spot-on with jeans and a t-shirt can also be layered to ratchet up the fashion feeling for a more formal occasion.
The elegant look works when mixing metals or not, and controlling the fancy level is easy. For high-octane events (like weddings or a sit-down dinner) consider peppering in more diamonds. If more casual (think date night), stone-free chains are a great anchor.
Worn throughout: Reformation "Donna" Dress, $98; thereformation.com
Celebrity news, beauty, fashion advice, and fascinating features, delivered straight to your inbox!
Leah Melby Clinton is a writer, editor, and serious shopper who loves discovering new labels, detailing the best ways to build a wardrobe, and interviewing interesting people.