The Biggest 2019 Shoe Trends You Need to Know About
Make space in your closet, please.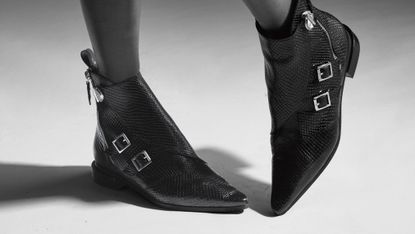 (Image credit: PAMELA COOK)
We've already pinpointed our favorite fall/winter 2019 runway trends, but now we're breaking it down further with a focus on footwear. After close examination of the spring and fall collections, we've determined which sandals to pack on vacay and which boots you'll be wearing from now until spring 2020 arrives. For this season, designers aren't completely reinventing the wheel. Instead, they're building upon the fashion house archives and past trends, adding embellishments here and there or introducing cool shapes like a cylindrical heel. Without further ado, the top 15 shoe trends for 2019.
Metallic Loafers
A metallic loafer provides an easy way to dress up your holiday outfit, whether you're visiting the in-laws or attending a company work party. Take some inspo from the look above and team your footwear with tall argyle socks. This unexpected combination gives a fresh update to your shoes. Plus, if TSA makes you take off your loafers at security, you won't have to go barefoot on those floors. Shudder.
Fall Florals
Set aside your summer floral pieces in favor of moodier and earthier shades for winter. Erdem, Brock Collection, and Zimmermann all presented collections with yellow, blue, and orange flowers against a dark background to signal this is indeed a fall shoe trend. I love this '70s-inspired ankle boot by Staud for its flawless fall floral execution. You'll find the print echoed in other footwear styles from flats to pointed-toe pumps.
Creeper Sneakers
This thick-soled shoe has a long history, from the World War II battlefields and '50s dandy subculture to the Vivienne Westwood-influenced '70s punk scene. Louis Vuitton gives the creeper a designer update with its signature logo print. Don't be afraid to let your favorite socks peek through the top for an extra style statement.
Cozy Shearling
We can all use an extra layer of warmth for winter, so shearling-lined shoes will be your feet's savior this season. Furry material covered all kinds of shoes that came down the fall 2019 runways, from over-the-knee boots at Celine to fuzzy pumps at Off-White. Once the temperatures really dip, give your favorite pair of UGG boots a break and try one of the styles, below.
Animal Print Boots
Every season you'll see animal prints on the runway, though they're always reworked in different silhouettes. For their fall/winter 2019 collections, designers like Zimmermann, Victoria Beckham, and Rejina Pyo took classic prints like leopard and paired them with a sculptural heel or pointy-toe footwear design. This instantly created something different and unique for shoppers. For those who have yet to own anything leopard print, start from the ground up with these footwear options.