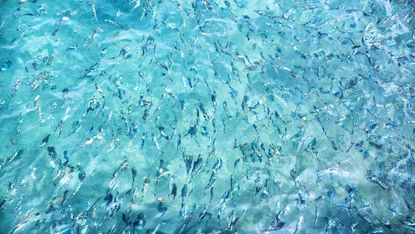 (Image credit: Getty Images/Elena Peremet)
There are a million ways to measure 1,800 gallons of water: roughly 104 showers, 50 bubble baths, 11,520 Venti-sized coffees—or a single pair of jeans. Though conversations about our carbon footprint have tugged at our conscience for years, the most many of us think about water consumption is in terms of how much we're drinking in a day. (That would be about 20 ounces, in case you're wondering.)
But with environmental crises—like California's multi-year drought and devastating wildfires—hitting closer to home, our water footprint is getting harder to ignore. It's even more glaring when we take a look inside our closets.
"Low-cost clothing has a high cost attached to it—one to the environment and public health," explains river conservationist Mark Angelo, whose work was featured in the award-winning 2018 documentary The RiverBlue: Can Fashion Save the Planet?, which explores the impact of the textile industry on waterways throughout China, Bangladesh, and India.
Though water waste and contamination have reached epidemic proportions in those regions, the effect is truly global, and environmentalists have pinpointed one key culprit: our denim.
What makes the process of making jeans so poisonous to people and the planet? EcoWatch explains: "Consider just one of the most popular types of jeans today—distressed. To get that 'lived in' look, denim is subjected to several chemical-intensive washes." Those chemicals include cadmium, chromium, mercury, lead, copper, and manganese, which has been associated with brain damage.
And that doesn't even take into account what's needed to harvest the cotton for those jeans in the first place.
"If you look at the traditional process of making some jeans, designers start with a 'blank' or basic pair that hasn't been distressed yet," explains Zihaad Wells, VP of Design & Creative for AG Jeans. "Then, before you even get to the water part, there's somebody who would recreate a wear pattern by hand. There would be chemicals used to extract the color and create that contrast of blue and white that old jeans give you. You're talking about a lot of bleaches and potassium sprays," among other things, he says.

"Back in the day, people just wore their jeans [to eventually get a worn-in look]. They probably washed them every six months, if that," Wells adds. "We're trying to create something for a generation that's really about instant gratification, and recreating those looks requires a lot of people, time, chemicals, and resources."
Denim makers aren't just pointing a finger at us though. Instead, they're trying to put some self-regulating practices in place, with the hope that their customers will follow suit.
"I've attended conferences on sustainability within the denim industry and you look at different fabric mills and brands and, in general, the industry is really trying to self-regulate itself," Wells says. "How can we lessen our footprint? How can we be more transparent in terms of where we get our fabric, where it's made, and what resources we use? Almost every aspect has been taken into consideration, and more and more brands are trying to approach it this way."
The proof's in the pudding. Major retailers like Levi's have announced an overhaul of production practices; Madewell's Eco Collection uses less water, organic cotton, and sustainable dyes; and Gap has pledged to conserve 10 billion liters of water by 2020.
For AG Jeans, it's meant going beyond a single "eco-jean" and, instead, working to create all of their products in a more sustainable way.
In 2015, the company installed solar panels to reduce the amount of energy they were sucking from the national grid. "That kicked this whole thing off," according to Wells. They went on to install more efficient machines designed to wash more product while consuming less water, and during the drying process, hot air that would normally just escape into the environment is regenerated or pushed back into the machines. "So instead of having to warm the dryer to, say, 170 degrees, the air coming back in is 150, so you only have to heat it an additional 20 degrees," Wells explains.
"Every day we get better at being more environmentally conscious, lessening our carbon footprint, while still creating the type of product that's expected of us," he says. Coming up? A state-of-the-art water filtration system being introduced this fall. "As a brand, we have a responsibility to make sure we do right by our customers, but by the environment at the same time."
So how do they get that perfectly weathered look minus all of the harsh chemicals of yesteryear?
According to Wells, "There's a machine called ozone, which is actually able to extract all of the loose indigo and recreate that pattern without having to use harsher chemicals that then go back into the water." Lasers offer another way to create those popular wear patterns and allow designers to do it to much more consistent effect.
As for our role as denim lovers (it's estimated that the average consumer buys four pairs of jeans a year), the onus to dress sustainably is also ongoing–even once we're done with that pair of jeans we love.
"As a society, we've become so much more aware of where our food comes from, what goes in it, what it does to us, and the things we put on the outside of our body are as important," Wells believes. "There's a lot more we can do to ensure that we leave the next generation in a better place than we found this one."
Shop AG's capsule collection with Swiss contemporary artist Blanda here. A portion of the profits will go toward supporting those without access to clean water via Water for People.
Marie Claire email subscribers get intel on fashion and beauty trends, hot-off-the-press celebrity news, and more. Sign up here.
Jessica Cumberbatch Anderson is a New York-based lifestyle journalist. Her work has been featured on HuffPost, ArchitecturalDigest.com, Lonny.com, and ELLEDecor.com, where she served as digital director.