How to Wash Jeans Properly, According to Denim Experts
That freezer trick? It doesn't work.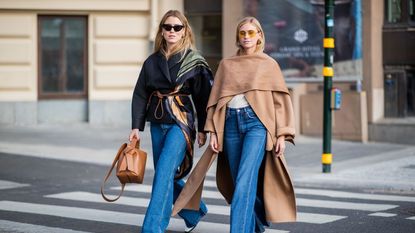 (Image credit: Christian Vierig)
Marie Claire Newsletter
Celebrity news, beauty, fashion advice, and fascinating features, delivered straight to your inbox!
Thank you for signing up to Marie Claire. You will receive a verification email shortly.
There was a problem. Please refresh the page and try again.
You're well-versed in the history of denim and the new styles to wear for fall, but some jeans-related questions remain. Namely, how to care for that new pair of lightly distressed straight leg jeans you just invested in. Since you spent good money on the new jeans you've fallen in love with, it makes sense to pay extra attention to the care and fit of them. At least until you spill something on them, though—don't worry—we have a hack for combatting that problem too.
We spoke to experts at major denim brands like Levi's, Rag & Bone, Citizens of Humanity, MOTHER, and American Eagle to get the low-down on everything denim-care. (The advice applies to new or old jeans!) They answered the tough questions like how often to wash your jeans, and settled, once and for all, the debate on whether or not freezing your jeans actually kills bacteria. Read on to hear each expert's advice.

How Often Should You Wash Jeans
"We recommend washing less, wash on cold, then line dry."—Jill Guenza, VP of Global Women's Design at Levi's
"The less you wash your jeans, the better. This is because your jeans will naturally develop a unique wear pattern, the more you wear your jeans the more they will become "yours" with unique whisker patterns and creases that you've made on your own. That said, the longest I've gone without washing is six months and that's only because I was breaking in a raw pair. With jeans that are not raw and come washed (that is most denim), I usually wear them three times before washing."—Kelly Urban, Founder and Designer of AMO
"I would recommend washing sparingly. It also helps to let your jeans breathe, so don't pack them too tightly into drawers or shelves. For jean jackets and denim vests, try not to hang them in a crowded closet. Hanging jeans from the belt loops in your closet allows them room to air out and prevent odors too."—Molly Kuick, Senior VP of Women's Design at American Eagle
Do or Don't: Storing Jeans in the Freezer to Kill Bacteria
"Science tells us that at-home freezers are not cold enough to kill the gross stuff: germs, bacteria, or odors. You can toss them in the freezer for a little while to get rid of some funkiness, sure, but scientifically you're not really doing anything to clean them."—Dena Bickerstaffe, Head of Design at J BRAND
"There is no reason to store jeans in the freezer. Scientifically I am not sure if this method actually reduces bacteria buildup, more like slows it down. However, we do notice it helps with the smell. Personally, I like to spray a little Febreze on my jeans if they start to smell. The best way to keep things fresh is to simply let them air outside when you get a chance."—Scott Morrison, Founder of 3x1
"Most bacteria living in your jeans will survive the freezer. This method might help your jeans smell fresh, but they won't actually be clean, if that matters to you."—Alaina Miller, Citizens of Humanity Design Director
How to Properly Clean Jeans in the Washing Machine
"Most jeans that you buy off-the-rack have already been washed by industrial machines during the manufacturing process. Your domestic washer won't really affect the garment much. If you buy raw denim I recommend soaking them in the tub overnight without agitation. Rinse and drip dry. Putting raw denim in the washing machine will change the look and feel of the garment dramatically."—Molly Spittal, Co-Founder of Decade

"If you're throwing them into the washer, set your washing machine to the gentle or delicate cycle. Fill the washing machine with cold water and turn your jeans inside out. I recommend not drying your jeans because it's eco-friendly and will make your jeans last longer."—Zahra Ahmed, CEO of DL1961
"You should wash them on cold, inside out. When we talk about washing your jeans, we have to address the type of denim (raw, high-performance-stretch, etc.). Some jeans like high-performance stretch are made to withstand high levels of heat caused by home dryers and in fact react to this, allowing their shape to bounce back. Pay attention to the washing directions."—Scott Morrison, Founder of 3x1
"Turn denim inside out to limit abrasion and machine wash cold on a gentle cycle while ideally using special denim detergents for black and dark jeans as well as for light washes. Hang dry when possible, to get your high stretch denim to snap back to its original shape. If you put them in the dryer, tumble dry inside out on medium low. Drying on high will drastically shorten the lifespan of your high stretch denim."—Rag & Bone Expert
Getting Fresh Oil Stains Out of Jeans
"Baby powder. Rub it into the stain, let it sit awhile and then shake it out."—Tim Kaeding, Co-Founder and Creative Director at MOTHER
"Submerge the stained area in water and apply grease-fighting, dish-washing detergent directly onto the stain. Let it sit, gently scrub, then run the jeans through the wash."—Alissa Friedman, PR & Marketing Manager at Mavi

"Sprinkle talcum powder over the stain and leave it to soak up the oil over night. Dust off in the morning. If a pair of jeans [is beyond repair], I revamp them by throwing some bleach all over to create a cool punk vibe or create distressed rips and repairs to cover up any sins."—Meg Gallagher, Ksubi Denim Designer

"For stains, Dr. Bronner's liquid soap is the best. Apply directly onto the jean, let it set into the stain, and then rinse out. For spot cleaning an oil stain, try rubbing a small amount of baking soda into the spot, then dab with a cloth. The baking soda should absorb the oil. You can brush off the excess powder."—Dena Bickerstaffe, Head of Design at J BRAND
"I swear by my Vanish stain remover bar."—Larissa Noble, 7 For All Mankind Women's Design Director
Best Way to Re-Dye Black Jeans
"It depends on the fabric content. If it's 100 percent cotton or say 98 percent cotton, two percent percent elastane (stretch), then Black Rit dye would probably do it. I would not attempt to dye them if there is any polyester content as that fiber is tricky to dye. You also have to keep in mind that dying jeans requires very hot water, and that can shrink your jeans if you've only washed them in cold water."—Kelly Urban, Founder and Designer of AMO
"I recommend the brand IDYE. Using this dye has always left my garments super black and there is zero transfer if done correctly. I always use one packet of synthetic dye and one packet of natural dye in the same bath because most garments including denim often use poly-blend thread and you want the stitching to match the denim"—Molly Spittal, Co-Founder of Decade
"Over dye them with RIT dye. They'll go completely black again."—Stefan Attardo, Men's Head of Design at Hudson
"You can buy Dylon or Procion MX dye as it will not flare as purple black as some other dyes and will be more colorfast."—Jessica Dorfman, Senior Women's Design Director at Hudson
Do or Don't: Showering in Your Jeans to Make Them More Fitted
"I've tried it. It never worked for me, just made me very uncomfortable. Instead, ball up the jeans inside out, quickly hold under hot water, and throw in the dryer."—Tim Kaeding, Co-Founder and Creative Director at MOTHER
"I've tried the shower, the bath, and the ocean! Again, this is really something you do with raw jeans, and I wouldn't say it makes them more fitted, but it makes them mold to your body. The key is getting the denim wet while you're wearing them, which helps shape the denim to your body. This isn't something you do with a washed pair of jeans as washed denim wouldn't mold to you as well since the fabric isn't raw."—Kelly Urban, Founder and Designer of AMO
"Some people recommend ocean salt water, however, this only works on unwashed raw denim. Most jeans nowadays have the majority of the shrinkage removed prior to purchase so they should fit you perfectly from the get-go."—Design Denim Expert at FRAME
For more stories like this, including celebrity news, beauty and fashion advice, savvy political commentary, and fascinating features, sign up for the Marie Claire newsletter.
RELATED STORIES
Celebrity news, beauty, fashion advice, and fascinating features, delivered straight to your inbox!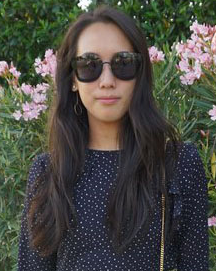 Marina Liao is the former fashion news editor at MarieClaire.com, where she covered celebrity style (from Meghan Markle to Katie Holmes), fashion trends, and shopping advice, plus conducted original interviews with industry insiders. She's also had many opportunities to write content in other areas such as beauty, food, tech, and even home. Her previous fashion stints include POPSUGAR and Cosmopolitan.