The Item I Wear to Death: My Vionic Clogs
I make them work all year long.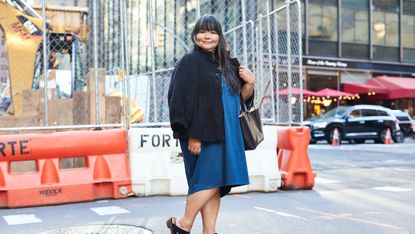 (Image credit: Kathryn Wirsing)
Marie Claire newsletter
Celebrity news, beauty, fashion advice, and fascinating features, delivered straight to your inbox!
Thank you for signing up to . You will receive a verification email shortly.
There was a problem. Please refresh the page and try again.
In our biweekly series, editors share "the item they wear to death," whether it be a basic white tee or a super-trendy jumpsuit. Prepare yourself (and your credit card) for some guilt-free shopping.
There are many reasons why I love living in the suburbs. Among them are having a big yard, room for all my collections of stuff (design books, glassware) and great public schools for my kids. However, the one thing I hate is my commute. On the best days, it feels like Planes, Trains and Automobiles. On the worst, it feels as if I'm caught in Dante's ninth circle of Hell. In the morning, I walk to a jitney that takes me to a train that I take to the subway that finally takes me to the office. In the evening, I do it all again but usually with standing room only on all legs of my trip. Gone are the days of gingerly tip-toeing over sewer grates in kitten heels to catch a cab or plodding in boots from the bodega to my apartment a block away. If I don't hustle or sometimes run for my train, I might miss a management meeting or not be able to say "good night" to my two young children.
Sneakers would be the obvious choice to solve my dilemma. But I don't feel as if I've ever been able to pull off the tennis shoes with workwear look. Maybe it's my flashbacks to Melanie Griffith in Working Girl in her blinding white sneakers and baggy navy blue suit or the trend of big-soled kicks and crop tops in Brooklyn. Neither of them feels like me. Among the tri-state area moms, clogs are the stylish answer to combining comfort and fashion. However, no matter how many versions of clogs (opens in new tab) I've tried on by No. 6 and Hasbeens, I could not find a comfortable pair (turns out those wooden soles are unforgiving for wider feet). But then my most stylish colleague turned me on to the Kacie Clog from Vionic and I've worn them nearly every day since.
Most clogs have no insole—it's straight foot-on-wood contact. My old knees and my daily travails make that a deal-breaker. These have a faux wooden platform that is light and a cushioned footbed that's forgiving. I have them in all three colors and wear them with cotton dresses in the spring and summer, tights in the fall and wooly socks and jeans in the winter (as long as there isn't snow or ice on the ground). The heels add two inches to my puny five feet and two inches and makes my stumpy legs look a little leaner. I literally walk a little taller and I feel confident and professional wearing them—so much so that most days I don't change into my office shoes,
Wearing a clog does take some getting used to. You may need to change your gait or grip a little tighter with your toes. It took me a while to figure how to run to the train in them (it's more like a fast shuffle). And you most certainly need to find your balance—I've nearly fallen a handful of times. But once you've found your footing, I guarantee you'll be sold.
Get a comfortable pair of clogs for your wardrobe, below.
For more stories like this, including celebrity news, beauty and fashion advice, savvy political commentary, and fascinating features, sign up for the Marie Claire newsletter.
SUBSCRIBE HERE (opens in new tab)

RELATED STORIES
Joyce Bautista Ferrari is the managing editor at Marie Claire, where she bosses people around and loves to write about movies, food and design.