The Item I Wear to Death: My Hanes Tights
Let me count the reasons I love thee.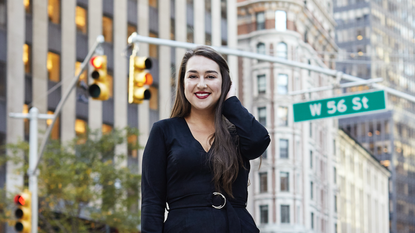 (Image credit: Kat Wirsing)
In our biweekly series, editors share "the item they wear to death," whether it be a basic white tee or a super-trendy jumpsuit. Prepare yourself (and your credit card) for some guilt-free shopping.
I did not grow up a tights-wearer. In fact, I have very vivid memories of my mom making me wear white tights for the holidays and being miserable when the crotch would invariably end up around my knees. (Try as I might, they never stayed up.) Also, my torso is longer than my legs and that was never more noticeable than during this forced holiday tights-wearing. I was obviously matching with my sister too. We aren't twins, but we matched...a lot.
Anyway, I digress. I spent most of my teen years avoiding tights at all costs (knee high socks were good enough for those days that dipped below L.A.'s usual 74 degrees) and then for some insane reason I chose to leave the warmth of Southern California and head to the East Coast. And it was in NYC that I discovered a love for tights. And turtlenecks. And rain boots. And scarves. And all the other things I grew up seeing in window displays at the mall but never actually using since there was a major drought during my childhood and the weather was pretty fabulous.
As I discovered my newfound love of tights, I also discovered that I tend to ruin tights on Wear One. Wear Two if I was lucky. So I bought cheap tights because I knew they would be in the trash almost immediately. I tried purchasing nicer tights in hopes that they wouldn't snag as easily, but had the same issue. DKNY, Betsey Johnson, Spanx, Hue. You name a brand, I tried it...and ruined them immediately.
And then I went to a Fashion Week event in 2014 and my life was changed forever. I walked past a Hanes booth at Lincoln Center where they were giving out tights. Since I am a tights ruiner I figured, amazing, free tights. The woman working the event tried to explain to me how great they were and why, but I was honestly in such a rush that I took a pair, threw them in my bag, and didn't look at them until after Fashion Week wrapped.

As soon as I opened these tights up, I realized they were magical. You see, these tights include a built-in sock. Why is this important? Because you can wear tights with boots and not ruin the heel on Wear One. Also, feet sweat in tights and this sock is thick enough to prevent your boots from smelling like a small animal died in them. Additionally, these tights are thick. So thick that they truly keep you warm in the dead of winter. They also have a bit of a control top—it's like you're wearing shapewear, but you're not and it's marvelous. Also, did I mention that I still own them? Yup, that pair in the photo above is the exact same pair I got five years ago. No rips, snags, or holes. Like I said...magical.
Black Tights You'll Love
For more stories like this, including celebrity news, beauty and fashion advice, savvy political commentary, and fascinating features, sign up for the Marie Claire newsletter.
MORE ITEMS WE LOVE
Celebrity news, beauty, fashion advice, and fascinating features, delivered straight to your inbox!
Krystyna was the former Social Media Editor of Marie Claire where she oversaw all things social media and connected with MarieClaire.com readers. She came to Marie Claire from Racked.com, where she was the Community Manager. Before that, Krystyna was at Latina Mag and Cosmo for Latinas. She graduated with a Marketing major from Fordham University.