What I Wear to Work: Rachelle Hruska, Founder of Lingua Franca and Guest of a Guest
She loves her Birkenstocks.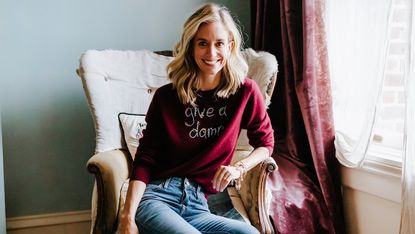 (Image credit: Yumi Matsuo)
In a bi-weekly series, we're interviewing female executives, founders, CEOs—basically, boss ladies—on their "power suit" a.k.a. the outfit they wear every day for easy dressing to conquer whatever the job throws at them.
---
During my call with Rachelle Hruska to chat about Lingua Franca—her company best known for coveted cashmere sweaters embroidered with fun and empowering phrases—the CEO candidly reveals that her brand was born from an attempt to combat her anxiety. Her therapist suggested she do something with her hands, so she picked up a needle, thread, a sweater, and started embroidering. "I wrote 'booyah' across it, which was relaxing and fun. I posted it to Instagram and people [asked where to buy one]," she says. (Hruska is also the founder of lifestyle site Guest of a Guest, which launched in 2008.)

Hruska has no formal training in embroidery, save for her grandmother teaching her as a girl in Nebraska. "Everything is so mass produced these days, having something handmade feels special. I think that's why my first pieces resonated [with people]: because they were so bad. Not that I wanted them to be, but it was the best I could do. I talk to our embroiders and I'm like 'Make them look worse!'" she jokes. Each piece is still hand-embroidered, which explains the price tag; they take time to make, typically one to two hours for short phrases.
Lingua Franca officially launched in 2016, and since then, she's placed her products with Net-a-Porter and Neiman Marcus, and expanded her brand to include kids sweaters, home decor, and accessories. She even offers embroidery classes. The team operates inside The Jane Hotel in Manhattan, and employs about 12 people full-time with an additional 50 to 60 contract embroiders during the busy seasons. Her first brick-and-mortar store is less than 10-minute walk away, and she recently opened a second location on Madison Avenue. With all this success and growth, Hruska says she sometimes feels nostalgic for the days when she didn't have to "worry about things like [the profit and loss statement]," and could just sew for the fun of it.

The best part of running this business isn't about profits (though they're important, of course), it's the opportunity to give back to her community. Hruska says she never intended for the brand to do "resistance work" or "become political," but when Trump enacted his infamous travel ban, all that changed. She came into the office and found three of her employees, Iranian students, huddled in a corner crying. "I said to my COO what is going on?" Hruska recalls. It was then that she learned how the travel ban had personally affected her employees.

"It was the first time, in my privileged white life, that I had politics affect me on a visceral level. We had never done anything politically at this point, but we decided to put 'I Miss Barack' on a sweater, and shared it on Instagram with the incentive that if you bought one, $100 would be donated to the ACLU." (Hruska is a registered Democrat.)
Thousands of emails came in requesting the sweater. "With the power of social media, and interacting with people who care [about a cause], I wanted to use my brand to make a difference in the world," says Hruska. "For the first time in my life, I was like This is what I should be doing. It was powerful, unexpected, and magical."
Since then, Lingua Franca has partnered with close to 250 social causes and charitable organizations, including She Should Run, Voto Latino, Ali Forney Center, Lower East Side Girls Club, and Southern Poverty Law Center. "This is what keeps us going," she says.
Feeling inspired? Read ahead for this power woman's guide to starting the day off on the right foot, and the work uniform Hruska wears to get the job done.
Her Morning Routine
"I am a late riser and not a morning person, so I usually wake up around 8:30 a.m., which is late. I really need the first hour alone, doing my emails while my drinking coffee. Right after that, I go straight into working out—I do Tracy Anderson [Method] at home or I'll run or take a yoga class. Everyone knows I'm completely on from the time I wake up to when I workout, but I'm usually working from home at that time. I think this also allows my team time to collectively get their thoughts together before I come in, which is at noon.
I get my lunch, sit with my COO, and from 12 p.m. to 6 p.m. (sometimes later) it is a full-on choose your own adventure [type of day]. There's so much happening right now, with most of my meetings in the office. Somewhere in the middle, [I'll step out and] pick up my kids from school—my husband does the morning drop-offs—so that's my time with them. Then, I try to be home for an early dinner if possible."
Her Getting Dressed Strategy
"I'm a total mood dresser, so I can never be organized enough to lay out my clothes. Some days, I feel like dressing up, and even if I have a meeting uptown with investors, I sometimes wear ragged jeans. The women I see and respect who have the most style are the ones who feel themselves and whatever they're wearing. They come across as these natural beings and the clothes are almost secondary to them, so even if they're wearing this crazy outlandish outfit, it's part of who they are, it's not the thing you notice. Not to mood-dress would just be a total anthesis of having style for me."
Her Work Uniform
"Mood dressing can sometimes be a problem though if you don't have time to mood dress. [When that happens,] I do have a uniform: My husband likes to say 'Did you just order another pair of jeans?' I wear them every day and love high-waisted styles (I have a long torso) from brands like Mother, AYR, Slvrlake, Levi's, and Frame. I don't like skinny jeans, so I was so happy when mom jeans came back in style. I'm the type to sit with my knees up on the chair, so I like to be able to move. Nine out of 10 times, I'm in jeans, a button-down, or some kind of top—sweaters are my go-to when it's cold. I like wearing stuff like Comme des Garçons striped tees because it says I am thoughtful and have flair. I also love brands like Tory Burch, Ulla Johnson, Mara Hoffman, and Stella McCartney.
I wear a lot of Birkenstocks; I probably have 12 pairs. I have to be comfortable during the day because I am moving so much and I really want to be focused on creating and not worrying about being uncomfortable. In the summer, I do wear cotton dresses and button-down dresses, but by and large, I am a jeans-and-shirt-lady for day. At night, however, I like to have fun. If I go out to dinner with my husband, I want to show off my style. I like big jewelry, bright colors, and bold prints—that's where I play.
The pieces that matter to me the most are the ones that have special stories, like a vintage Hermès Kelly bag (gift from my husband) with a camel painted on it by Candice Bergen. The bag is so special to me because I grew up watching Murphy Brown with my mom and think Candice is the epitome of a chic woman."
The Three Words That Describe Her Power Outfit
"Authentic, comfortable, and tailored."
Her Motto
"[My husband and I] had BTS engraved on our wedding bands and it stands for 'beat the system.' I like the idea of not getting bogged down in the petty because in business, you'll always encounter troubles and, as they say, it's hard to see the forest for the trees. I try to tell myself 'don't be a petty person, don't do what people expect you to do, don't be that callous fashion person. Be nice, kind, and open.' You beat the system by rising above it all."
If you love Hruska's dressed-down work outfits, shop from her favorite brands:
---
For more stories like this, including celebrity news, beauty and fashion advice, savvy political commentary, and fascinating features, sign up for the Marie Claire newsletter.
Related Stories
Marina Liao is the former fashion news editor at MarieClaire.com, where she covered celebrity style (from Meghan Markle to Katie Holmes), fashion trends, and shopping advice, plus conducted original interviews with industry insiders. She's also had many opportunities to write content in other areas such as beauty, food, tech, and even home. Her previous fashion stints include POPSUGAR and Cosmopolitan.