Framed Bags Are the Most Worth It Evening Accessory
Minimalists, unite: Sleek, metal-trimmed purses are the elegant grab-and-go solution for day and night.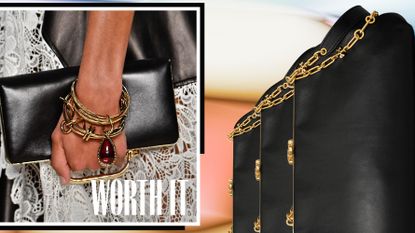 (Image credit: Courtesy of company/ Morgan McCullen)
I'm sure you saw it while rifling through you grandmother's closest playing dress up as a child: An elegant, metal-framed evening purse. As it turns out, these architectural clutches are still stylish today. Whether you're rocking a vintage, second-hand treasure or a modern, structured steal, framed bags instantly elevate an evening look, and can even be styled for day-wear. Here, we chatted with Koyaana Redstar, merchandising manager at luxury online consignment shop Rebag, to learn more about this worthy investment piece.
Marie Claire: Why does this style transcend time?
Koyanna Redstar: Metal-framed handbags were one of the first silhouettes offered in the 19th century, so it's unsurprising to see them making their way back into fashion time and time again. The frame shape can change the aesthetic of the bag: Rounded or curved frames add a flair of romanticism and antiquity, whereas straight or squared frames give a more contemporary feel.
MC: How do you style one for day?
KR: It's a versatile style that easily transitions from day to evening. To reduce the formality of a bag for day, pair it with more casual clothing such as jeans, a T-shirt, and your favorite sneakers.
MC: What makes a framed bag a good purchase?

KR: Pieces that are structured with clean lines have a tendency to always remain in fashion.
Shop our favorite picks:
A version of this story appeared in the March 2020 issue of Marie Claire.
MORE FASHION ITEMS WORTH THE INVESTMENT
Megan DiTrolio is the editor of features and special projects at Marie Claire, where she oversees all career coverage and writes and edits stories on women's issues, politics, cultural trends, and more. In addition to editing feature stories, she programs Marie Claire's annual Power Trip conference and Marie Claire's Getting Down To Business Instagram Live franchise.