Yes, You Desperately Need a Pencil Skirt
The American classic has reinvented itself for a new decade with leather, zippers, slits, and more.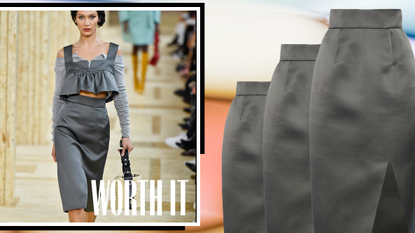 (Image credit: Courtesy of company)
Marie Claire Newsletter
Celebrity news, beauty, fashion advice, and fascinating features, delivered straight to your inbox!
Thank you for signing up to Marie Claire. You will receive a verification email shortly.
There was a problem. Please refresh the page and try again.
The pencil skirt is a tried-and-true American classic that has transcended time and trend. A piece that was once reserved for the office now gets to go out on the town, to Sunday brunch... pretty much anywhere and everywhere. We chatted with fashion historian Kimberly Chrisman-Campbell to learn more about the evolution of the style, and how you can pick one that's ultra-flattering.
Marie Claire: How has the pencil skirt evolved?
Kimberly Chrisman-Campbell: Fabric became scarce during WWII, so pencil skirts were not just a fashion statement but also a patriotic one. Full skirts came roaring back after wartime fabric restrictions were lifted, but women still wore pencil skirts with peplum jackets to create an hourglass shape. In the '50s, pencil skirts were long and boxy. They got shorter and tighter in the '60s before disappearing when the miniskirt conquered fashion, then came back in the '80s as part of the power suit, and they've stuck around ever since.
MC: What makes a pencil skirt feel modern?
KCC: Play with the materials, details, and accessories. It can be leopard or PVC.
It can have a small slit in the back or a big one in the front. Wear it with a half-untucked T-shirt or a slouchy sweater.
MC: How should it fit?
KCC: A true pencil skirt sits high on the waist and ends at the knee or just below, and it's tight enough that it needs a slit or a kick pleat at the back so you can walk.
Shop Our Favorite Pencil Skirts
A version of this story appeared in the March 2020 issue of Marie Claire.
RELATED STORIES
Celebrity news, beauty, fashion advice, and fascinating features, delivered straight to your inbox!
Megan DiTrolio is the editor of features and special projects at Marie Claire, where she oversees all career coverage and writes and edits stories on women's issues, politics, cultural trends, and more. In addition to editing feature stories, she programs Marie Claire's annual Power Trip conference and Marie Claire's Getting Down To Business Instagram Live franchise.