What I Wear to Work (at Home): Meena Harris, Founder & CEO of Phenomenal
Get yourself a "Phenomenal Woman" tee, STAT.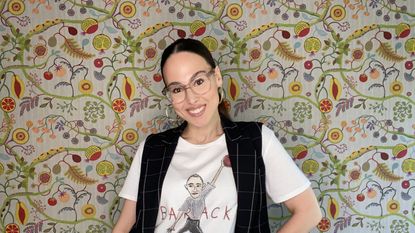 (Image credit: Meena Harris)
In a bi-weekly series, we're asking female executives, founders, CEOs—basically, boss ladies—about their "power suit" a.k.a. the outfit they wear every day for easy dressing to conquer whatever the job throws at them.
---
Meena Harris didn't set out to build a social justice empire when she started selling her "Phenomenal Woman" tees (inspired by Maya Angelo's famous poem), but now that's exactly what she has—a platform that highlights and helps shape the narratives of important social issues, like voting and supporting workers affected by the COVID-19 pandemic. It was just after the 2016 election: Harris working for Uber at the time, but ran a small t-shirt business on the side. She wanted to sell a couple hundred shirts to raise some money for women's organizations. On the first day, she sold 2,500—a movement was born.
In hindsight, this is a natural path for Harris, whose interest in activism and entrepreneurship can be traced back to her childhood.
"Everything I do is because of [my family], three awesome and strong women who dedicated themselves to making positive changes in the world," Harris says. "I have the examples of my mom and aunt, who were public interest lawyers. I was taught the value of everyday activism and showing up by my grandma, who wasn't a public official, but was a breast cancer researcher and would mentor students of color in her lab at UC Berkley. She taught me when I was 4 years old what the word boycott meant."
Harris was constantly reminded by her family that she could do anything and be anything (her aforementioned aunt is, after all, United States Senator and former Democratic presidential candidate Kamala Harris). Harris says she has a duty and responsibility to help other people in whatever way she can: She was one of the lawyers who gathered at airports to assist with the ramifications of President Trump's 2017 ban on refugees and citizens from certain Muslim countries. When she was reading children's books to her daughters and realized they didn't contain diverse characters who resembled her children, she wrote her own, Kamala and Maya's Big Idea, inspired by her mom and aunt.
"If you're committed to making a difference, you just do it," she says. "I think the point is that each of us, in our own unique ways, can make a contribution. You don't have to be a full time activist or even run for office. Start small, commit to it, and build on it."
Like her T-shirt business. It's grown to become Phenomenal Woman Action Campaign. Harris and her team have been busy launching initiatives, often in reaction to breaking news, and finding ways to continually amplify the voice and work of their non-profit partners, including Black Futures Lab. Here, Harris takes a moment to chat with me about her personal life and her work-from-home style. Naturally, she rocks her "Phenomenal Woman" t-shirt 24/7.
Her Morning Routine
"[In our house,] we have a unique situation where traditional gender roles are flipped. My partner, Nik, is a full-time dad and I am working on Phenomenal full time. Nik was in tech forever, but he decided to take some time to think about his next steps after we had our second child. I wouldn't be able to do what I'm doing without him because laundry, work, Zoom—everything is a full-time job.
An important part of our usual routine is doing my older daughter's hair. For kids with straight hair, you just brush it and it takes five minutes. But if you have textured hair, it's quite different. There's moisturizing it, parting it, braiding it, it's a whole thing. We're establishing a haircare routine and part of that is also now wearing a bedtime bonnet to bed so she can protect her hair. (If you have curly hair and sleep on a cotton pillow, it can make it dry and break.) Our morning routine, however, has largely gone out the window, with the exception of breakfast."
Her Getting Dressed Strategy
"If I don't have a ton of meetings, my approach is casual. If I have external meetings, I'll look more polished, which means jeans, a t-shirt, and a blazer on top. One of my favorite workwear companies is Argent because they make women's workwear accessible and when you reach for the pieces, you don't feel like it's a formal thing. I never wear heels unless I have to, like if I'm speaking at a panel or going to a reception. I'm always in tennis shoes or flats, and I'm definitely someone who does high-low mixing, like wearing Adidas sandals with blazers."
Her Work-From-Home Uniform
"My most casual day at work is a Phenomenal shirt. It's so comfortable and cozy, I have about 20 of them that I can reach for every day. The shirt has that surprise and delight element because it's an awesome message and you can sleep in it, work out in it, and it looks good on Zoom calls.
[With the tee,] I wear Zella leggings—definitely not real pants, or as someone called them 'hard pants,' since no one is seeing it. If I'm trying to remind myself to workout, I will intentionally put on my workout leggings. I've also gotten into muumuu house dresses, because you feel so free and comfortable. Mara Hoffman makes flowy dresses, and a lot of her stuff is geared towards swimwear, like cover ups, but they work well as house dresses, too. I don't want to be constricted in my outfits. The other brand that I'd shout out is Carly Cushnie, she launched a partnership with Target and her pieces are dressier but still flowy.
I have a whole quarantine-on-camera look and it's my Harwell Godfrey hoops, my Phenomenal shirt, glasses, and my hair tied up into a bun. If I'm on camera, I'll wear some makeup."
The Words That Describe Her Power Outfit
"My power outfit is feeling confident and well styled, thinking that my outfit is awesome."
Her Motto
"'No one can do everything, but everyone can do something.' My other one is: 'F*ck the haters.'"
Shop pieces from Harris' favorite brands:
---
For more stories like this, including celebrity news, beauty and fashion advice, savvy political commentary, and fascinating features, sign up for the Marie Claire newsletter.
Related Stories
Marina Liao is the former fashion news editor at MarieClaire.com, where she covered celebrity style (from Meghan Markle to Katie Holmes), fashion trends, and shopping advice, plus conducted original interviews with industry insiders. She's also had many opportunities to write content in other areas such as beauty, food, tech, and even home. Her previous fashion stints include POPSUGAR and Cosmopolitan.