Maeve Reilly Is the Woman Behind Hailey Bieber's Enviable Street Style
Meet Stylist Maeve Reilly, the woman responsible for Hailey Bieber's enviable off-duty style. These two are a match made in fashion heaven.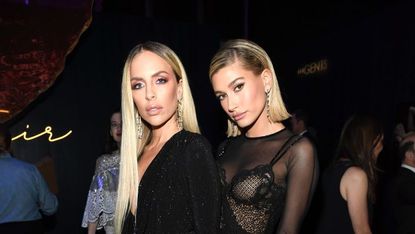 (Image credit: Kevin Mazur/VF20)
Thanks to Instagram and the paparazzi, a star's everyday outfits (a.k.a. their street style) is just as important as any red carpet look. Hailey Bieber's off-duty style, in particular, is enviable—cool, effortless, a little masculine, but always sexy. Celebrity stylist Maeve Reilly is the woman behind it, though she'll be the first to tell you that what she has with Beiber is a partnership, that these two are a match made in fashion heaven.
We chatted with Reilly about how her personal style—tomboyish, with lots of leather, baggy pants, crop tops, and sneakers—influences her craft, her career journey—her stacked client list also features Ciara, The Chain Smokers, Channing Tatum, La La Anthony, and Normani—and the process for creating Bieber's effortlessly cool style. What started with an Instagram DM turned into some very iconic looks...like that Off-White wedding dress.
Marie Claire: Have you always known that you wanted to work in fashion?
Maeve Reilly: Always. I went to The Fashion Institute of Technology [in New York City] for undergrad and I also took FIT high school classes. I always knew I wanted to be in fashion, I just didn't know what space. When I was growing up styling wasn't on the map, it was before Rachel Zoe. I ended up in an internship on a set of a TV show when I was 17 and I just knew that's what I wanted to do with my life.
MC: When did you decide it was time to go out on your own?

MR: I assisted for more than 8 years. I think you just know when it's time to go out on your own. You learn what you can and can't handle. You get a feeling, and people start reaching out asking you to do little jobs here and there. I just said no to nothing and did everything that came my way. Everything was a learning experience and it was all great. I started getting a lot of jobs styling background dancers in music videos. That's how I met Janelle Monáe—someone at her record label knew me from doing music videos. They asked if I wanted to style Janelle Monáe for the BET awards and of course I said yes.
MC: You started with mens. Did you plan on styling women?
MR: If you had asked me 10 years ago, I would've said men only. I think that the space for women's styling is tricky. It's super saturated—there are so many incredible stylists, and I honestly think I was just intimated. I didn't think I could do what they all do. A big reason why I got Janelle was because I styled men and at the time [Janelle] was only wearing suiting.
MC: You have such a distinct sense of personal style, which has made you stand out.
MR: I don't mean to stand out. You grow up and become who you are meant to become. My personal style has evolved so much over the years. The best advice I can give to people is figure out who the stylists are that you love—for example, I was obsessed with Rihanna and I wanted to work with whoever was styling Rihanna. I banged down Rob [Zangardi] and Mariel [Haenn]'s door until they would meet me and hire me. There was no social media; all I had was Google. If you can find any sort of referral it really helps. If you're looking to break in, figure out which area [you want to specialize in] and do everything that you need to do to stand out.
MC: In the last five years or so off-duty style has become as important as red carpet style. Why?
MR: I think social media has catapulted our visibility as stylists and set people apart in different ways. I realized a couple of years ago when Vogue started writing about Hailey on the street—you used to have to do huge red carpets to get that notoriety, and now all of a sudden she's just walking down the street and people are looking to me like, How did you do it?
MC: How much work goes into creating that effortless off-duty style?
MR: Hailey has incredible taste on her own and an amazing sense of style without me; we just sort of honed it in over the years. We typically have fittings at least once a week. We line up potential looks for her and she just wears them whenever she wants. A lot of time Hailey will remix the look when she gets home. It's a very collaborative process. It's not me telling her what to do—it's a total team effort. She's just cool. She has what can't be bought: She's swaggy.
MC: All of your clients have different looks with that Maeve Reilly touch. How do you make sure you marry your sense of personal style with theirs?
MR: I think the most important thing to me is that each of my girls feel like themselves, an individual. You're not coming to me to look like the next. People reach out to me a lot in the Hailey space asking to look like her. I choose not to do it because what we have done together is unique; I don't want to share that space with someone else. In my opinion, the true skill of a real stylist is being able to adapt to different body types and a different space. For example, Normani is dancing, she needs to be on stage, that is completely different than some of my other girls' needs.
MC: What's your advice to women on a budget trying to emulate these looks?

MR: We acknowledge that Hailey's fan base is younger and they want to be able to wear what she's wearing. We love to mix high and low—it's important, it's also real life. We're not only shopping at Bergdorf's. We love Urban Outfitters, ASOS, Aritzia, Joah Brown—all these brands are super attainable. The RealReal is also amazing if you're looking for that big ticket item. We actually put a lot our stuff on the RealReal.
MC: Was there a moment in your career where you realized your impact?

MR: There are those out of body moments. For example, I remember being at 1OAK in L.A. years ago and I was like, Wow all these girls are all trying to look like this sexy tomboy inspired by Hailey. I am just so humbled and thankful that people pay attention. But I don't do what I do for people to pay attention; I do it because I love it.
MC: Do you plan on expanding outside of styling?
MR: I'd like to start making clothes. I want to make attainable pieces for people who want that off-duty look that we have created. I never want to step away from styling, but I can see myself pulling back on how much I take on to focus on other projects.
MC: Who are your style inspirations?
MR: It's funny, I always say Hailey. We're just on the same wavelength. I am a little edgier than she is. I like pieces that are a little louder. I also look to the street, but overall I like what fits me and I dress for my body. I have a uniform [baggy pants, crop tops, sneakers, and leather jackets] and I stick within it, which took a long time to hone in.
MC: What is your favorite look of Hailey's that you styled?

MR: Her wedding dress, of course. That entire weekend was amazing.
Click through to see Hailey's best street style looks.
Image 1 of 21
March 3, 2019
February 26, 2020
May 3, 2019
December 5, 2019
December 10, 2019
July 5, 2018
February 12, 2018
September 17, 2019
February 6, 2020
February 28, 2020
May 7, 2019
May 4, 2019
February 27, 2020
February 11, 2019
July 26, 2017
September 14, 2018
July 27, 2018
January 22, 2019
July 12, 2018
January 31, 2020
February 18, 2020
RELATED STORY
Shelby Comroe is the Credits Editor and Fashion Assistant at Marie Claire covering all things fashion and giving credit where credit is due. Check her out @shelbycomroe on Instagram if buying designer handbags is your idea of a retirement plan!