What Does the Future of Celebrity Styling Look Like?
We asked the experts a.k.a. Hollywood's top fashion stylists.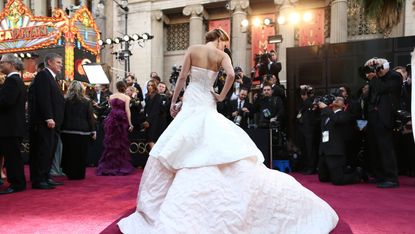 (Image credit: Christopher Polk)
The COVID-19 pandemic has forced every industry, and particularly fashion, to reevaluate their businesses. Early on, luxury conglomerate LVMH redirected its manufacturing to produce hand sanitizer gels, J.Crew recently filed for bankruptcy, and now brands of all size and scope are increasingly offering face masks alongside their spring/summer 2020 collections.
No part, big or small, of fashion has been left unscathed by this health crisis and that includes the world of celebrity styling. (May alone would have given us two of fashion's prime-coverage events: the Met Gala and the Cannes Film Festival.) Fashion stylists are in the business of dressing Hollywood stars for red carpets and glamorous press junkets, but when there is no immediate need for it—what are they to do?
"I have not worked since March 13," says Elizabeth Stewart, who styles the likes of Viola Davis and Gal Gadot. "I was meant to be working in London, Paris, Madrid, New York, and Cannes for both April and May but everything is cancelled." Stewart's situation has been echoed by many in her field. Sam Spector, whose clients include Daniel Radcliffe and Ryan Seacrest, revealed that his work, too, went from non-stop to non-existent overnight. "I was actually in the middle of styling someone for a Broadway opening the day Broadway shut down." Spector said.
Their stories reflect the conundrum many fashion stylists are in: no red carpet events, parties, or promotional appearances mean no celebrities need dressing, which means no jobs for stylists. And for those who have been able to continue working with their clients, the process has drastically changed. "We've had one client who we 'dressed' for virtual press. We collected clothes from the few showrooms that could be accessed and dropped everything at her door. There were no alterations, so we gave her a small kit of pins, tape, etc. It was strange," says stylist Jill Lincoln, who has worked with Jennifer Lawrence and Kiernan Shipka.
This new normal will likely stick around for some time; while many states are reopening, stay-at-home orders and social distancing practices still remain in place for major cities like Los Angeles and New York City. The big question then is: What will the future of red carpet styling look like? Will there even be red carpets in 2020? I asked a few stylists to share their predictions for the rest of the year, going into awards season.
Elizabeth Stewart
What does the future of styling look like?
"Here is what I think could be a positive change: We really focus on the social and environmental impact of each look we work on for a client. This is something we were already starting to do before the crisis, but now it will be doubly important. Using local brands, supporting companies that have sustainable practices, and cutting back on unnecessary excess will all help. If we come out of this with greater compassion and sensitivity to the interconnectedness of the world, then we can use our very public platform to make the world a better place."
How are you navigating this time and what are you working on?
"I've been using the time off to set up a nonprofit website called Chic-Relief.com with Jordan Grossman (who is my first assistant). It's to raise money for COVID-19 relief causes and the first recipient is Direct Relief, which is a great organization that provides medical supplies to places in need around the world. The site is a collaboration of stylists selling gently used things that we have access to through our clients and connections with brands. There is also an auction on the site, which links to eBay and includes dresses worn by Jennifer Lopez, Beyonce, Julia Roberts, etc., and the money raised is being matched by eBay. We are also selling masks on the site made out of re-purposed designer shoes bags. Sustainability is very important to us and will be even more so upon return to work."
Micaela Erlanger
What does the future of styling look like?
"I don't have a crystal ball and don't have the right answer, but I do think everything will eventually resume. The entertainment industry relies heavily on the promotion of their films, but this part will have to be reimagined. As events change, so will attendance and wardrobe. The way stylists work and how celebrities choose to promote their films or how the entertainment industry choose to structure press tours, that will all be different. I think glamour, beauty, and inspiration will be forever needed and craved, however, whether it's escapism or just because it feels good. As an industry of creatives, we're some of the most flexible people and we will find new ways to work in this environment."
How are you navigating this time and what are you working on?
"I launched the expansion of my business into the bridal space last year and it's actually a crazy time in the sense that now, more than over, there's a need for advice and guidance in the wedding space. I have brides who are coming to me to navigate their dress design processes and figure out new plans. In order to give back at this time too, I'm offering complimentary consultations for brides who've been impacted by the COVID-19 pandemic. [These sessions] are happening over WhatsApp, Zoom, Skype, FaceTime, etc. In exchange for my time and advice, I ask them to donate to a direct relief."
Jason Bolden
What does the future of styling look like?
"I think everything will adjust and we're going to adjust, so it'll be the same, I hope. When you look at the past, there were pandemics before and outbreaks that happened and we've gotten through it. I look at that and think that there will be a new normal for us."
How are you navigating this time and what are you working on?
"The lucky thing for me is that my business has always been a bit broader than just styling clothes, from my television show to my creative direction and interior design skills. I realize you have to broaden your view and scope of work, now more than ever. There is no job security [in the styling field] and I'm fortunate enough to have a husband that can carry the weight, but there are a lot of people in this space that don't have that.
No one is talking about what this feels like for people who are freelancers. [The current situation] is making me look at this business and think about our value and financial worth. Are these brands or studios financially valuing what I am doing? Stylists fight all the time to get paid in this space and this is why we fight, if you have down time like this, you're financially stuck. The conversation needs to go back to 'How do we take care of our people?'"
Ilaria Urbinati
What does the future of styling look like?
"I think it's impossible to foresee all the changes that will happen, but I think a lot of things will take place locally in Los Angeles or New York City rather than destination press. I'm seeing people do press from home with no makeup on and that is relatable. It's either we go in that direction, where people want to see celebs looking real and natural, or the other extreme: People want to see them look glamorous as a form of escapism. I think there will be a lot of virtual press junkets and panels, but I don't know, then, if they're being filmed from the waist up, how they will need a stylist for that. Celebrity culture is going to change a lot, but the bigger long term problem is the economy—that will take longer to recover from."
How are you navigating this time and what are you working on?
"I am working on a project that will launch in July and it's very exciting and within my area of expertise. It is a bit of a career shift, but that's what I will have to do and the project is related to the men's style world."
Sam Spector
What does the future of styling look like?
"I don't see red carpets making a come back anytime soon, and I don't see actors promoting their projects in the same way they were before. Productions are going to have to shift the way that they film and work with fewer people on set or [enact] guidelines on how to socially distance on sets. For example, I think that stylists and groomers may have to 'do and go,' where they meet with their client first thing in the morning and then leave, instead of traveling from appearance to appearance like we used to. Perhaps there will be Zoom stations set up so that the stylist and hair stylist are able to do 'last looks' virtually.
There are many ways to limit the exposure of everyone involved and I have been thinking about ways to continue to offer my services while reducing this exposure to clients. I have been styling Daniel Radcliffe virtually during the pandemic while he promotes The Unbreakable Kimmy Schmidt interactive movie for Netflix. It's definitely a new way of working and I do wonder if this will change people's ideas of what's important and whether they do need to be wearing a new gown or suit for each appearance and how that affects our industry."
How are you navigating this time and what are you working on?
"My team and I have been producing daily Instagram fashion and trend stories to provide followers with inspiring looks and how-to guides. I am potentially enhancing my website from a portfolio site to also include a content site to house the fashion and lifestyle stories I create for Instagram. It will feature new and ongoing editorial content that will provide readers with stories on fashion, travel, and other areas, and will also [enable] users to shop directly from my website."
Jessica Paster
What does the future of styling look like?
"I think it's about being mindful and curated, especially when it comes to things like Zoom interviews where you don't need shoes. Olivia Munn had two days of press for her Netflix movie, so we got creative and clever and had her do press in pajamas. When Nicole Scherzinger had press for The Masked Singer, we did a fitting 10 feet away with clothes that had been aired out for two days and also all of us had been quarantined for at least two weeks.
I do think—I'm being hopeful here—we will have events and red carpets in the future, but [certain protocols will change]. For example, fans won't be hugging or touching celebrities or instead of having many photographers, it will be pared down. I'm hopeful that red carpets will continue to bring joy to all of us and to the people who are excited about movies and entertainment."
How are you navigating this time and what are you working on?
"I've been doing virtual shopping for clients and have participated in projects like a digital style summit. I got into this business because I get to dress beautiful women and now I'm thinking of also expanding my business into bridal because what's more beautiful than dressing someone on their wedding day? What I've gotten out of these weeks in quarantine, too, is that I love our fashion community and I love my fellow stylists. I want everyone to succeed and I want people to do well. We've all been talking and supportive of one another."

Cristina Ehrlich
What does the future of styling look like?
"How are we going to bend and adapt consciously to the new normal? Our industry has a responsibility to follow a protocol where most, if not all, events will be virtual. Will there be a need for stylists? Hopefully so. As a stylist it is about providing a service, which I will continue to do as we all figure out this new normal."
How are you navigating this time and what are you working on?
"This has been a time to dive deeper into creativity within my community, whether it be through social media initiatives, Zoom discussions, or design collaborations. In terms of projects, it is very important to me that, with everything I choose to participate in, there is a deeper conversation at hand. I'm very open to being a part of anything that reflects and touches on the landscape of this industry. I have been able to be part of amazing initiatives, like the Glamhive style summit that gathered fellow stylists/designers to talk about the industry's shift as a result of the current situation, and raise money for the organization Feeding America."
Jill Lincoln and Jordan Johnson
What does the future of styling look like?
"There has been so much discussion and speculation in media and in private conversations with friends and colleagues. We don't think anyone has the foggiest idea and everything will be figured out day by day, case by case. We imagine our processes will be scaled down significantly (fewer clothing options and less people in fittings) and we imagine the events themselves will be scaled down. The red carpet will return, but likely a 'diet' version for a while."
How are you navigating this time and what are you working on?
"Everyone is taking a hard look at their businesses now. Styling has been increasingly difficult with a growing pool of talent all vying for the same spaces. We've taken this time to think about our positioning and we're expanding into more brand consulting. Between [the two of us], we have a lot of varied experience and we're quite good at it! This said, we have done some social media work for our J&J Instagram and content projects with partners and brands we have relationships with. Not going to lie...we have a new respect for influencers and the work that goes into creating content."
For more stories like this, including celebrity news, beauty and fashion advice, savvy political commentary, and fascinating features, sign up for the Marie Claire newsletter.
RELATED STORIES
Marie Claire email subscribers get intel on fashion and beauty trends, hot-off-the-press celebrity news, and more. Sign up here.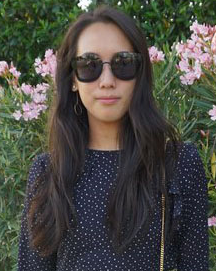 Marina Liao is the former fashion news editor at MarieClaire.com, where she covered celebrity style (from Meghan Markle to Katie Holmes), fashion trends, and shopping advice, plus conducted original interviews with industry insiders. She's also had many opportunities to write content in other areas such as beauty, food, tech, and even home. Her previous fashion stints include POPSUGAR and Cosmopolitan.