What I Wear to Work (at Home): Janaye Ingram, Director of 21st Century Communities Initiatives at Airbnb
She is Team Jumpsuits and Dresses.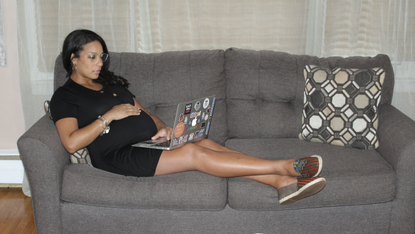 (Image credit: Janaye Ingram)
In a bi-weekly series, we're asking female executives, founders, CEOs—basically, boss ladies—about their "power suit" a.k.a. the outfit they wear every day for easy dressing to conquer whatever the job throws at them.
---
Janaye Ingram is one of the co-founders of the Woman's March and was the national executive director of civil rights organization National Action Network. Now, she's promoting advocacy in corporate America. Earlier this year, Ingram pivoted from her role as Airbnb's director of national partnerships to director of 21st century communities initiatives, where she works with civil rights organizations and nonprofits to fight bias and discrimination on the vacation rental's platform.
One of the major initiatives Ingram is spearheading is Project Lighthouse (opens in new tab), which builds on a 2016 civil rights audit (opens in new tab) of the company. "Project Lighthouse is a new initiative to uncover if there is systemic racism that is happening [on Airbnb's platform]. It's us trying to dig a little deeper. We created a whole product team, our anti-discrimination product team, to root out where bias may exist," she says. "One of the things we plan to look at through Project Lighthouse is how people of a certain perceived racial group are experiencing cancellations and how are reviews being impacted by a person's perceived race."
This initiative, two years in the making, comes at a crucial time, coinciding with the rise of the Black Lives Matter movement and a public call to all brands to be an ally to the Black community (opens in new tab). Airbnb has, on various occasions, come under fire for fostering a discriminatory (opens in new tab) environment (opens in new tab) for both Black hosts and guests. After exposés were published, the company has tried to reduce user bias, whether conscious or unconscious, such as changing the way (opens in new tab) profile pictures are displayed (now hosts do not see a guest's photo until after a reservation is confirmed) and partnering with the NAACP (opens in new tab) and LULAC (opens in new tab) (League of United Latin American Citizens) to improve the experiences of hosts from communities of color.
Ingram says that these aren't one-off projects, rather continuous conversations between both sides to create ongoing synergy. Ingram adds, "Because I come from a movement space, I understand them in a way that helps me have conversations, both internally and externally, to address the needs of these communities."
Ingram is excited to see the progress of Project Lighthouse. "We have worked so long on this initiative and as we begin this work of understanding how perceived race may impact a user's experience, we can [say] 'Here's what we found,'" she says. Improving the culture of Airbnb, is just one of the important jobs Ingram is focused on. Soon, she'll take on another, equally critical role: new mom. Below, she shares a snapshot of her personal life, including what she wears to work (from home) while pregnant.
Morning Routine
"I'm currently social distancing at my parents' house in New Jersey and am working from home. I typically start my day with a meditation or affirmation for 10 to 20 minutes, something to get my mind in a positive space. Most days, my hair is back in a ponytail or maybe in a bun. Unless I'm in an important meeting or something, I might throw on makeup but typically it's all natural."
Her Getting Dressed Strategy
"Prior to the pandemic, I would definitely think about the weather—I was a weather stalker— to figure out what I would wear based on that and how on my work day [was shaking out]. I typically don't pull out [in advance] what to wear unless I have an important meeting. I make sure to give myself the time to get everything together, so I'm not [running around] looking for clothes the morning of. Pregnancy has also dramatically changed the way I've gotten dressed. Comfort is key these days and I have lots of spandex and comfy clothes that feel like pajamas—nothing too restrictive or uncomfortable."
Her Work-From-Home Uniform
"I keep it simple because I'm at the end of my pregnancy and what I put on is dictated by whether or not I have to go to the doctor. If I have multiple doctor visits, I wear a two-piece outfit. If I'm not at the doctor's, I'm in a one piece. I love jumpsuits. I have a few that I can still wear as a pregnant woman or just dresses—long maxi dresses that are comfortable.
[When I was going into] the office, I definitely loved a jumpsuit. They are my go-to thing because you can dress them up or dress them down, and you don't have to worry about [matching a] top or bottom. If I had a meeting, I would throw a blazer on top. I also traveled a lot (somewhere between 80 to 90 percent of the time last year), and jumpsuits are great for packing and made my life simple. Now it's more dresses. The ease of just wearing one piece for me...you just slip it on and you're done. Plus, I don't have to worry about maternity bottoms. I've had different pairs and, no matter who makes them or what style they are (over the belly or ones with the elastic sides), they fall down and they're not comfortable. Dresses are the go-to.
There was also a time in my life that I was known as the girl who never wore flats, and then I moved to New York and wearing heels became impossible. I still wear heels on occasion because they make me stand taller and feel polished, but I also appreciate flats and sneakers. At this moment, my shoe choice is flats and I have some slides that are cute, versatile, and fashionable. I have a pair of shoes that I bought at a market in Ghana with an espadrille sole and made of leather with some fabric on the front; every time I wear those, people compliment me.
For accessories, I wear lots of bracelets. I am a bracelet stacker. I tend to go for designs, such as beaded bracelets or anything that has a tassel on it. I have a pair of simple silver hoops—silver is my go-to metal—that are my everyday staple, but if I'm going out or want to dress up a look, I will put on a different pair of earrings."
The Words That Describe Her Power Outfit
"Confident, comfy, and reflective of my style that fits the moment."
Her Motto
"One that I have relied on for work and being in the office is one by Nelson Mandela: 'It always seems impossible until it is done.' Every situation is surmountable, even if in the moment it feels like it's not. From a movement perspective, another quote I have is Coretta Scott King's 'Freedom is never really won. You earn it and win it in every generation.' This lends itself to the work that's happening right now, specifically Black Lives Matter, and the notion that the fight goes back even further, before my time. Every generation has a responsibility to contribute to this fight."
Shop some of Ingram's favorite brands, below:
Related Stories
Marina Liao is the former fashion news editor at MarieClaire.com, where she covered celebrity style (from Meghan Markle to Katie Holmes), fashion trends, and shopping advice, plus conducted original interviews with industry insiders. She's also had many opportunities to write content in other areas such as beauty, food, tech, and even home. Her previous fashion stints include POPSUGAR and Cosmopolitan.