What I Wear to Work (at Home): Joy Reid, Host of "The ReidOut"
Plus, a style tip she learned from Michelle Obama.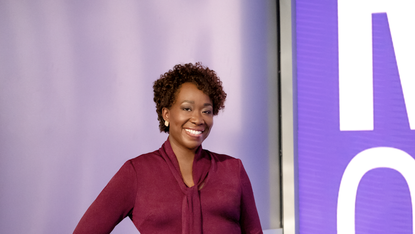 (Image credit: Virginia Sherwood/MSNBC)
In a bi-weekly series, we're asking female executives, founders, CEOs—basically, boss ladies—about their "power suit" a.k.a. the outfit they wear every day for easy dressing to conquer whatever the job throws at them.
Joy Reid made television history three weeks ago when she became the first Black woman to anchor a primetime network news show on cable TV. Reid, who hosts The ReidOut in MSNBC's 7 p.m. slot, spoke with me four days after the airing of her first show, reflecting on how hectic and exhilarating the moments were leading up to the launch. She had driven up with her family from Maryland to New York City to film the first two episodes in 30 Rock, which she described was "eerily empty" because of the pandemic. That Monday, Reid's show guests included two political heavyweights: Joe Biden and Hillary Clinton.
Reid, a 20-plus-year broadcast veteran who rarely gets camera shy, admits this was one of the few times when she was actually nervous.
"In that moment, you're really thinking, okay, I'm the first Black woman doing this on cable television, and on the other side of this break, Joe Biden will sit in front of me, then Hillary Clinton, and then [Mayors Keisha Lance Bottoms of Atlanta and Lori Lightfoot of Chicago]. I thought about the line up and I thought Wow, I need to not mess this up," she says. "I wanted to make my family and community proud. I felt a sense of responsibility and representation. I felt the gravity of it all. As the 30 seconds started ticking down, that was the most pressure I ever felt in my career."
According to NBC, more than 2.5 million people tuned in to watch the premiere of The ReidOut.
Reid is cut out for this intense, all-eyes-on-you kind of journalism. She previously hosted MSNBC shows AM Joy and The Reid Report. She's been a news junkie since childhood, recalling her fascination with Nightline in the 6th grade, which her mother let her stay up to watch. She says she looks up to prominent fellow television figures such as Melissa Harris-Perry, Chris Matthews, and Lawrence O'Donnell.
Reid credits her mother, an immigrant from Guyana, for getting her involved in politics. "She took us with her to get her citizenship. She took us to vote. I still remember the first vote I ever took," Reid says. "I am a super voter and I never miss an election. Voting is an extension of activism."

On the topic of activism, Reid says that covering Black Lives Matter, which she has done since 2012, will be an integral part of her show, along with coverage of COVID-19. "BLM and the pandemic are the two most important stories today. One is about the chaos and lack of leadership that is killing people and the other is about the neglect that is killing and hurting people," she says. Reid also plans to talk about climate change and immigration on her show, explaining that the coverage of these issues, plus many more, is an ongoing journey.
"We're in the business of covering chaos and neglect," she says. "If we don't point out where politics have gone wrong, then there will be no one to sound the outcry. We are the outcry."
Reid reports on difficult topics day in and out, and reveals that some of these stories can hit close to home, especially when another black man, woman, or child dies. "I see my husband, my sons, my daughter, my cousins, my family. I feel it in my gut," she says. "I am afraid of the police. I am doing quite well and I'm successful, so if I am scared I can only imagine how scared everyone else is."
In order to regroup, Reid says she schedules in time to just zone out in front of the TV (she loves zombie shows like The Walking Dead, Marvel and DC comics, and home shows like Love It or List It on HGTV). She'll read or listen to music, too. Reid also admits that she has a rather "goofy" side, so she will make up songs to sing and dance to in between takes on set. To bring some wackiness to her own show, The ReidOut team has a segment called "Craziest Damn Thing," which is a lighter approach to discussing topics, like President Donald Trump finally wearing a mask.
As Reid continues to craft her new show and its messaging, the host says it's not enough that she made it up the ladder and is happy—she needs to kick open the doors for everyone else. "We're intentional about making sure that when you turn on the TV, you're not just seeing white voices and faces, that there is some diversity throughout. Not only racial diversity but also ethnic and sexual orientation diversity," she says. "If we're having an economist on, is there a black or brown or indigenous person—someone other than a white guy—we can book? The same goes for expertise diversity. We tend to only talk to reporters or experts in the field, but what about people like activists, the ones getting peppered sprayed? They [should have] a voice equal to the designated experts."
With her already long list of to-dos, the self-described insomniac (Reid says she does her best work at night) is always ready to take on even more—she runs two podcasts: "Reid This Reid That" and "What to Reid." Ahead, Reid and I chat more about what it's like to anchor a news show from her basement (the host has been quarantining with her family and, like many people, is still WFH), especially how that has affected her on-air work outfits.
"I usually get up at 7 a.m. My husband and I then walk around our neighborhood for 45 minutes. We try to get our 10,000 steps in, so we'll do a three-timer around the neighborhood. Then I come back, shower, throw on a t-shirt. My favorite thing to live in right now are Adidas sweats and slippers. I jump on a 10:40 a.m. call with the senior producer and executive producer of The ReidOut to talk through ideas and who we have booking-wise. Then we have an 11 a.m. call with the full team where people—from interns to execs—throw out ideas. I love that meeting. Later, we have more meetings to go over the segments once the run-downs are approved."
"A good friend of ours, who is an interior designer, helped me organize my closet so now I have tops hanging here, dresses hanging there, pants over there. I'll go through [my closet] and pick something that is colorful, keeping in mind our [show's backdrop] colors, which are purple and white, to make sure there is a contrast.
My fashion sense is to look interesting on camera and be memorable—but not so memorable that I can't wear the piece again. Google Images are brutal. The system I have for not repeating [a piece right away] is I take whatever top I wear today and put it to the far left end of my closet, so that by virtue of where it is, it cannot rotate back in until it gets to the front again. I do wear things again and will make a slight change with a jacket or jewelry. I usually throw on some earrings because that's the West Indian side of me. I can hear my godmother in my ear saying, 'Put on an earring.'"
"My work uniform for shooting in the basement is black Adidas pants with white stripes or some black leggings and a colorful top. When I first started doing TV, I would wear black all the time, but my godmother was like, "Wear colors." I didn't think I could wear them, but now I actually do look good in colors. I love to wear white on TV—that used to be a no-no in the TV world. And I love anything bright blue or bright green. I find something in a primary color.
I love filming in the basement because all I have to do is put on my cute top. I can still wear my Adidas sweats and slippers throughout the show. I don't have to get fully dressed, so I love that. NBC put a whole camera prompter in the basement, so my husband and daughter assist me now. She hands me the papers and he turns everything on since he's a tech guy. I have a little crew.
My favorite piece in the world, which I bought years ago in a store (unusual for me [because] I hate shopping [in stores] and love buying online), was this bright pink Zara jacket. It has this cute shoulder that puffs up. That gets repeated a lot because it's a bold colored jacket that you can pair with a simple white tee and the outerwear is the main story.

[For jewelry], I love pieces from Opal Stone, Margo Morrison, and Shelly Herman Jewelry. I love jewelry more than clothes and would rather shop for that. In the whole idea of representation, too, this is something Michelle [Obama] inspired me with: I try to wear a black designer or a multicultural designer when I'm on the red carpet. For the NAACP Image Awards, I wore Opal Stone jewelry and a SUKEINA dress. It was the best thing I ever wore in my life and the best I ever looked.
I'm also definitely a flats person. What I normally do is wear flats and carry a pair of heels with me incase the shot would include my shoes, but walking in heels is not my favorite thing. I'll do it if I'm walking on the red carpet or giving a speech, because you want to look finished from top to bottom. I have some Christian Louboutins, one pair was from my husband for me for my birthday. I also splurged on Miu Miu heels and a pair from YSL that are high."
"Bold, whimsical, and colorful would be my pre-pandemic look. And my post-pandemic look would be sweats, slippers, and a cute top."
"My mantra is—I got it from Chris Matthews, who said it at an event he was speaking at and I've always taken it with me—'Always show up, and when you do show up, be prepared.' I always tell young people, even if you're a little insecure about whether you're really the right person for that job or that there might be people better, smarter, etc., don't think about that. Raise your hand and make sure you're prepared.
I think we underestimate ourselves, particularly as women. And often as women of color, we unnecessarily downgrade ourselves before anyone else gets a chance to do that for us. There's this saying, 'God, give me the confidence of a mediocre white dude,' because men will be up there like, 'Me! I can do this!' And they don't think about whether or not they are ready. As long as you're prepared, believe you can do it."
Shop some of Reid's favorite brands, below:
RELATED STORIES
RELATED STORIES
Marina Liao is the former fashion news editor at MarieClaire.com, where she covered celebrity style (from Meghan Markle to Katie Holmes), fashion trends, and shopping advice, plus conducted original interviews with industry insiders. She's also had many opportunities to write content in other areas such as beauty, food, tech, and even home. Her previous fashion stints include POPSUGAR and Cosmopolitan.