How Our EIC Has Perfected Her Work-From-Home Routine
Hint: walks and fresh air are key!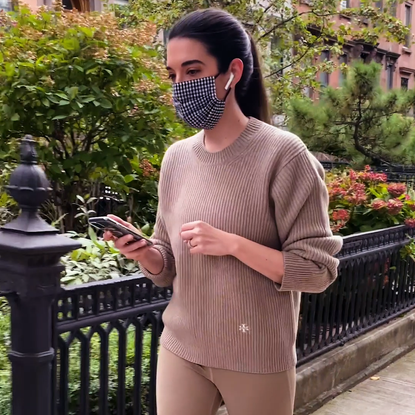 (Image credit: hearst owned)
When we left the office (desk plants and all) last March, most of us probably could've never anticipated the weight that the term "work from home" would soon carry. As weeks turned to months and months turned to seasons, we all had to make adjustments to our "normal" routines to create makeshift home offices, meet with coworkers through the computer screen, and find a balance between dressing comfortably at home and looking polished enough to lead a video call.
For Marie Claire's Editor-in-Chief, Sally Holmes, managing the stress of the new work routine has come down to a combination of fresh air, walk breaks, and leaning into a WFH wardrobe that looks and feels good.
Check out three of the ways Holmes has made working from home work for her.
Balance style and comfort
Though we probably all initially basked in being able to wear sweatpants "at work," Holmes learned within the first few weeks of working from her Brooklyn apartment that she felt work mode came easier when she'd shower and get dressed in "real person clothes."
"I want to look good, but I also really want to feel good," Holmes says, which is why she chooses outfits and shoes that are comfortable enough to wear at her desk, but can easily take her outside the apartment when she's ready for a break. "There are so many things to think about right now and so many uncertainties, and the last thing I want to do is have to worry about the pair of shoes I'm wearing when I want to leave the house in a rush or just go around the corner."
A pair she gravitates to? The SOREL Joan Uptown Lace Bootie, which Holmes calls "a sneak-attack smart shoe" because it feels cool and trendy, but the wedge makes it actually comfortable.
She pairs it with an oversized, menswear-inspired button-down and a pair of simple black jeans. "The wedges are a great fit with this look thanks to the borrowed-from-the-boys vibes from the lace-ups and feminine (and comfortable!) wedge silhouette," she says.
Step away and get some fresh air
Taking a break during the day has always been essential, but Holmes says perhaps now more than ever. "In the office, taking a break feels more organic because you're moving around all day, going from one meeting to another," she says. "If I'm not thinking about it at home, I could spend all day just sitting in front of my computer without getting up."
That's why when she has time in between meetings, she likes to spend 15 minutes or so getting out of the apartment to grab a sandwich for lunch or just taking time outside to reset.
For these types of quick afternoon breaks, Holmes likes to wear the SOREL Lennox Chelsea Bootie—they're easy to pull on, sturdy, and ideal for rain or snow, too. The booties can be dressed up or down, but Holmes like to style them with a simple pair of jeans. "I love a cropped pant with the Lennox boot to really show off the style—it has such a classic feel."
Decompress at the end of the day
When things start wrapping up for the day, Holmes likes to walk to Brooklyn Bridge Park and take one of her last work calls, listen to a podcast, or catch up with a friend.
On these evening walks, you'll likely find Holmes wearing the SOREL Kinetic™ LITE Strap Sneaker. "It's comfortable, yet elevated, and makes a throw-it-on-and-not-think-about-it look feel more polished," she says, which is particularly important for her, as she aims to separate her work day from her time in the evenings.
"When I'm wearing comfier clothes to work, I try to choose athleisure pieces that are a little nicer or more put-together than what I'd work out in," she says. Take this tan leggings and sweatshirt monochrome look, for example. Paired with the SOREL sneaks, the athleisure outfit is the perfect post-work park stroll uniform.
Maya McDowell is an Assistant Editor at HearstMade.