Lebanese Designers Turn Post-Blast Wreckage and Emotions Into Art
The collections represent survival.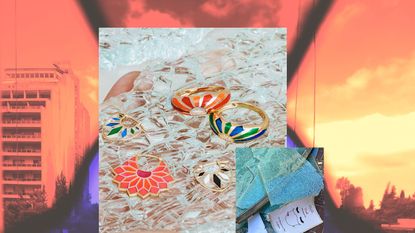 (Image credit: Design by Morgan McMullen)
On August 4, 2020, a massive explosion tore through Beirut, Lebanon, killing more than 200 people and injuring approximately 6,000. Additional casualties in this creative city included scores of businesses, from designers' ateliers and art galleries, to bars, bookshops, and bakeries. Now four months after the blast—caused by tonnes of chemicals left to fester in the city's port for years—life in Beirut is focused on rebuilding.
The local community of jewelry makers, couturiers, and home decor experts, in particular, are beginning to re-emerge. Many of these tastemakers are creating pieces that reflect the horrors and emotions they've experienced this year.
Sisters and founders of accessories label L'atelier Nawbar, Tania and Dima Nawbar immediately uprooted themselves from Beirut after the blast, fleeing to their parent's house in the mountains 30 minutes outside of the city. Amidst this mayhem, however, they birthed perhaps one of their most iconic collections to date: Fragments of Beirut, their latest jewelry collection, released in September, is an ode to the Lebanese capital as it was before August 4. The line was put together in just two months, a miraculous feat given the windows of the atelier had been destroyed by the explosion.
"It's not that hard to create, especially when you need hope," Tania Nawbar says.
While their atelier has now been repaired, most of the shops around it are still boarded up and the upscale neighborhood it is in, which lies less than a mile from the site of the explosion, feels like a ghost town. "Walking through Beirut, you feel that you don't recognize it, you don't feel the color that you felt. We need to remember how it was and not how it is right now," Tania continues.
The Fragments of Beriut collection was inspired by the architecture of their three favorite neighborhoods: Saifi, Gemmayze, and Ashrafieh—all of which were badly damaged. The Saifi ring, dedicated to the neighborhood their atelier sits in, features colorful sun-like rays, a tribute to a style of windows famous in the area, many of which were obliterated in the blast.
But perhaps the most poignant piece in the collection is the Lady Sursock earring, inspired by the colored stained glass windows of Beirut's iconic Sursock Museum, an art gallery set in a 19th century mansion. The unique windows were shattered in an instant in the explosion.
Lady Yvonne Cochrane Sursock, whose family once owned the museum and who served as its president, died of the injuries she sustained that night. (She had been at home in the nearby Sursock Palace at the time.) A renowned philanthropist and arts advocate, Lady Sursock had spent her life working to protect the country's cultural heritage. "We wanted to dedicate this to her," says Nawbar, as she shows me the earrings. "She worked so hard to maintain our heritage."
A few doors down from the L'atelier Nawbar, is the showroom of homeware brand Bokja, which recently reopened. I met up with the design duo behind the brand, Huda Baroudi and Maria Hibri, at their workshop half a mile away from the showroom to hear how they are rebuilding.
Their upcoming collection is not only about remembering Beirut as it was before the blast, but also capturing what it has become now. Because of Lebanon's strict COVID-19 restrictions earlier this year, the women spent more time walking around Beirut and saw the city with fresh eyes.
"It was a time when we saw the city in all its glory...It was spring, the frangipani was in bloom, the bougainvillea were bursting everywhere," Baroudi says. "When we saw the destruction, it was even more painful after this time."
The duo have been working on a tapestry that functions as the mood board for their next collection of homeware and wearables. It depicts the beauty of Beirut as they re-discovered it under lockdown, but also the destruction it endured from the explosion.
Alongside portrayals of Lebanese arched windows and the flowers they saw in bloom, the tapestry shows the shards of glass that littered the streets of Beirut after the blast. "It's not about moving on as quickly as possible," Baroudi says. "It's mostly about registering what happened and staying in the anger and in the sorrow and in the pain of it all."
After the explosion, Baroudi and Hibri turned their damaged showroom into a community center where people's furniture, affected by the blast, could be repaired. Red stitches were used to fix any fabric, drawing parallels to the red stitches used by paramedics to sew up the wounds on faces, hands, and legs the night of the explosion.
For Baroudi, creating in the face of adversity has helped keep her sane during the difficult, unstable times in Lebanon recently. Before the blast, in October 2019, protests had erupted across the country, calling for political change. An economic crisis then followed, intensified by the COVID-19 pandemic. Thousands of businesses began shutting down while the number of people trapped in poverty has close to doubled in the last year.
"We always have things to say and Bokja is our language," she explains. "These collections are archives of our heart."
Hass Idriss, designer of his eponymous fashion house, understands Baroudi's sentiment well. While his atelier, a short drive away from L'atelier Nawbar and Bokja's showroom, is back up and running, the blast and the events of the year that preceded it have had a profound affect on him. Most known for his whimsical dresses, he's now embarking on a completely different creative direction. "I am not motivated to work on dresses, capes, jackets, and blouses right now," Idriss says.
For Idriss, asking the tailors and embroiderers he employs to work on luxury items at this time would also be ethically questionable. "We are a family first, then we're a business second," he states. "Luxury can wait. And it is not the time for luxury."
Instead, Idriss and his team started working on tapestries, something completely new to them. One such tapestry, pictured below, features images of Beirut, layered with pieces of debris Idriss found walking through some of the damaged neighborhoods.
The tapestries are part of Social Tapestries, a project he released in lieu of presenting a fall/winter couture collection. The project features this latest work, alongside photos of Lebanese women and their words on the issues affecting them, shot by photographer Mohamad Abdouni. "We go through a lot more than what we get to present. And I want to show what we go through," he shares.
For the Lebanese designers I spoke to, creating new collections so soon after the blast is more than an expression of emotions. It's also an act of survival.
Bokja's focus at the end of each month has become making sure they can pay the salaries of the 20 embroiderers and tailors they employ. "We're not more ambitious than that at all," Hibri says. Both Idriss and Nawbar stressed similar statements.
Rebuilding their businesses and creating new products remains an uphill battle, though the designers are not deterred. They are determined to remain in Lebanon and hope their new collections will drive this message home to staff and the Lebanese people. "That's why we created the Fragments of Beirut collection in such a short span [of time]," Tania Nawbar says.
The creatives, too, have hope, thanks to a global outpouring of support since the blast. Baroudi says Bokja already has offers to take part in expositions in London, Singapore, and the Gulf, while shops that had cancelled their orders because of COVID-19 have reconfirmed. "For me, this is huge," says Baroudi, referring to the recent offers and reorders. "This is their way of telling us, 'we're here for you, we support you.'"
RELATED STORY
Marie Claire email subscribers get intel on fashion and beauty trends, hot-off-the-press celebrity news, and more. Sign up here.
Jessica Purkiss is a freelancer based in Beirut. She was previously Security Correspondent for The Bureau of Investigative Journalism, running their Shadow Wars project.