The New Style Service These Editors Are Using to Refresh Their Look for Spring
Boring outfits = impossible.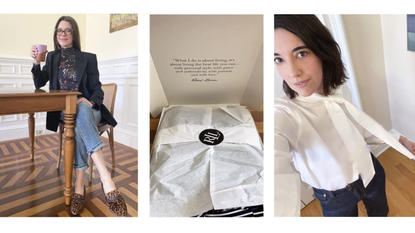 (Image credit: Future)
After a year marked by repetition (same sweatpants, same Zoom top, same everything), spring's arrival feels like a symbolic opportunity to set aside the loungewear and adopt a refreshed perspective on dressing. Enter The LAUREN Look (opens in new tab), a new rental subscription service by LAUREN Ralph Lauren that's ready to resuscitate any wardrobe plagued by sameness.
Here's the download: Explore weekly new arrivals and add styles that pique your interest to your 'Closet' (you do this by clicking a hanger icon—cute, right?). Once your virtual closet has at least ten pieces, you're ready for your first box. Your delivery will include a mix of four items you have 'hanging' in your closet, but if you have your eye on one specific piece, you can use their 'Need It Now' function for an additional fee. Once your box arrives, you can wear the items for as long or as briefly as you want—shipping, returns, and dry cleaning are all included, which means there's literally no limit on how many times you can refresh your wardrobe per month. Also! If you fall in love with one of the LAUREN Ralph Lauren pieces (highly likely), you can buy it directly from your 'Closet' at an exclusive member discount.
Putting the service to the test, Marie Claire Editor-in-Chief Sally Holmes and Accessories Director Julia Gall had a box from The LAUREN Look (opens in new tab) delivered at their respective homes in New York and Rhode Island. They received spring must-haves, including breezy tie-neck blouses, floral-print skirts, and lightweight separates that added up to a slew of fresh looks that'll inspire your spring style. Ahead, find out which pieces they loved, how they mixed each essential into their wardrobe, and how The LAUREN Look (opens in new tab) revived their outlook on spring style.
---
SALLY HOLMES
Editor-in-Chief
Laid-back but elevated. It's important to me to feel good and look good, so I gravitate towards elegant and unfussy clothes. I love a slouchy sweater tucked into a trouser or an oversize blazer with straight-leg jeans and a heeled boot.
I'm living for the change in seasons so I can retire—or at least take a break from—my regular lineup of cozy sweaters. They've been keeping me warm and comfy (yet still presentable) for all my WFH duties, but I'm so looking forward to livening up my daily wardrobe and Getting Dressed again. Already have visions of myself in florals and pops of color walking around my neighborhood, taking in the sunshine as I take phone calls.
It always depends on what's on my calendar for the day. If I know I have a big meeting or an Instagram Live, it will inform what vibe I'm going for. Lately, because I'm focused on above-the-keyboard dressing, I usually start with the top I want to wear that day and then choose accessories and the rest of the outfit after. But mainly, I'll start with the one item I really feel like wearing that day—whether that's a sweater or heel or even an earring—and then go from there.
I love the option of trying something without having to buy it first. Renting from The LAUREN Look (opens in new tab) allows me to choose something that's out of my comfort zone that I wouldn't usually buy—but might fall in love with. Recently I've been trying to invest in basics—key pieces that I know are worth spending money on that I'll wear for a long time—and using a rental service is the perfect way to add variety and a little bit of fun to that wardrobe. Mixing statement pieces or very specific items that I know I'm not going to wear super regularly with my existing closet via a rental service is kind of the dream!
The black pants were a seamless fit into my regular wardrobe—the perfect gateway pant to get me out of leggings and back into real clothes. They're comfortable but still look pulled together, and I could throw on a blazer and a loafer and feel great about wearing them to the office.
I unexpectedly loved the tie-neck blouse. It's a little more ladylike than I would normally choose, but putting it on, it didn't feel at all stuffy. I paired it with a pair of high-waisted jeans, and it felt cool and much more pulled-together than I've looked for the majority of this year!
I'd actually say to be adventurous and take risks. If you don't like something or it doesn't quite work, you can send it right back—that's the beauty of it. I loved the black pants I got, but they're actually quite similar to something I'd wear regularly and want to buy. That's great for the first time, but I probably wouldn't rent them again. instead, I'd go for something that I'm a little more curious about or challenged by. Especially as we contemplate returning to work and normal life, I think getting dressed should be fun, so choosing pieces that will get you excited about wearing clothes—especially those hanging in your closet that you've been staring at for the past year—feels like the best option.
---
JULIA GALL
Accessories Director
Pretty feminine and a touch preppy. I love mixing prints and stripes with unexpected pops like a cozy sock, a vintage tee, or silk scarf.
Sadly, I think the time of sweatpants all day every day has passed, especially during the workweek. 2021 is about wearing actual clothes but in a modified, more comfortable way. Wide-leg jeans, blazers with t-shirts, leggings, and flats are all ways I'm making this compromise.
I love to start with a 'closet challenge' piece. There's always something that I'm staring at in my closet, wondering why I haven't worn it, and so I'll think about another smart and fun way to wear it, like giving myself a challenge. It's a fun way to flex my dressing ability and also evolve my style a bit more.
As an editor, I have an incredibly short attention span for fashion. I love an influx of fresh pieces to mix in with my go-to's. The LAUREN Look (opens in new tab) is a fabulous way to get excited about your wardrobe again, kind of like adding a little spice to your go-to soup.
Which piece was the easiest to style?
The Estate Jeans were absolutely a no-brainer to add to my mix. I've been craving a new pair of jeans so getting to try out this pair by renting them was a great way to play around with something new. I loved the embroidery details and adding a little cuff to let my shoes have more of a moment. I will definitely be wearing these well into warm weather.
I was shocked how much I really loved the Floral Tiered Peasant skirt. I wouldn't describe my style as very bohemian, so this piece was a bit of a challenge, but I liked the idea of a long skirt paired with cozy knits like an oversized nubby sweater and cashmere socks worn with preppy loafers. It was so comfortable for all-day wear that I'd recommend it to anyone who can't break out of their leisure pant habit. You heard it here first—long skirts are the new sweats!
Renting clothes is a great way to experiment with a trend or try something you might not necessarily want to commit to with a purchase. Start with some go-to's as a base (i.e. your favorite pair of slim black trousers and a classic tee) and add a printed jacket or one with interesting details like brass military-style buttons. Look for pieces that feel more 'special,' and it will definitely help you think differently about how to put together an outfit you may not have considered before.