What Celebrity Stylist Maeve Reilly Wears to Work
Her closet staples include plenty of sweats and blazers.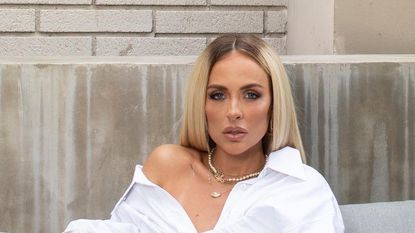 (Image credit: Maeve Reilly)
Marie Claire Newsletter
Celebrity news, beauty, fashion advice, and fascinating features, delivered straight to your inbox!
Thank you for signing up to Marie Claire. You will receive a verification email shortly.
There was a problem. Please refresh the page and try again.
As a stylist to A-listers like Hailey Bieber, Megan Fox, and Ciara, Maeve Reilly is responsible for creating the street style moments and red carpet looks that regularly flood our Instagram feeds and blow up fashion blogs. But when it comes to her own closet, Reilly prioritizes function over capital-F Fashun, opting for cozy matching sets and practical-yet-professional menswear-inspired separates that allow her to best do her job: dressing others.
But the LA-based fashionista, who has worked in the industry for 16 years, wasn't always as settled in her style as it may seem. "I sort of developed who I am and how I want to dress over the last few years," Reilly tells Marie Claire. "Finding your own personal style does take time. It's trial and error, so I think so much of it is learning how to dress for yourself and not necessarily jumping on to every trend bandwagon that comes along."
Here, Reilly, 33, chats about how her chic clientele inspires her own wardrobe, her favorite brands, her enviable blazer collection, and what she wears to excel at her job.
Her Morning Routine:
I'm up at 6:30 a.m. every day. I have a cup of coffee—I am not friendly pre-coffee—and then I do a little prayer and meditation, [which involves] about 20 minutes of reading devotionals. It has been such a game-changer for me to get centered.
Then I go to the gym at 8:00 a.m. [usually, in athleisure brand SET ACTIVE.] I try to work out six days a week. After, I go home, take a shower, walk the dog, and head to work by 9 a.m., whether that's the office or on set. It's really important to have that morning time for me because I take care of other people for a living—I'm really at a lot of other people's beck and call. It's what I need to do to keep myself strong and healthy.
Her Getting Dressed Process:
I think it's like, what do I know that works? What's an outfit that I've worn that either I can re-wear or remix? For me, if it's night and I have to go to a business thing, it's always a blazer and jeans, plus a heel with a great bag. It's easy. Of course, I have my moments when it's like, this is just not like my vibe right now, so I might change a few times. But I'm within a wheelhouse that's pretty consistent.
If you get stuck, it's remember to go back to something that you know works. When you find something that works for you, there's no reason why you shouldn't do it over and over and over again. When you know who you are, just be that.
Her Daytime Work Uniform:
I'm working 15-hour days, so that's when comfort level comes in for me. I cannot be in skintight pants. I just need to feel comfortable and like I can move. When I'm with my clients, if I'm just in a fitting or I'm shopping or prepping, I am always in sweatpants, probably the ones I designed. I created a clothing line this past year called The Local Love Club and I'm living in it right now. I think baggy sweatpants can be so cool and sleek if you style them right. Hailey [Bieber] and I have been doing that for a really long time so I was thrilled when the rest of the world got on the bandwagon.
Her Nighttime Work Uniform:
When it comes to going out with [my clients] to events or fashion shows, I have to step it up because I'm representing them. But I definitely take the backseat—I'm not [the celebrity].
A suit [is my power outfit]. It can never go wrong. I'm not the girliest girl—I don't love dress[es]—so at a work event, I love the power suit. It makes me feel strong and sophisticated and beautiful. Plus, in a suit, I'm moveable. I feel like I can work if I need to, like fix someone's dress or fix a zipper. You could see a million photos of me standing behind Hailey [Bieber] wearing a really beautiful suit while she's there looking like the hottest girl ever in the most beautiful dress. And I love that.
Her Wardrobe Staple:
My blazer closet is a little extravagant. I definitely own, like, 20 to 30 blazers. I think Margiela does a great job—they're on the more expensive side. I have some Saint Laurent like really classic pieces that you just can never go wrong with. I also joke about my "Hailey hand-me-downs" because she does pass some pieces onto me. If she doesn't want to keep it, I'll just say, "Hey, you can throw that my way." I've received some great gifts from her over the years.
On Shopping Smart:
When I'm shopping for myself, I'm buying investment pieces. I'm not buying pieces that are frivolous. I really love shoes, so that's something I spend money on. I actually just used PayPal's Pay in 4 option to purchase a pair of Amina Muaddi heels that I really wanted from Farfetch—I can't get enough of Amina Muaddi. She keeps releasing the coolest shoes and they're really comfortable.
On the more affordable end, I have great pieces from Nasty Gal. I have these baggy leather pants that I wear all the time. They have a really cool split on the side that embraces that split-hem trend, but it's still a very classic pant. I think they were 40 bucks. And I also have a plaid oversized shirt from them that I throw over everything. Especially if it's a summer day and I'm in and out of stores in the air conditioning, I like to just have a layer.
Four Words That Describe Her Personal Style:
Tomboy, edgy, comfortable, and sexy.
Her Jewelry Staples:
I definitely can't live without my Jennifer Fisher gold hoops. For daytime, I do just a small gold hoop so it just doesn't get in my way. I'm also a big fan of Jacquie Aiche. She just made me a [piece] with a crystal and ruby heart and an evil eye for protection. I also love Bottega jewelry—I just got a pair of their gold hoops. I think jewelry is a great thing to have in your wardrobe that will never really go out of style.
Her Travel 'Fit:
I don't typically [wear color] at home. I'm very monochromatic in my day-to-day. But when I'm away, I get excited about color. I was just in Mexico, and for it I got this aqua set from Frankie Shop—it's like boxer shorts and a button-down oversized shirt that they make in multiple colors—and it just was so easy and chic. You could wear it with a bathing suit but you could very easily throw it on with a heel and look really cool at night. I actually ordered more [in different colors] because I really loved it.
Shop Maeve's Wardrobe
Celebrity news, beauty, fashion advice, and fascinating features, delivered straight to your inbox!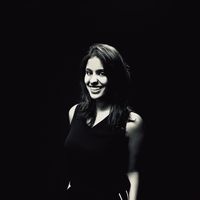 As Marie Claire's Entertainment Director, Neha oversees and executes strategy for all editorial talent bookings and culture coverage across the brand's print and digital entities, including covers, celebrity profiles and features, social takeovers, and video franchises as well as handles talent relations for MC's flagship summit, Power Trip. She's passionate about elevating diverse voices and stories, loves a hot-take, and generally hates reboots. She's worked in media for more than 10 years and her bylines about pop culture, film & tv, and fashion have appeared on Glamour, Vanity Fair, GQ, Allure, Teen Vogue, Brides, and Architectural Digest. She is a graduate of the Columbia School of Journalism.