Sustainable Spotlight: Carmina Campus Bags
Take a look at Ilaria Venturini Fendi's recent foray into eco-conscious bags.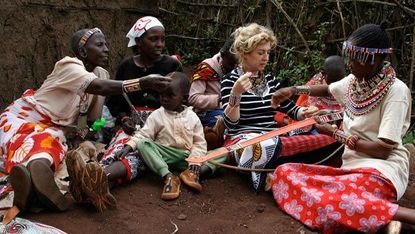 (Image credit: Archives)
Those of you familiar with the fashion house Fendi might be surprised that one of its kin has decided to go sustainable. After all, the brand is synonymous with skins and fur. But Ilaria Venturini Fendi is approaching fashion from a different perspective.
Ilaria's accessories line Carmina Campus is an ode to sustainability. What she calls a "project of creative recycling" is a collection of one-of-a-kind handbags — and now jewelry and soon-to-come furniture — made entirely of recycled and upcycled materials. She uses what she finds, and her bags have been known to incorporate mountain ropes, sailing lines, outdoor curtains, and even airplane cushioning!
These bags are from her "Dragon Bags" line. They are made from scraps of Maasai fabrics, semifinished by African artisans and later completed in Italy.
Ilaria's goal is to have all her product made entirely in Africa, and thus far one of her collections has achieved this goal. Dubbed the "Message Bags," this particular line is made by marginalized African women who embroider words and images from their everyday life on scraps and recycled materials.
And, like her family, Ilaria does use fur but in her own way, incorporating swatches and samples from the leather factory floors to create bags.
Like her bags, Ilaria is one-of-a-kind, and it's encouraging to have such a powerful voice in the ethical fashion movement.