Higher, Higher, Higher: The History of the Heel
These heels were made for walkin'.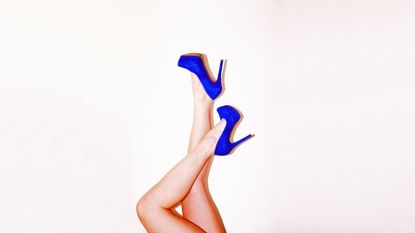 (Image credit: Getty Images)
Whether they meant status, caused pain, or symbolized beauty — heels have been a staple wardrobe piece from Ancient Egypt to today's red carpets. Some ancient cultures wore them to stay above mud, while in modern times, we try to keep our red bottoms out of the mud. So where and why did this towering trend originate? Read on.
1. The Ancient Heels, 4000 B.C.
Whether it is lingerie (opens in new tab) or tattoos (opens in new tab), the chic civilization of ancient Egypt has been on its trend game since about 4000 BC. Why did people opt for a little foot boost back in the day? The approach was more utilitarian than chic: Butchers wore heels to avoid dirtying their feet with the guts and remains of slaughtered animals (opens in new tab). Gross.
2. The Death Heel, 1400s - 1600s
Chopines win the "trip and die" scary shoe award — they basically consist walking on 5 to 36 inch stilts (opens in new tab). Chopines were an international trend in Turkey, Italy and Spain. They were introduced for reasons such as status (the higher the stilts, the more luxurious your life was (opens in new tab)) and so that women's dresses would not get muddy. Another bizarre and archaic reason was to control women: These fashion femur killers made it difficult for women to run away from home or commit morally reprehensible acts, like dance (opens in new tab).
3. On Tuesdays We Wear Red Heels, 1701
Between his lavish, luscious locks and thigh grazing short shirt, it only makes sense that Louis XIV rocked red heels. The King was the original Regina George—one of the Mean Girls who stuck to the "you can't sit with us" motto when it came to his fancy kicks — only the in-crowd, the monarchy, was allowed to wear red as it was symbolic of power and wealth (opens in new tab).
4. The Modern Heels, 1954
Roger Vivier came onto the scene with his three inch stiletto designs for Christian Dior in the mid-1950s (opens in new tab). Like Dior, the designs were lavish, jewel adorned, and ulta-glam.
5. The Supermodel Heel, 1993
Vivienne's Westwood's freakishly vertiginous platform stilettos is what caused supermodel Naomi Campbell to teeter, topple, and fall (opens in new tab) on the catwalk. The shoes, named Super Elevated Gillie, had a nine inch heel height with a four inch platform (opens in new tab), and secured Campbell a spot in the Runway Fall of Fame.
6. The It-Girl and Celeb Heel, Present
On the feet of just about every female celebrity in Hollywood, Christian Louboutin is credited with bringing stilettos back en vogue during the '90s. Noted for their iconic red soles, the "Louboutins" (pronounced: loo-boo-tan] have become a status symbol. The shoe designer also introduced an element of sex into the heel, creating shoe décolleté, or toe cleavage, and created über-high stilettos that often reached over 4 inches. Tough to walk in? Christian Louboutin does not care (opens in new tab) — beauty triumphs the pain! And truthfully, we'd hobble around any day in a pair of those skyscraping stunners.
More from Marie Claire:
The Big Fur Ban (opens in new tab)
5 Iconic Bobs That Have Made History (opens in new tab)

The 5 Sexiest Hairstyles Ever (opens in new tab)

The History of Lingerie (opens in new tab)