8 Tips to Double Your Closet Space
8 Tips to Double Your Closet Space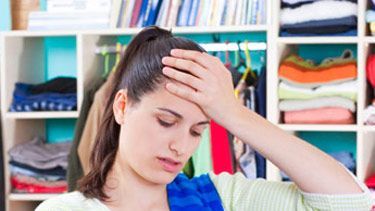 (Image credit: Nikola Hristovski)
Marie Claire Newsletter
Celebrity news, beauty, fashion advice, and fascinating features, delivered straight to your inbox!
Thank you for signing up to Marie Claire. You will receive a verification email shortly.
There was a problem. Please refresh the page and try again.
A modern single girl is constantly updating her wardrobe, so things in her closet can get out of control pretty quickly. These simple tips will allow you the room you need to keep your closet filled with the most up-to-date styles without overflowing!
1. First thing's first: Go through your coats, clothes, and shoes to weed out things you don't wear anymore. You know the drill: If you haven't worn it in more than a year, or if it doesn't fit you anymore, it goes. Separate the items into boxes to give away to charity, recycle, or toss.
2. Use all the space available to you. Install a second closet rod like this simple metal one from the Container Store. If you don't want to go permanent (after all, so many of us live in apartments that we don't own), use a tension rod. Install the second rod halfway between the floor of your closet and the existing closet rod. Hang skirts and pants there. Longer items (dresses, cardigans) stay on top.
3. If they aren't there already, install shelves above your existing closet rod. This is the perfect place to keep shoes (use plastic shoe boxes — they stack neatly and keep shoes nicer, longer). Try these clear storage boxes from Organize-It.
4. Use the space on the back of your closet door. You can get an over-the-door rack on which to hang belts and bags; an over-the-door shoe cubby to organize shoes; install hooks for robes and jackets; or put up a full-length mirror for a head-to-toe check before you leave the house.
5. If your closet is big enough, stash a small plastic or wooden set of drawers in there. In the drawers, keep accessories, socks, or other miscellany like gift wrap and bows, or sewing needles and thread.
6. Use multiple-tiered hangers to hang twice as much in the same space.
7. Something you may not consider a space-hogger are regular, everyday hangers. But if you think about it, those plastic hangers are usually twice the width they need to be. Use slim-width hangers and watch your closet space magically expand.
8. Stash seasonal items in under-the-bed rolling bins. That way they are protected while not in use, and when you peek into your closet, you can actually see what's in there.
Celebrity news, beauty, fashion advice, and fascinating features, delivered straight to your inbox!