How to Take a Great Photograph
Experts from the Digital Photo Academy lend their tips on taking the best photos.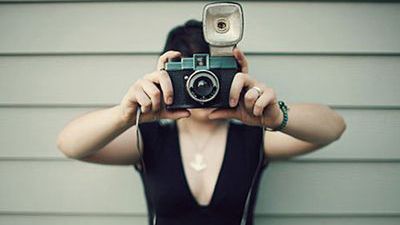 (Image credit: Kevin Russ)
Marie Claire Newsletter
Celebrity news, beauty, fashion advice, and fascinating features, delivered straight to your inbox!
Thank you for signing up to Marie Claire. You will receive a verification email shortly.
There was a problem. Please refresh the page and try again.
To take an action shot, instead of keeping the camera still while the images moves by, follow the image so that the image is clear and the background is blurry.
Use a tripod or rest the camera on a steady surface to ensure sharpness when taking a low-lit shot. Many cameras have built-in image stabilization, which will help with unwanted camera shake.
Zoom your lens to the furthest telephoto or close-up distance to take a portrait. This will create more attention on your subject while blurring the background. If your camera is set on manual, turn on the flash, even in daylight, which will create a soft light to fill in shadows. Also, the sunlight should be behind the subject's head at an angle, so the subject is not squinting into the light.
One very important tip for taking incredible landscape shots is to choose the right time of day. Early-morning and late-afternoon light is more directional, and the color tends to be more colorful. Using a foreground element such as a tree branch can give your landscape photo scale.
Beyond these great photography tips, also consider the digital camera you are using. Digital cameras have specific scene modes that help make taking photographs easy (action setting: image of a figure running; night scene setting: image of a star or moon; landscape setting: image of a flower).
However, most often, people don't use the settings and the technologies go wasted. To address this, the new Panasonic LUMIX FX55 features Intelligent Scene Selector, an intuitive technology that recognizes the shooting environment and automatically sets the camera to Scenery, Portrait, Macro, Night Portrait, or Night Scenery.
To learn more digital photography tips, or find a Digital Photo Academy course near you, visit digitalphotoacademy.com. To learn more about the Panasonic LUMIX FX55, visit panasonic.com/dsc.
Celebrity news, beauty, fashion advice, and fascinating features, delivered straight to your inbox!