Top Fall 2012 Fashion Trends Straight from the Runway
From burgundy as the new black to winter white, the looks from New York City's Fall/Winter 2012 Fashion Week ran the gamut. Click through our forecast for what styles will be on everyone's shopping list next season.
From burgundy as the new black to winter white, the looks from New York City's Fall/Winter 2012 Fashion Week ran the gamut. Click through our forecast for what styles will be on everyone's shopping list next season. The Fall 2013 trend report is here! Check out our editor's favorite runway looks.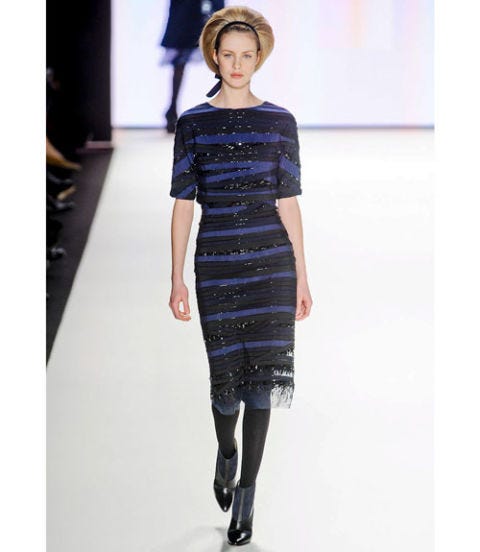 Black & Blue
Carolina Herrera
The "it" color combination of the season is most definitely all about black and navy blue. And Carolina Herrera — whose first handful of looks to go down the runway made the hues of a boo-boo look red-carpet ready — nailed the mix with this striped dress.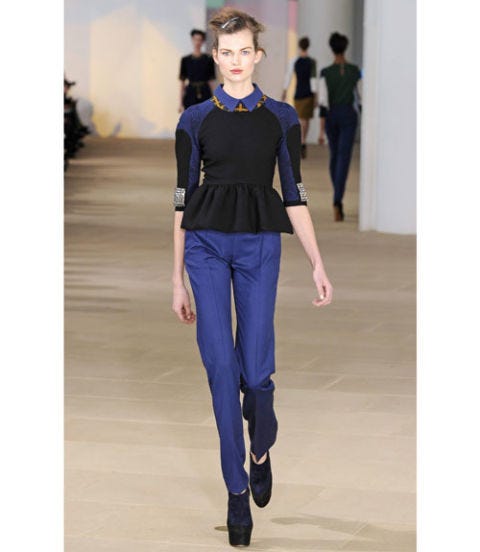 Black & Blue
Preen
Justin Thornton and Thea Bregazzi played with varying shades of blue to achieve some layered looks that blend perfectly together.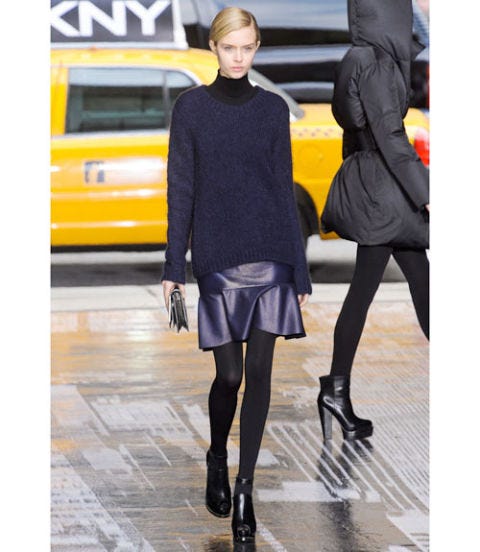 Black & Blue
DKNY
Donna Karan may have just discovered the new New Yorker's uniform: Instead of head-to-toe black, simply mix in black's closest color friend: A black turtleneck underneath an oversized navy sweater, and black tights underneath a silky navy skirt.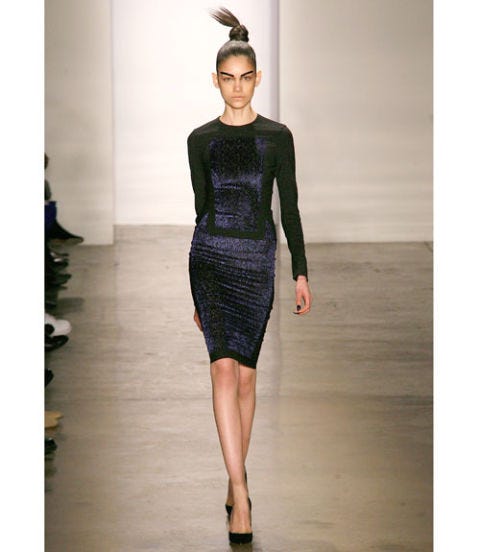 Black & Blue
Kevork Kiledjian
This subdued take on color-blocking combined shimmery navy paneling on an otherwise simple, formfitting black dress.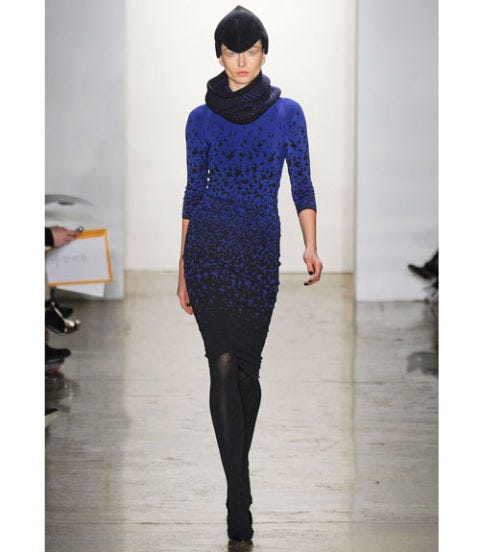 Black & Blue
Ohne Titel
What's black and white and blue all over? The Ohne Titel runway, it seems. Alexa Adams and Flora Gill stuck with that stark palette, and in the case of this ombré-style graphic dress and navy scarf, it was a bold success.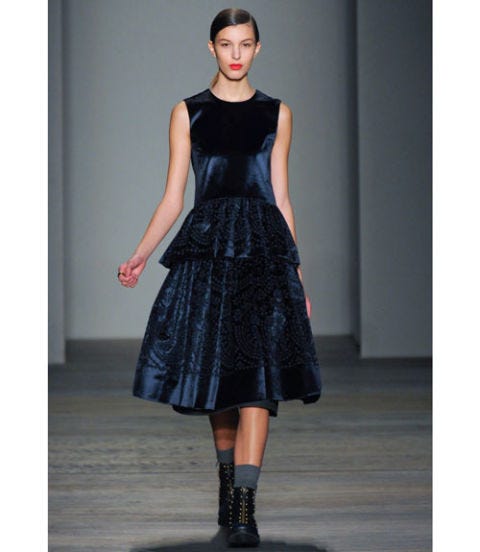 Black & Blue
Marc by Marc Jacobs
As the model walked the runway, this dark perforated velvet dress &$8212; with stiff black underskirt — seemed to almost change in shade. With every step, the light hit it in new ways.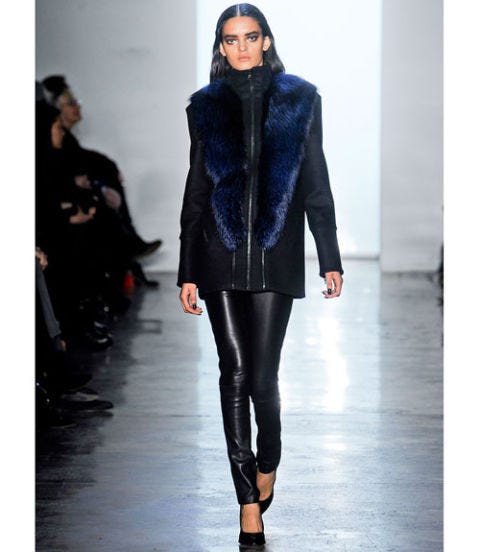 Black & Blue
Cushnie et Ochs
At all the femme fatale looks on the designers' runway, it didn't get more luxe than this zipped-up black coat with midnight blue fur trim.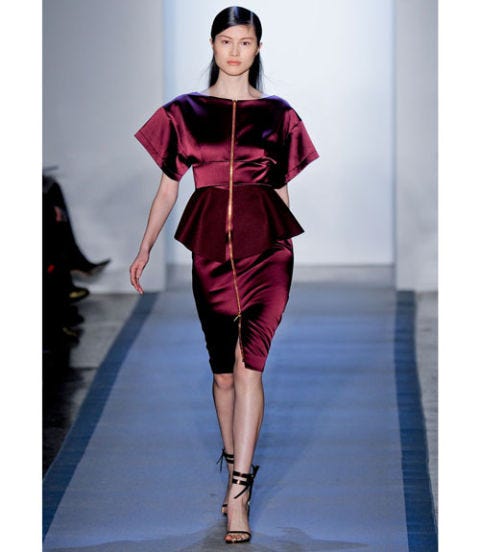 Burgundy
Peter Som
Burgundy is the new black! Although he showcased a lot of post-Labor Day white, the designer also debuted a deep, luscious spiced wine color in a silk zip-front peplum dress that had us begging for fall to come early.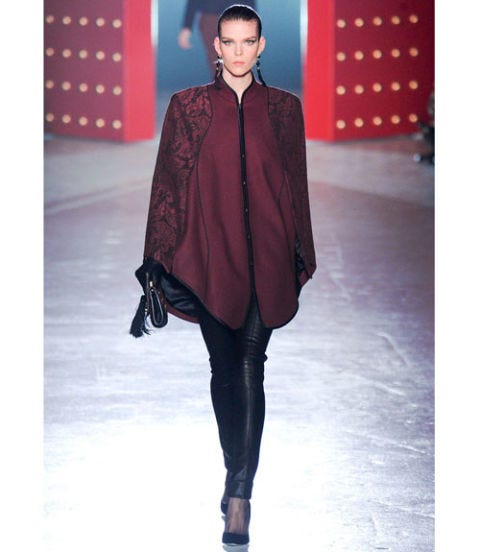 Burgundy
Jason Wu
In addition to bold fire-engine red and hot, hot pink, the designer also played with a more russety red with this chic cape-and-leather-pant look. It may just be the best outerwear to go watch the leaves change.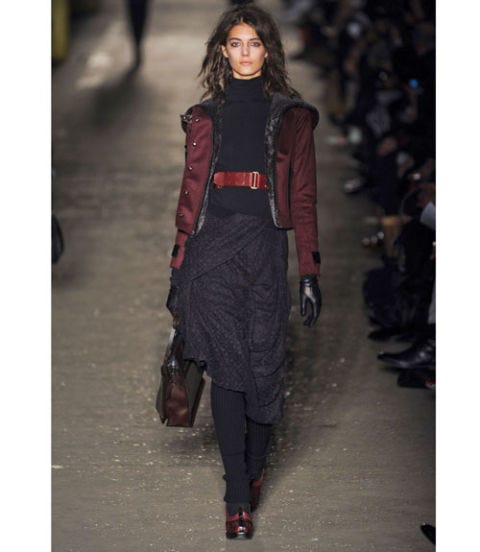 Burgundy
Rag & Bone
Per usual, David Neville and Marcus Wainwright made the concept of layering look like fine art. We loved the sangria-hued jacket and how all of the model's accessories were perfectly at home in the same color family.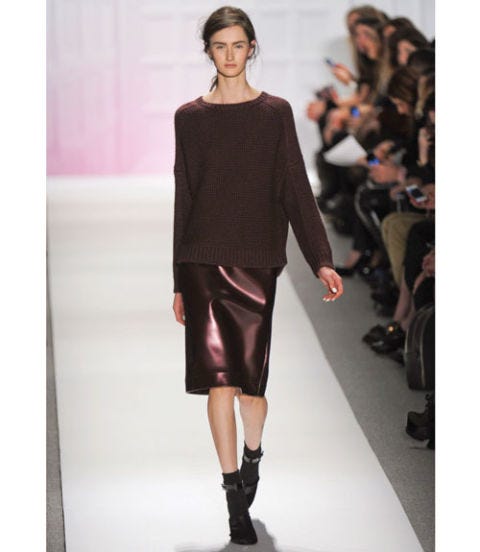 Burgundy
Tibi
The mixed texture of the knit sweater and the chrome-like skirt came together perfectly with Amy Smilovic's monochromatic merlot color on both.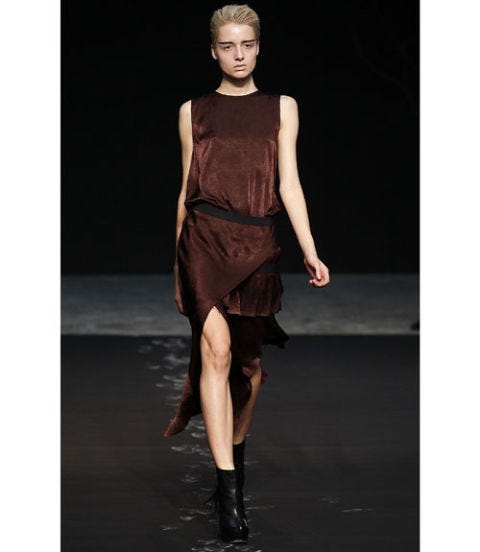 Burgundy
Kimberly Ovitz
This asymmetrical dress added a velvety texture to the already lush burgundy — which happened to be one of the few non-neutral color choices in her collection.
Burgundy
Diane von Furstenberg
This slick raspberry raincoat seems to melt right on the model when paired playfully with pink skinny pants and red suede heels.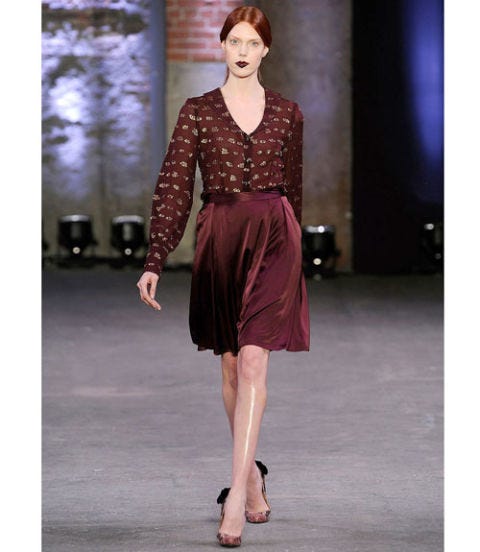 Burgundy
Christian Siriano
Bordeaux was definitely a focal point of the designer's latest collection. In this youthful look, he infuses a gold-leaf pattern to the loose-fitting blouse.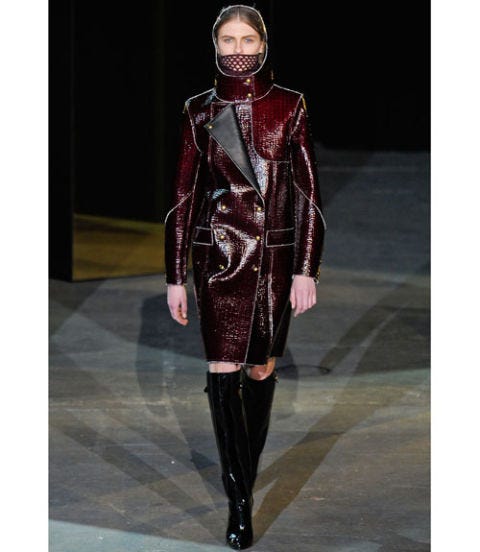 Burgundy
Alexander Wang
This double-breasted jacket — the first in a series of garments featuring deep oxblood — was completely lacquered, and the finish gave it a slick, almost liquified look.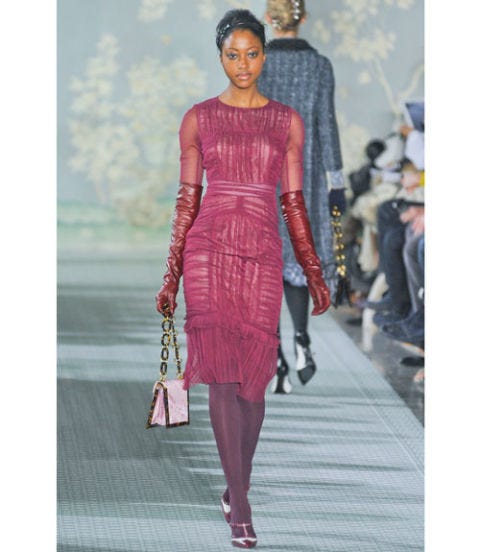 Burgundy
Tory Burch
The designer's inspiration for her current collection — a prim and proper girl who falls for the wrong guy in a hotel — nailed the sweet-yet-sexy vibe with this pink-meets-burgundy chiffon dress and deep red opera gloves.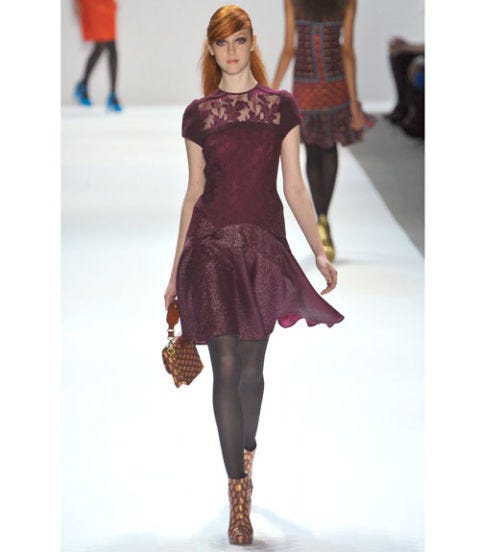 Burgundy
Nanette Lepore
We have a sneaking suspicion that Nanette's daughter Violet — who always takes a bow with her mom at every runway show — was behind this youthful frock. With the embellished top and shiny skirt, it's at once girly-girl and ultra-femme.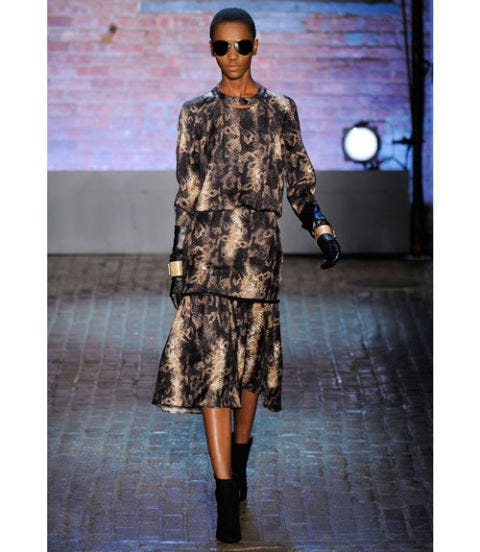 Reptile Print
Yigal Azrouël
Animal print always finds its way onto almost every runway, but this season it's definitely scaled back. Case in point: Yigal's key looks included python prints on silk dresses — a great juxtaposition of hard and soft.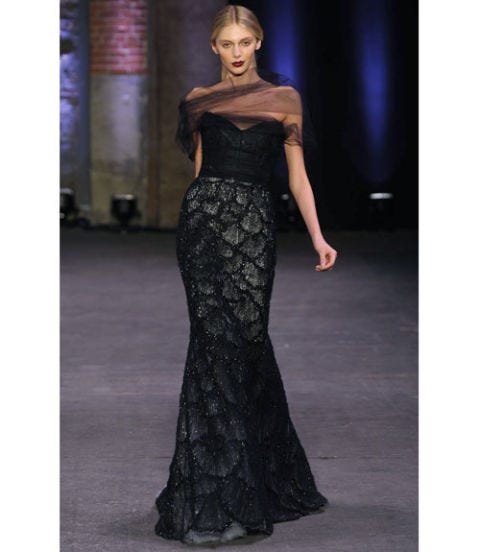 Reptile Print
Cristian Siriano
Sure, fish aren't reptiles, but they're cold-blooded and their scales made quite the splash at Christian Siriano's runway show. The black and silver scalloped print paired perfectly with the dress' fishtail silhouette.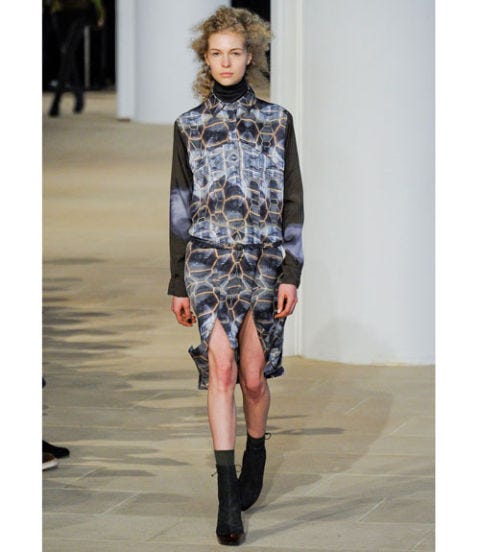 Reptile Print
Cynthia Rowley
If the turtlenecks worn by nearly every model didn't get the point across, the tortoiseshell prints splashed upon the shirtdresses that covered them certainly did. The shell pattern got an extra jolt by being printed with a kaleidscope-like design.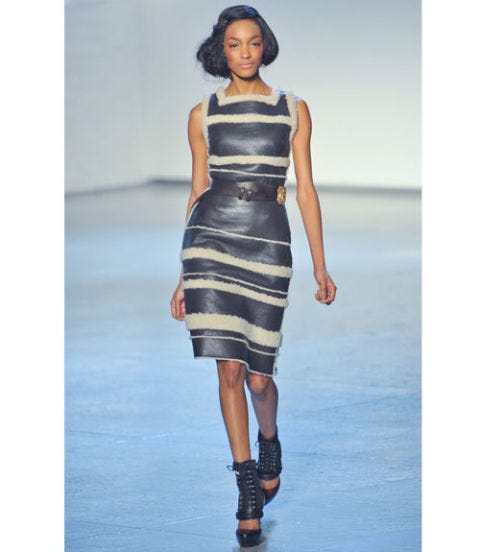 Leather
Rodarte
The Australian Outback was the setting inspiration for Kate and Laura Mulleavy's collection, but this matte black leather and white shearling dress could just as well be seen on the city streets of New York.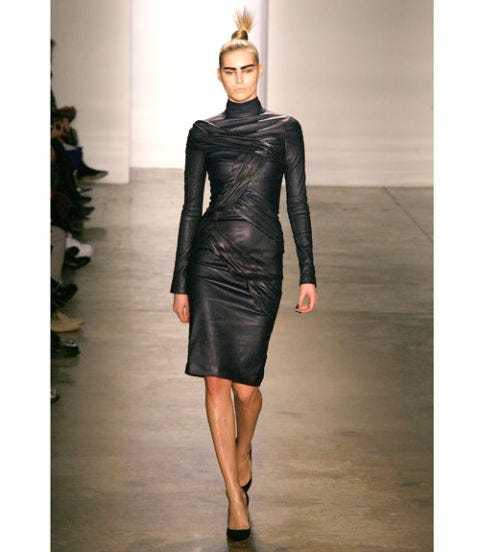 Leather
Kevork Kiledjian
Despite being decidedly covered up, there was nothing sexier than this dress on the designer's runway. The buttery leather, with its added lines of criss-cross texture, made us melt.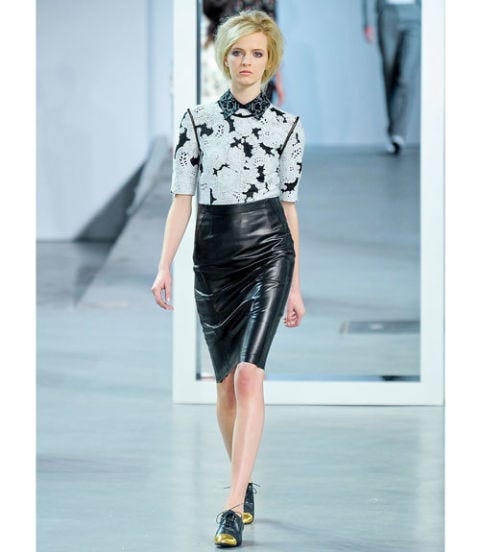 Leather
Derek Lam
It's always exciting to pair something as prim as an oxford collar with something as powerful as a black leather pencil skirt. At Lam's runway show, which was meant to evoke scenes from a library, the excitement was elevated even more so with gold-dipped lace-up oxford shoes.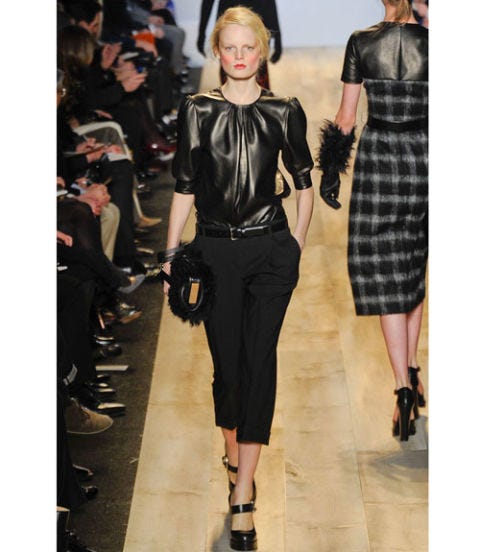 Leather
Michael Kors
Another case of mixing the conservative with the ultra-liberal: This chic leather top ups the ante on this otherwise demure combination of black capris and Mary Janes.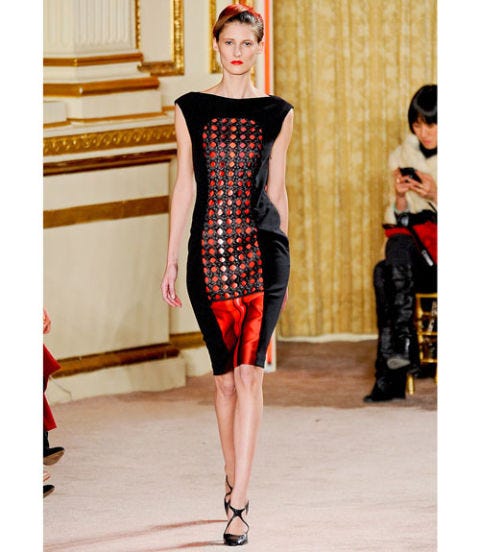 Leather
Thakoon
Basket weave is usually not a style that oozes sexuality, but when it's made of black leather and overlayed onto the bodice of a shift dress, it's almost X-rated.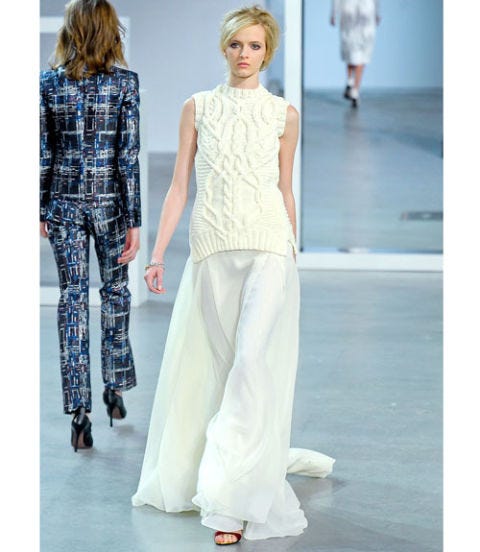 Winter White
Derek Lam
Nothing beats a warm Aran sweater when the temperatures take a dip, but in white? Post-Labor Day? When it looks as good as this knit-over-chiffon ensemble, we are more than okay with forgetting this one-time fashion faux pas.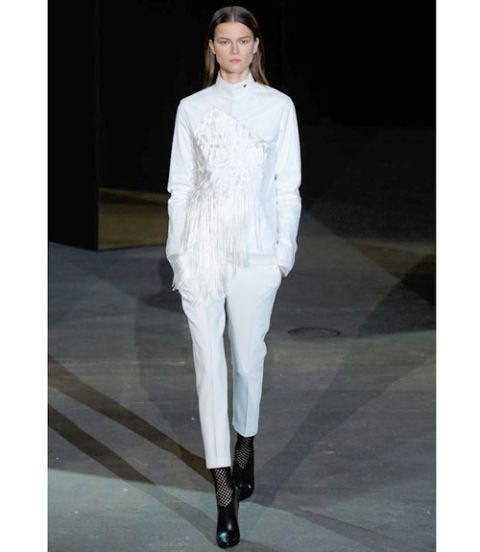 Winter White
Alexander Wang
Pairing white separates is no easy feat, but this mock-turtleneck top and tapered pants really come together seamlessly — with the help of some glossy fur fringe!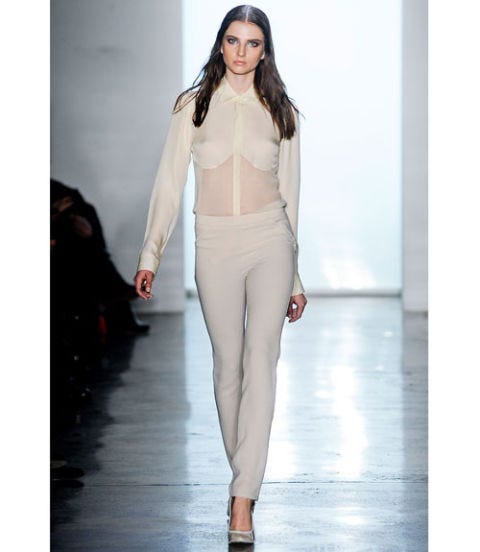 Winter White
Cushnie et Ochs
With plastic surgery as their inspiration for their latest collection, Carly Cushnie and Michelle Ochs made the sheer silk crepe blouse — placed as if it were a bandage — look not sterilized, but sexy.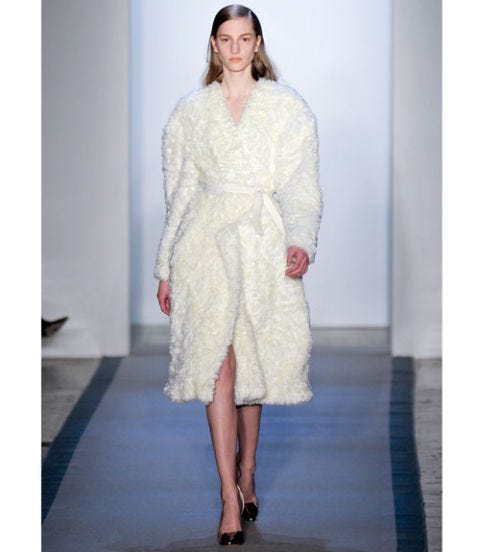 Winter White
Peter Som
Another designer who refuses to omit white from his color palette, Peter Som makes us want to snuggle up on a cold winter night with his fluffy robe-style coat.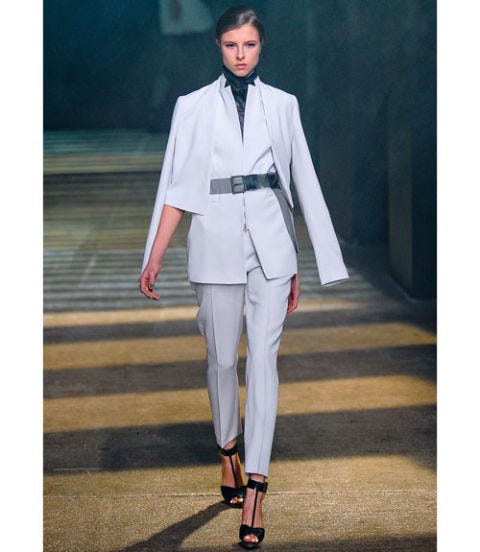 Winter White
3.1 Phillip Lim
Lim showcased a monochromatic runway show, so there were plenty of interpretations of the all-white ensemble, including this immaculately tailored white trouser suit — which is fast becoming a sub-trend to watch out for.
This content is created and maintained by a third party, and imported onto this page to help users provide their email addresses. You may be able to find more information about this and similar content at piano.io