Editors' Picks: Top Looks from Europe Fall 2013 Fashion Week
After New York Fashion Week ends, the designer showcases extend several weeks afterward with London, Milan, and Paris Fashion Weeks continuing to display the most groundbreaking new looks on the catwalk. Our team of editors have selected our favorite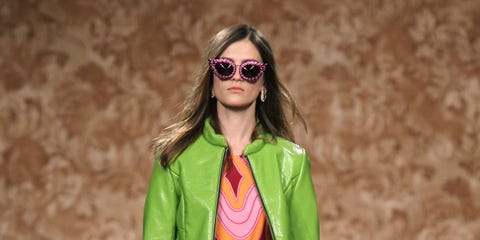 After New York Fashion Week ends, the designer showcases extend several weeks afterward with London, Milan, and Paris Fashion Weeks continuing to display the most groundbreaking new looks on the catwalk. Our team of editors have selected our favorite runway looks from Europe, right here. For more fashion week coverage, visit our all-access pass to Fall 2013 Fashion Week!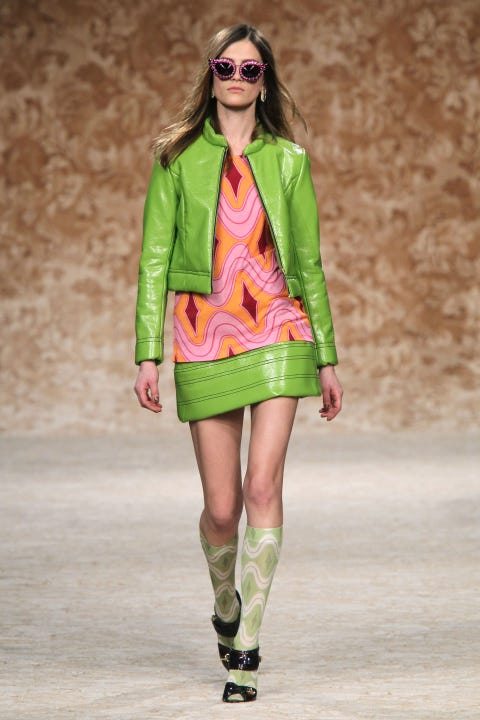 House of Holland
London
Channeling the '60s, this groovy House of Holland look stood out among the rest of the design house's most recent collection with its fabulous winged sunnies, bright green skirt and swirly knee socks. —Maura Brannigan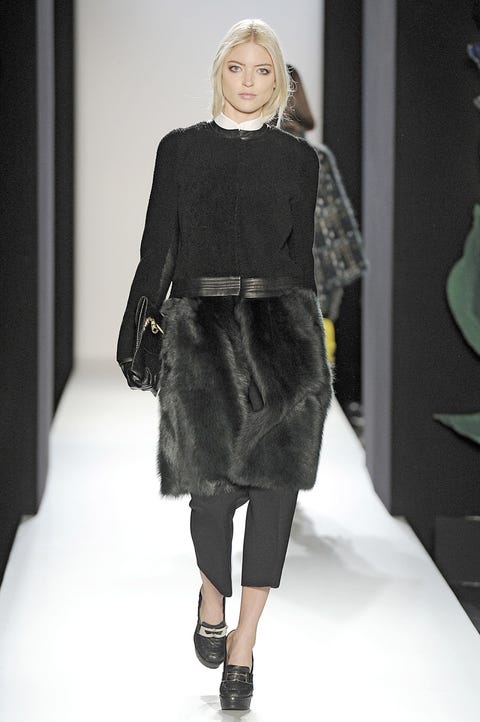 Mulberry
London
There's nothing quite as luxe as this fur coat complete with a ribbed leather belt. Those buckled loafers and crisp white shirt were an excellent pairing to make this outfit all the more timeless. —Maura Brannigan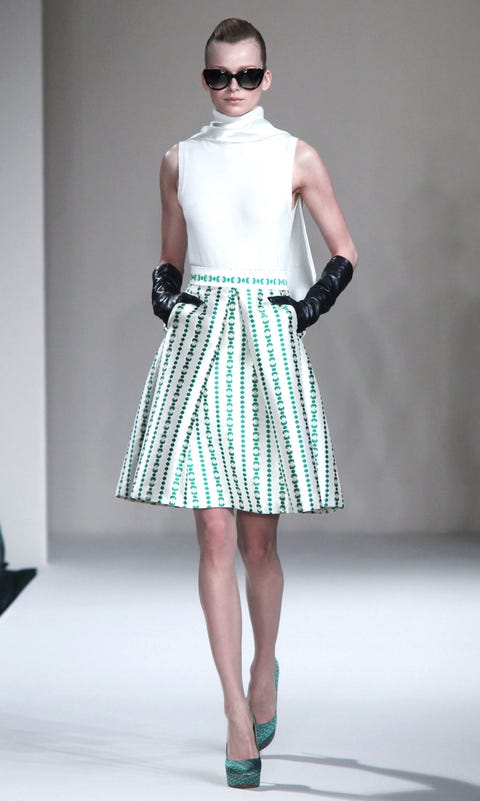 Temperley London
London
The London-based label Temperley London created this salute to all things preppy with this Betty Draper-esque runway look. The black gloves and slicked-back hairstyle were a nice touch, as well. —Maura Brannigan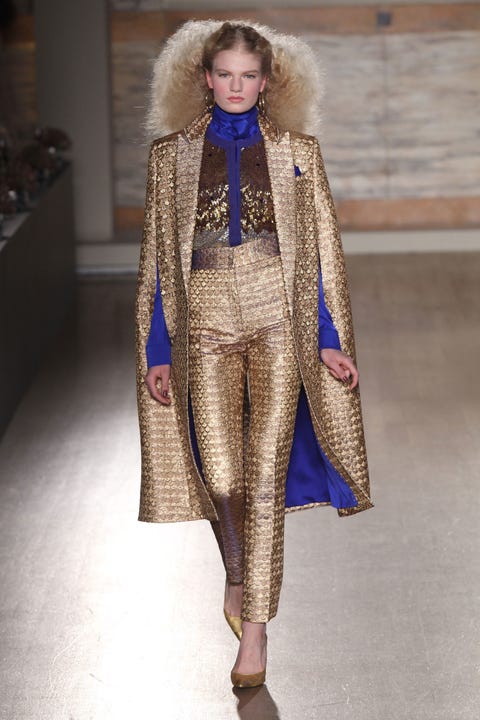 L'Wren Scott
London
L'Wren Scott is internationally known for never being shy about over-the-top details, and this bling-tastic gold look is no exception. There's just so much on which to comment in this ensemble: the matching, multi-faceted cape and pants, the incredibly bright blue lining and, our favorite part, the sequined vest. —Maura Brannigan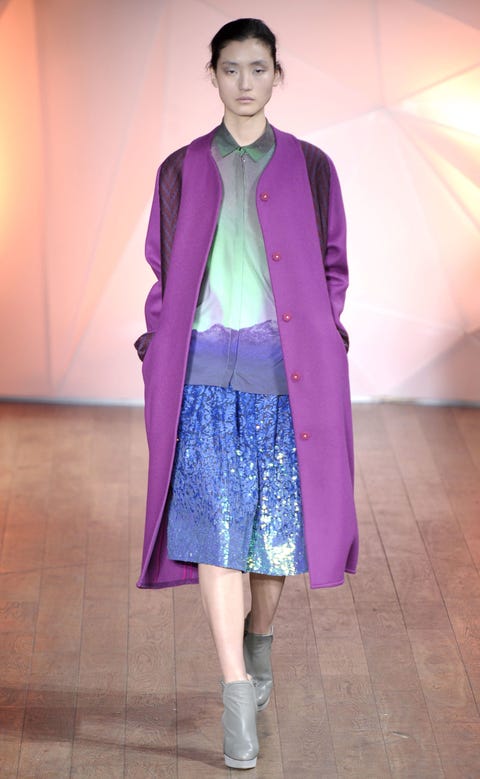 Matthew Williamson
London
Combining gem tones with the oh-so-hot cosmic print trend (hello, aurora borealis), this Matthew Williamson ensemble strikes us as something out of a dream. —Maura Brannigan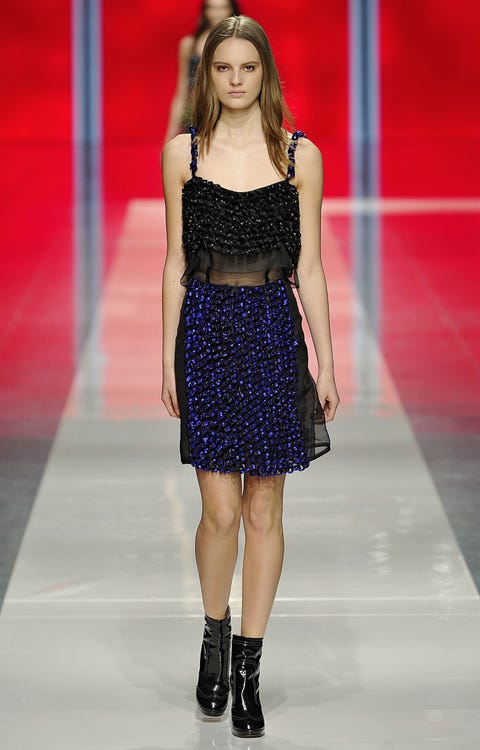 Christopher Kane
London
Leave it to Scottish designer Christopher Kane to create this detailed dress in a fun electric purple that conveys both elegance and playfulness. Plus, those patent boots are totally a year-long staple. We're obsessed. —Maura Brannigan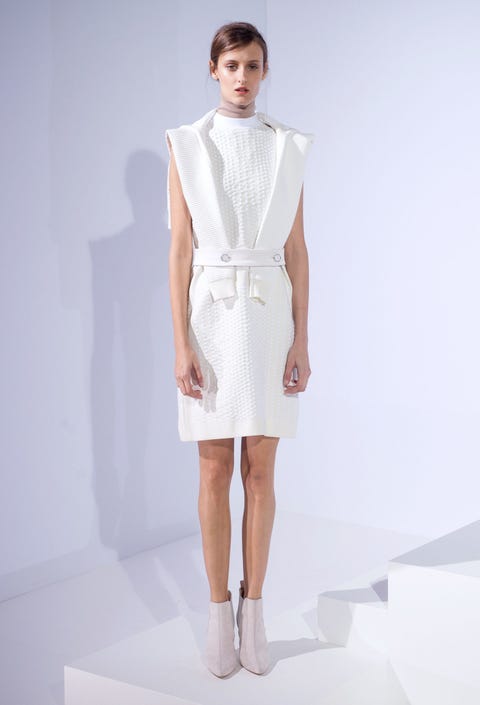 Pringle of Scotland
London
This winter white dress and over-the-shoulder cardigan combo from Pringle of Scotland is equally as fresh as it is cool weather-appropriate. —Maura Brannigan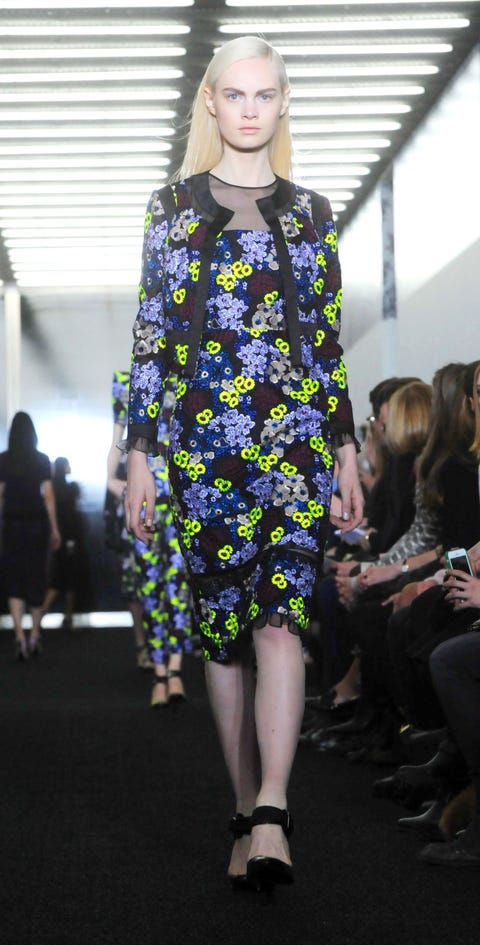 Erdem
London
This floral dress and blazer from Erdem is absolutely lovely — we especially love the mesh detail and black silk lining. These highlighter shades are also a huge trend for fall, and we can't wait to see them in action! —Maura Brannigan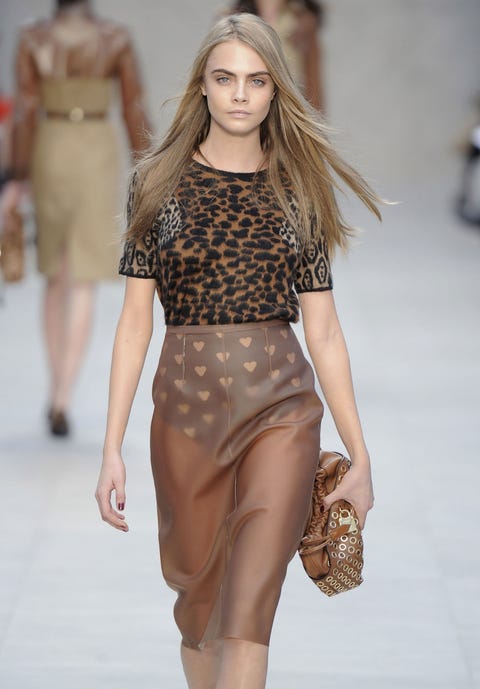 Burberry Prorsum
London
Top model Cara Delevingne absolutely rocked this Burberry Prorsum look complete with a fur-print top, heart-embellished undies, and transparent skirt. Not sure if we could pull off this skirt situation, but please do sign us up for that sweater. —Maura Brannigan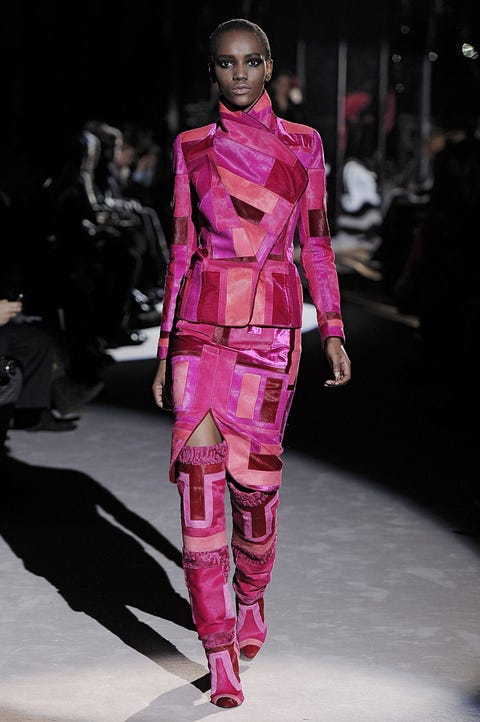 Tom Ford
London
Major design house Tom Ford brought this near-blinding (in a good way) skirt-suit and boots combo to the catwalk with incredibly crafty and original patchwork detail. —Maura Brannigan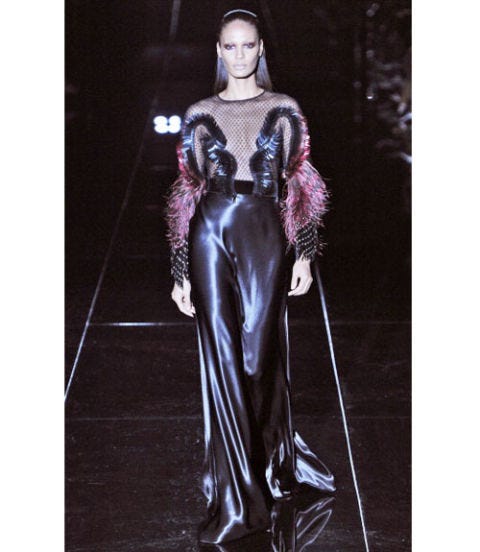 Gucci
Milan
This look from Gucci shines, quite literally, thanks to the gown's brilliant sheen and, less literally, due to its genius mix of an edgy fishnet bodice and more feminine feather sleeves. —Maura Brannigan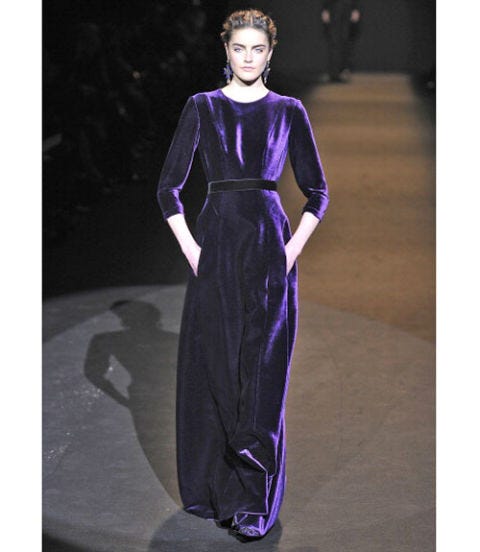 Alberta Ferretti
Milan
Remember the velour tracksuit trend from the early 2000s? Alberta Ferretti has taken its luxury and class and translated it into a much more visually appealing gown in this vibrant royal purple shade. —Maura Brannigan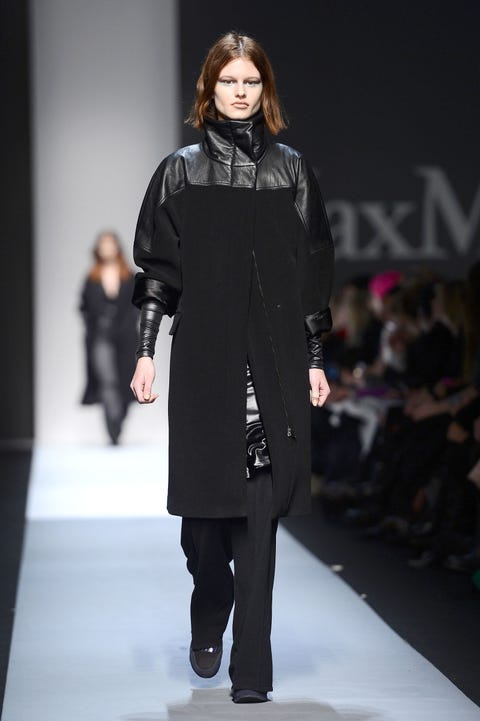 Max Mara
Milan
Black leather, everywhere, at Max Mara. We're so in love with edginess of this look that we'll be eagerly scouting stores (both online and in-person) for this jacket to hit shelves. —Maura Brannigan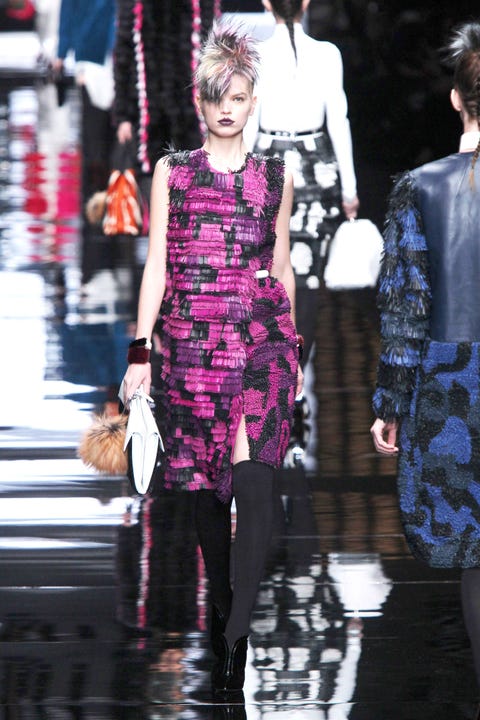 Fendi
Milan
More feathers from Fendi in this embellished pink look. We'll be dreaming of that candy colored hair, too, for nights to come. —Maura Brannigan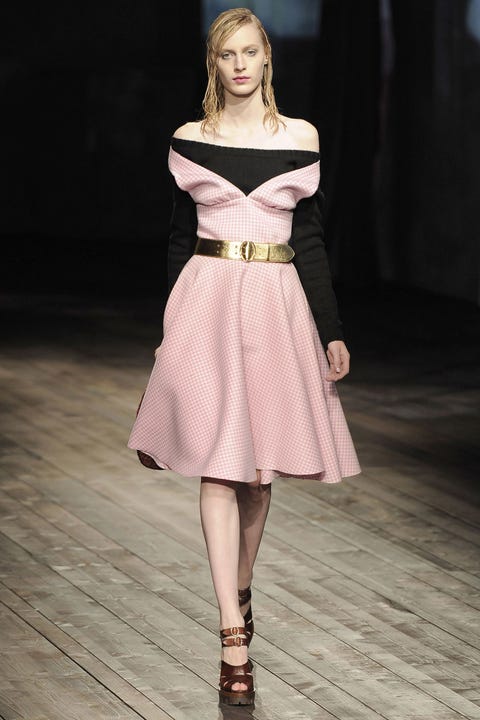 Prada
Milan
We were stunned by this Americana-inspired look in Prada's mega-amazing show. The dress' gingham-esque pattern and high-fashion-appropriate off-shoulder look was a definite show-stopper. —Maura Brannigan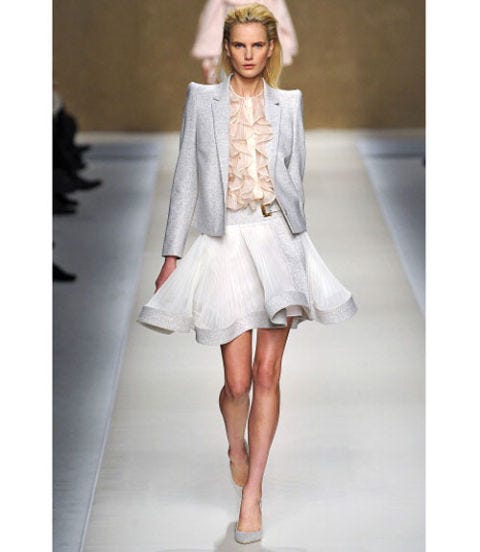 Blumarine
Milan
We've always been a sucker for Blumarine's impossibly feminine and darling designs, and this ruffled blouse, shimmery blazer, and pleated skirt look almost too delicate to wear. —Maura Brannigan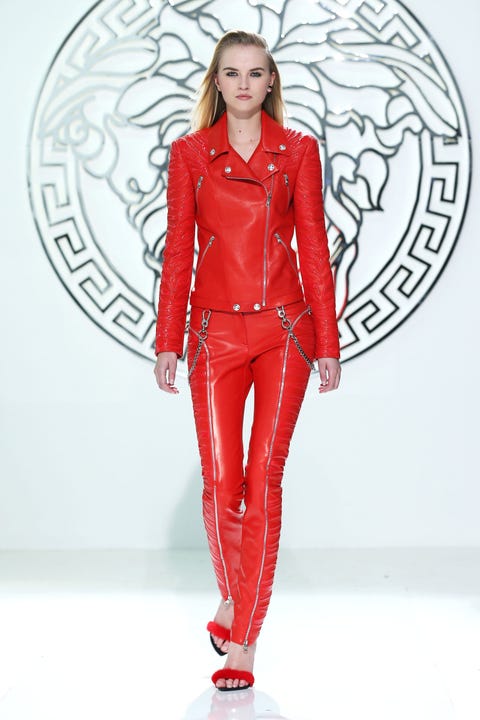 Versace
Milan
In a look that literally only Versace could pull off, this head-to-toe red leather jacket and pants combo may not be the most comfortable thing on the runway, but it sure does turn heads. —Maura Brannigan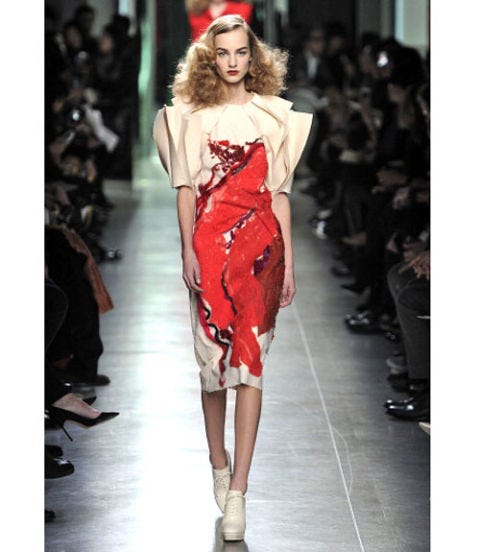 Bottega Veneta
Milan
Bottega Veneta officially created one of our favorite looks to come down the runway this season with this pleated shoulder, red-embellished gown. Those adorable lace-up cream shoes are just the icing on the cake. —Maura Brannigan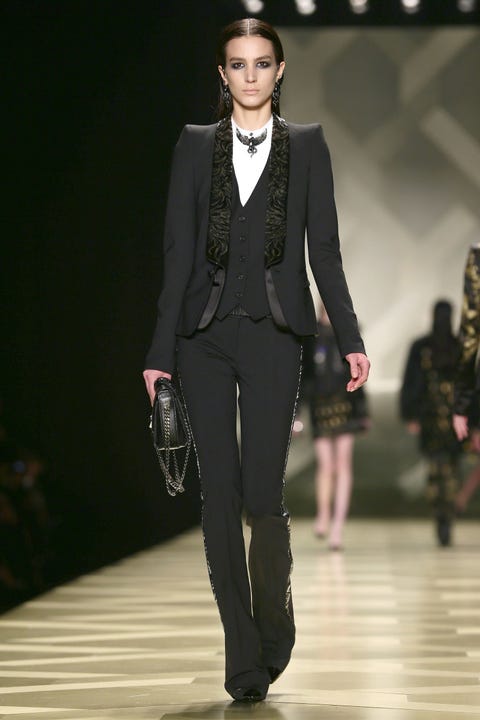 Roberto Cavalli
Milan
Menswear gets a chic, feminine update with this trim, studded tux from Roberto Cavalli. It's a classic look with a more timely (and gorgeous!) update. —Maura Brannigan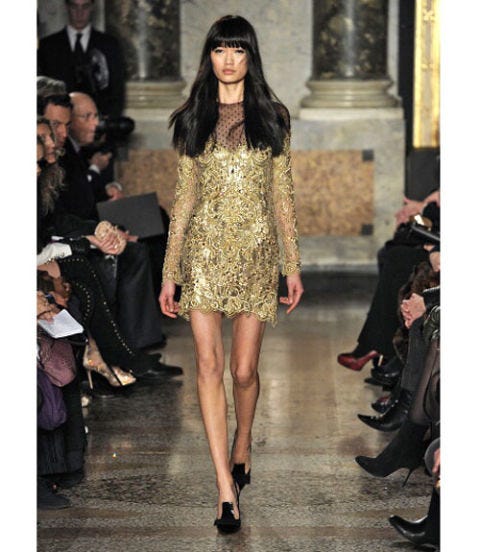 Emilio Pucci
Milan
Season after season, Emilio Pucci delivers a show so full of luxe details and totally original concepts that he leaves our minds perpetually boggled. This incredibly ornate mini-dress and understated loafers is a dress that has just enough flair to make it highly memorable, but not enough to put it over-the-top. —Maura Brannigan
Marni
Milan
We love the light, buttery coloring of this whole runway look from Marni, down to every last detail. Sidenote: We're seriously in the market for some metal-tipped loafers, so consider us hooked. —Maura Brannigan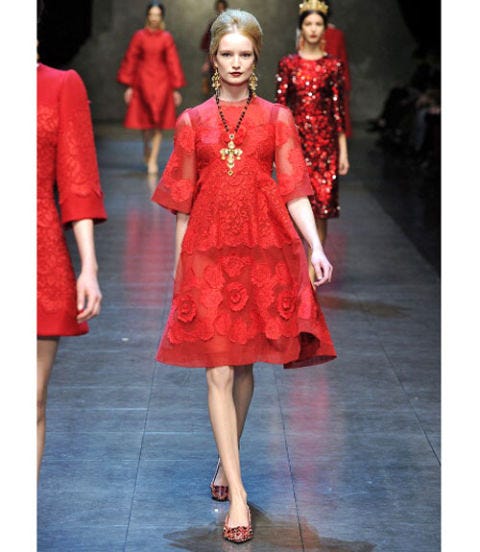 Dolce & Gabbana
Milan
Dolce & Gabbana absolutely stole Milan Fashion Week for us. The show was fit for royalty with elegant, oversized jewels, crowns, and rich gem tones. Amazing. —Maura Brannigan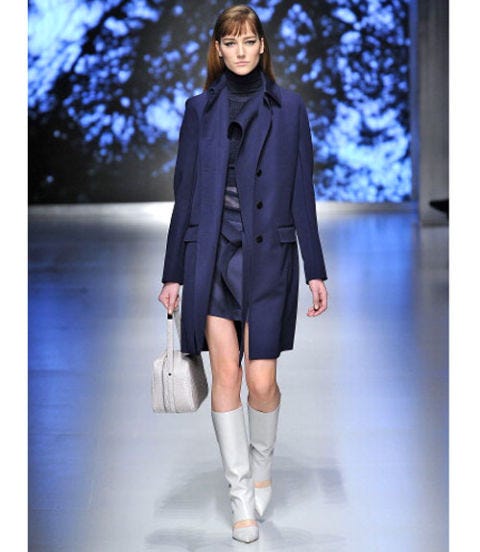 Salvatore Ferragamo
Milan
Fact: We may or may not have picked this Salvatore Ferragamo look solely (well, almost) due to those white go-go boots. Sally Draper would definitely understand our obsession. —Maura Brannigan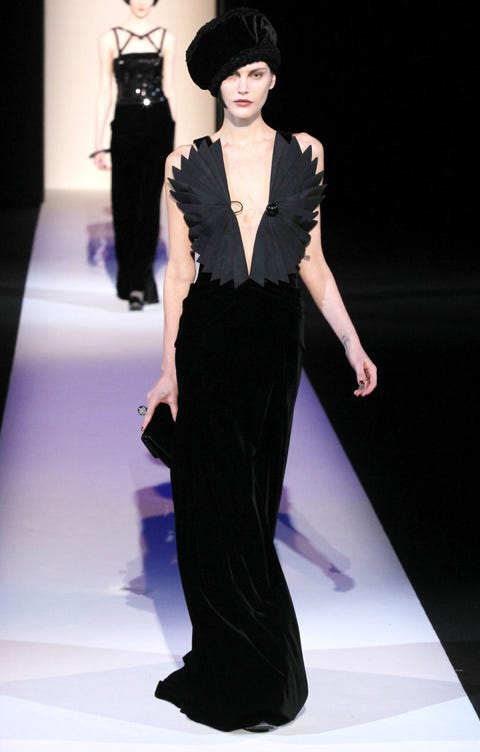 Giorgio Armani
Milan
Never ones to steer away from the drama, Giorgio Armani brought this elegant, navel-grazing gown down the runway and we're eternally grateful. —Maura Brannigan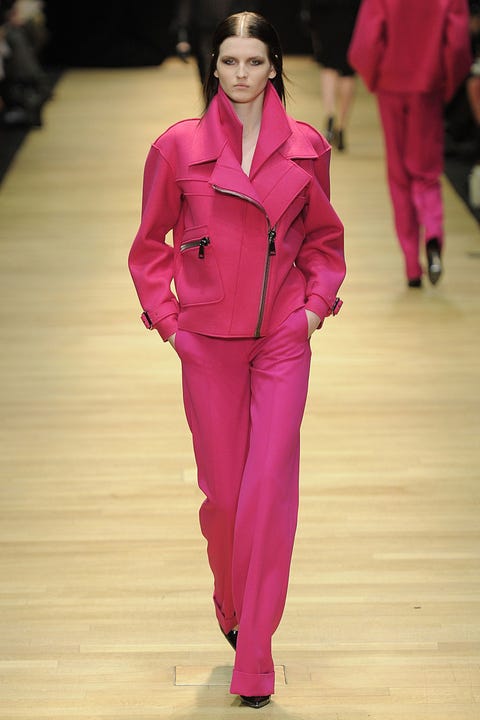 Guy Laroche
Paris
In the "it" color of the season, this moto-inspired jacket and trouser combo absolutely rocked the runway at Guy Laroche's Paris show. Complete with a pointed patent shoe and slicked hair, this model perfectly balances too-cool-for-school with girly and feminine. —Maura Brannigan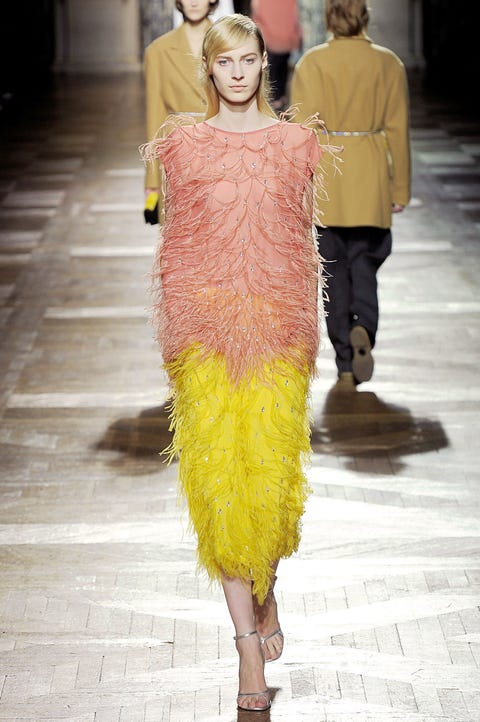 Dries Van Noten
Paris
Dries Van Noten presented this fringe- and rhinestone-accented dress, and it's so different from the rest of the label's show that we can't stop thinking about it. We're not sure the occasion at which we'd wear it, but we're more than happy to just stare it for now. —Maura Brannigan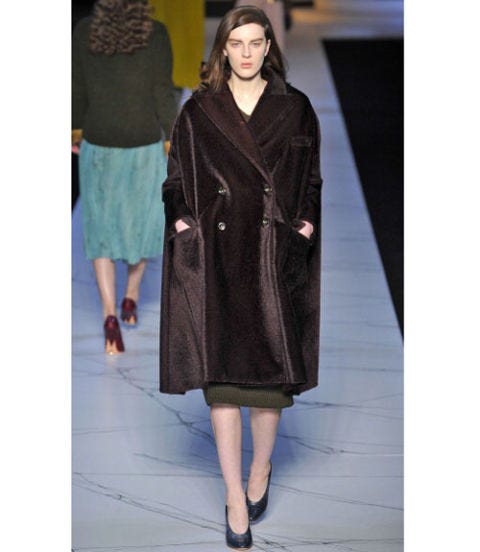 Rochas
Paris
Rochas brought the 1920s Casablanca feel to Paris Fashion Week. This mid-thigh length fur coat is just the kind of thing you would've seen Ingrid Burgman wearing alongside Humphrey Bogart. Such a classic. —Marie Southard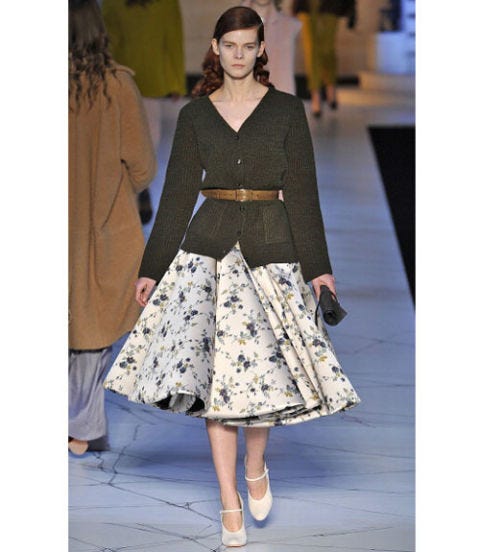 Rochas
Paris
As the seasons change, this is just the kind of outfit perfect for strolling through autumn-leaved parks. The natural tones of the cardigan and floral skirt give this look a vintage meets modern hipster feel, and we love it! —Marie Southard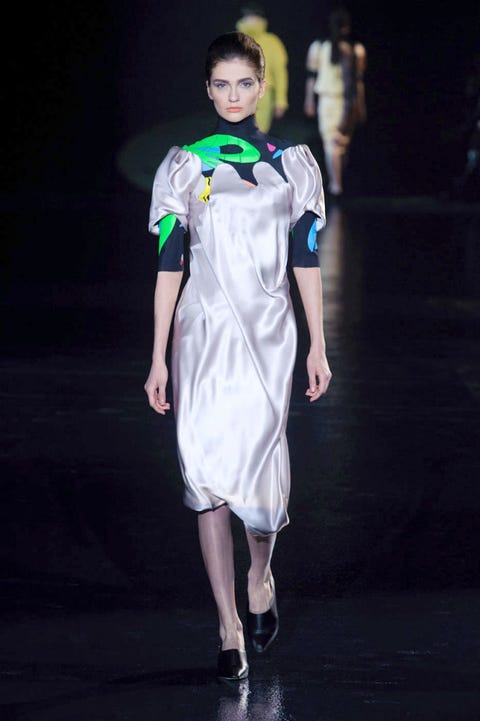 Mugler
Paris
The best way to describe Mugler's fall line has to be futuristic chic. We love the Star Trek-esque feel to this platinum dress, and those neon accents on the neckline and sleeves are simply awesome. —Marie Southard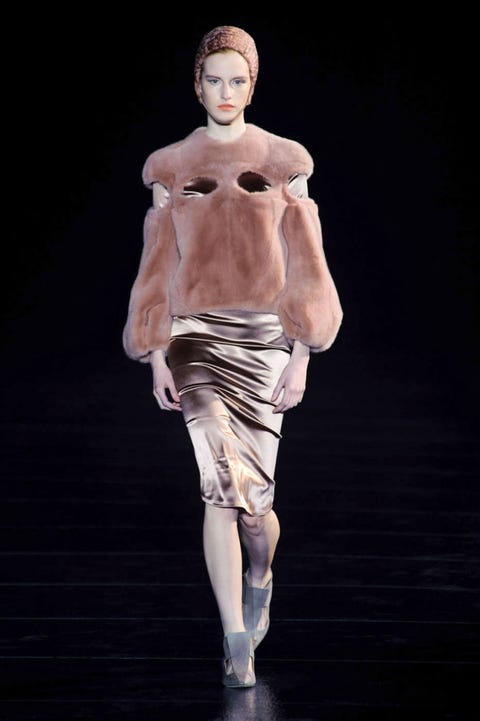 Mugler
Paris
The future is near now that Mulger is here. This fur top and gold skirt combo looks like just the kind of thing that we'd see in an up-and-coming sci-fi film. And that matching headband is all kinds of fabulous for fall.
This content is created and maintained by a third party, and imported onto this page to help users provide their email addresses. You may be able to find more information about this and similar content at piano.io