12 Must-Have Fall Trends
Fall fashion's many frames of mind.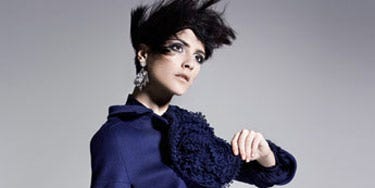 Fall fashion's many frames of mind.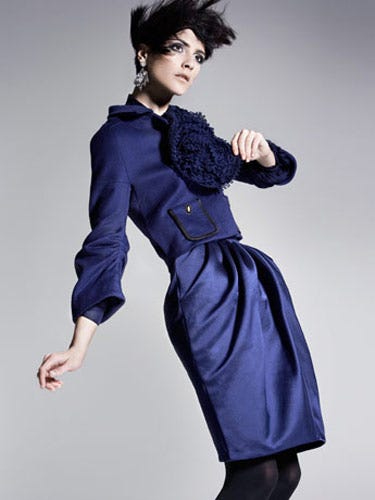 New Fall Trends
SUIT POINTS: ALESSANDRA FACCHINETTI FOR VALENTINO
"Rich in couture detail, romantic, and contemporary, the suit is the true essence of the new sophistication."
Jacket, $3990, top, $2550, skirt, $2550, Valentino; earrings, $1200, House of Lavande; tights, $11, Hue.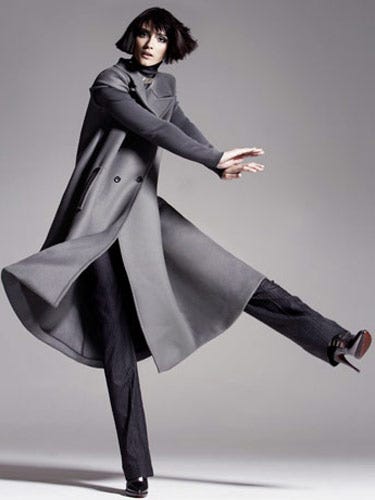 New Fall Trends
SWING SHIFT: THE DESIGN TEAM AT MAXMARA
"We reinvented the swing coat as a cape, giving this classic shape a more modern, glamorous edge."
Coat, $1465, turtleneck, $670, pants, $420, MaxMara; shoes, $895, Jonathan Kelsey for Mulberry; necklace, $695, Robert Lee Morris.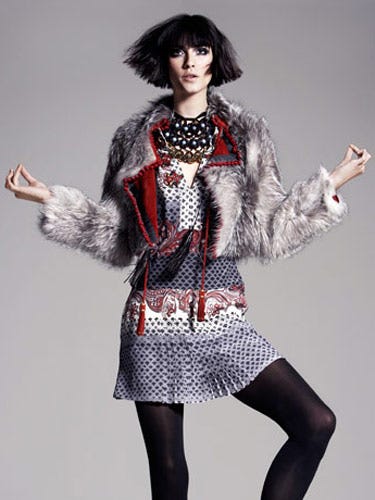 New Fall Trends
BEASTIE GIRL: FRIDA GIANNINI FOR GUCCI
"To explore the bohemian side of the rock-and-roll Gucci girl, I looked to Russian folklore prints, '20s dresses, and '70s fringe."
Jacket, $8950, dress, $2530, Gucci; necklace, $825, Johanne Mills; tights, $11, Hue.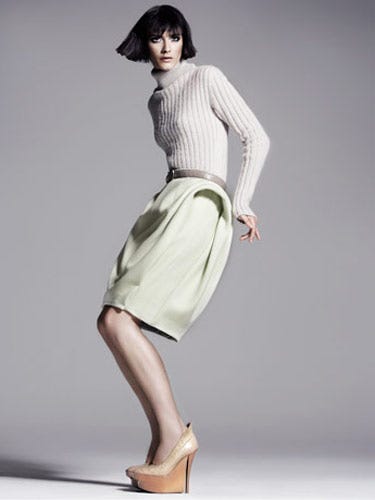 New Fall Trends
PLENTY O' FLUID: MARC JACOBS FOR LOUIS VUITTON
"To create beautiful shapes for beautiful women, we took fabrics that were moldable and powdery and light-absorbent."
Turtleneck, $1020, skirt, $1830, belt, $890, Louis Vuitton. On cheeks: Avon Let It Glow Powder Bronzer in Light-Medium.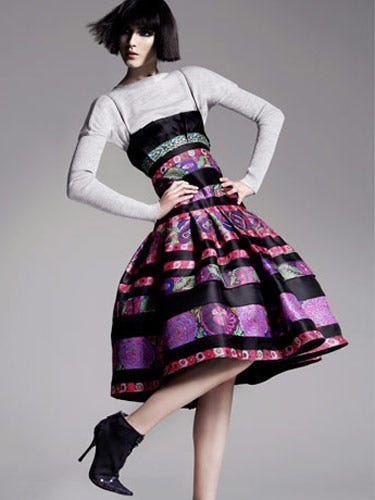 New Fall Trends
WOMAN IN FULL: ROBERTO CAVALLI
"I looked at Peruvian folk patterns and at '50s silhouettes: My woman for fall is romantic, with a new bohemian sensibility."
Dress, $8360, top, $760, booties, price upon request, Roberto Cavalli. On hair: SexyHair Power Straight Straightening Balm.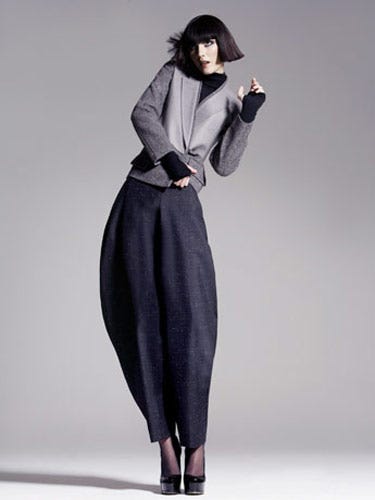 New Fall Trends
SLACK ATTACK: STEFANO PILATI FOR YVES SAINT LAURENT
"By challenging conventional principles of tailoring, I continue to explore volume and proportion."
Blazer, $2800, turtleneck, $690, pants, $1300, shoes, $785, Yves Saint Laurent; socks, $7, Hue.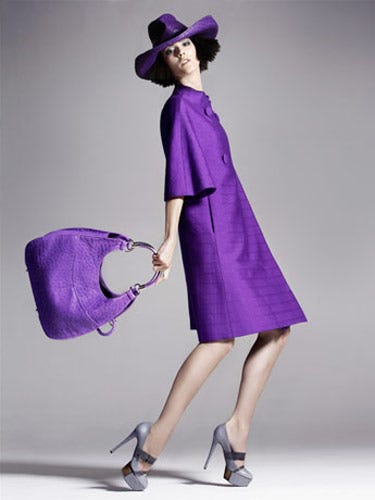 New Fall Trends
PLUM THE DEPTHS: JOHN GALLIANO FOR DIOR
"We took the sharp silhouettes of the '60s as a starting point. Think bold, innovative, very American."
Coat, $4625, bag, price upon request, hat, $4900, Dior; shoes, price upon request, Versace.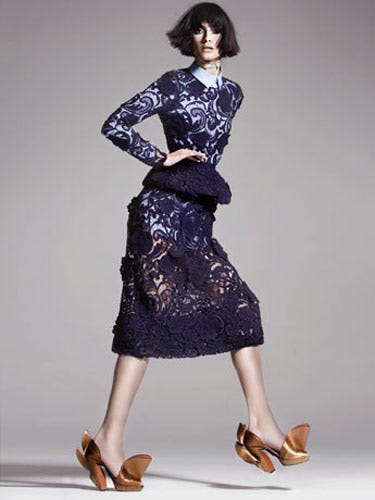 New Fall Trends
ABOUT LACE: MIUCCIA PRADA FOR PRADA
"I have never really liked lace, but I wanted to see if I could make it modern by taking all the old connotations away."
Dress, $4725, top, $455, collar, $395, peplum, $995, shoes, $890, Prada.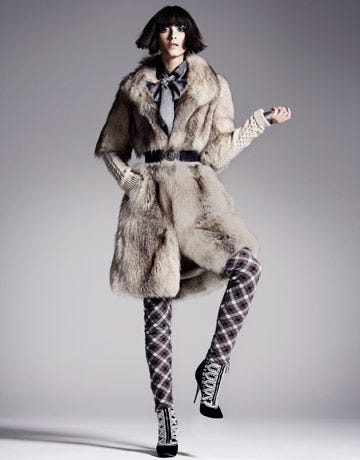 New Fall Trends
FUR-OCIOUS: ALEXANDER MCQUEEN
"The fox-fur coat paired with washed-tweed cigarette pants is a modern mix of utility and rock. The collection was inspired by the British Empire and punk princesses."
Coat, $19,985, top, $1495, pants, $1375, boots, price upon request, belt, $625, Alexander McQueen.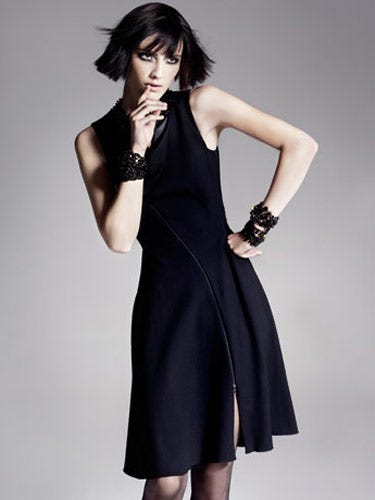 New Fall Trends
COCKTAIL HOUR: GIORGIO ARMANI
"I've taken a geometric approach to shapes and details. It's a modern metropolitan look."
Dress, $795, Emporio Armani; necklace, $1642.50, black-and-yellow cuff, $825, black-and-yellow layered cuff, $1325, Tom Binns; black cuff, $1195, House of Lavande; tights, $7, Hue.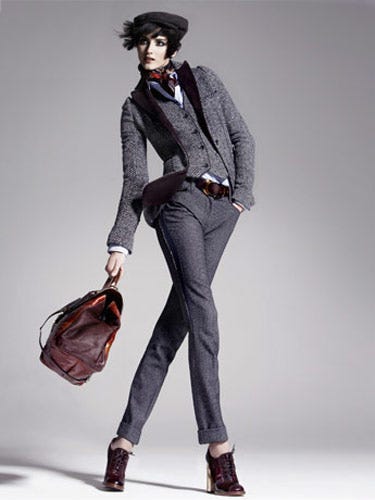 New Fall Trends
NEED FOR TWEED: DOMENICO DOLCE AND STEFANO GABBANA, DOLCE & GABBANA
"Inspired by traditional Italian menswear, the newly proportioned suits in warm, sensual fabrics impart a feeling of protection and aristocratic elegance."
Blazer and vest, $3400, shirt, $795, pants, $895, shoes, $1050, bag, $3495, hat, $550, scarf, $495, belt, $295, Dolce & Gabbana.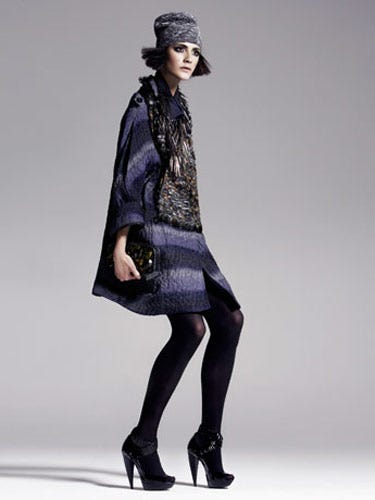 New Fall Trends
LUXE MADCAP: CHRISTOPHER BAILEY FOR BURBERRY
"Poetic, opulent, and upbeat, with a disheveled British elegance, as always, at the core."
Coat, $3795, shoes, $695, clutch, $5995, hat, $795, necklace, $1995, scarf, $2995, Burberry; tights, $11, Hue.
This content is created and maintained by a third party, and imported onto this page to help users provide their email addresses. You may be able to find more information about this and similar content at piano.io