The Best Cardigans to Call On for Sweater Weather
BRB, wrapping myself in cashmere and pretending I'm Nicole Kidman in "Big Little Lies."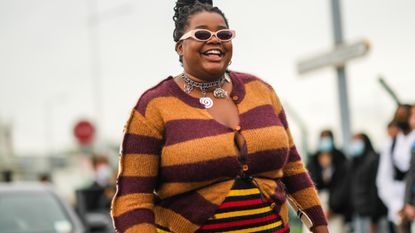 (Image credit: Edward Berthelot/Getty Images)
A cashmere-wrapped Nicole Kidman in Big Little Lies, an artfully disheveled Mary-Kate Olsen in an oversized open knit strolling around SoHo with a latte in hand—the best cardigans create powerful style moments and are more than just an as-needed thermal layer. When shopped and styled thoughtfully, they can be one of the best sweaters in your cozy collection. And while not every fall cardigan you own needs to be a scene-stealing number of an HBO Max or It-girl caliber, you should take the style seriously—especially this season's offerings. Contemporary takes on the classic style are trend-informed and run a gamut of aesthetics, catering to both minimal and maximal dressers alike.
Ahead, dive deep into our edit of trending cardigans for winter 2023-2024, and find some input and styling tips from a few fashion insiders to guide you throughout sweater weather.
What to Look For
When shopping for a classic cardigan, avoid anything that's too trend-driven. While ultra-cropped and extra-baggy versions have been popular in past seasons, the majority of 2023's iterations feature clean lines that will keep you warm for seasons to come.
On the runways, a few clear trends emerged. At Christian Dior, cardigans were whispered thin and sometimes adorned with feminine-feeling buttons. At Fendi, they were colorful. At brands like Chanel and Miu Miu, they appeared in muted tones like blush and brown and layered over coordinating tops like the cooler version of a chic Upper East Side grandma—this was subverted at the latter by the inclusion of sheer skirts and briefs and tights rather than trousers.
Styling a Cardigan
Cardigans are a wardrobe staple for a reason—there are near-endless ways to style them. Oversized and drapey silhouettes can easily be layered over the top of a fall dress for extra warmth, as Etro did. Designers like Anna Sui went matchy-matchy with their styling, pairing printed cardigans with coordinating green tops. Even Bluemarine tried matching styling, opting for duster-style cardigans worn barely buttoned with a low-rise knit trouser-legging hybrid.
The Best Cardigans
Abercrombie & Fitch Easy Long-Length Cardigan
This may be a long cardigan, but it's still flattering and gives polish thanks to its little details—like the stitching, side slits, and cute cuffs. This buttonless sweater is an easy fit and throw-on; just pair it with jeans. Not all cardigans need buttons. I love Abercrombie's take. — Tanya Benedicto Klich, Senior Editor
Acne Studios Appliquéd Wool Cardigan
Acne Studios never goes out of style and always has amazing knit numbers. Often, they can be found on sale, so don't fret. They also give the classic feel and the trendy, calm girl/boy energy. They tend to be thicker, though, so this would be a great option for layering on top of something. — Zoe Gofman, Celebrity Stylist
I love this sweater, It is perfect for layering and has a couple of great color options that still have a neutral tone. I love that the sleeves are a bit looser, too. I also am not always a big fan of pockets on the sweater, but in this case, I think it adds great detailing." — Zoe Gofman, Celebrity Stylist
COMME des GARÇONS PLAY Gray Double Heart Cardigan
"I would buy this cardigan in every color if I had the chance. I style it on its own, fully buttoned up as a top, layered over a T-shirt, as one would expect, and sometimes draped or wrapped around my shoulders like a scarf." — Nikki Ogunnaike, Editor in Chief
"I love the versatility of the Barry cardigan from Sezane. It looks great dressed up or just paired with jeans. The v-neck is super flattering, and the fabric is so soft. I already have it in several colors, but the red will be in my cart next. It feels very on-trend for this season but is still timeless and classic, so I know I'll wear it for years. It's also important to me that Sezane is dedicated to creating high-quality, gorgeous pieces through ethical and sustainable manufacturing, so I'm a huge fan of this brand overall!" — Kate Schofield, Manager, eCommerce Analytics
Reformation Fantino Cashmere Collared Cardigan
"This cardigan from Reformation is an investment, but if you are looking for cost-per-wear, this is the perfect piece for fall. Dress down with some jeans or wear with a mini skirt and knee-high boots to mix it up" — Sophie Cookson, eCommerce Analyst
Sacai Pleated Striped Cotton-Blend Poplin and Ribbed Wool Cardigan
"Sacai cardigans are an investment, but it's like purchasing two beautifully crafted tops in one that can be worn across all seasons. The front is all business, but turn around, and a feminine pleated motif adds a unique Sacai signature detail to the back." — Sara Holzman, Style Director
Alex MIll Nico Cardigan in Cotton
"I have this cardigan in a discontinued blue-and-white striped iteration, but I will buy it in this cream version, too. I'm 5'2, and it hits right at my hip. It has a thicker band along the hem and sleeves that keeps its shape when I roll them up or tuck them into my jeans, and it's made from a thicker knit that hangs beautifully and doesn't cling to my body throughout the day. Plus—and this is a small detail—the buttons are in the perfect location down the front, so I can wear it open at the top without showing too much skin for the office. I keep this in my closet year-round because it's thick enough to keep me warm in the winter but light enough that I can wear in the late summer or spring as a layer over the top of my favorite summer dress." — Julia Marzovilla, E-Commerce Editor.
"This Breton-striped cable cardigan is a fun twist on a classic: The thick stripes are blurry and uneven instead of sharp and defined. The end result is a graphic, visually interesting pattern, and the oversized feel and balloon shape (plus the contrasting buttons) make the whole thing cozy and incredibly layerable. I love Sezane sweaters but am sensitive to wool. This is a cotton blend, which makes it softer and not irritating to my skin, so I can wear it on " — Katherine J. Igoe, Contributing Editor
Everlane The Organic Cotton Cardigan
"When you want an oversized, relaxed basic, Everlane is the go-to. The thick knit makes it a little more structured than your average cotton cardi—meaning it can double as casual outerwear when I need to throw something on and go. Size down if you want to be fitted, but I took my regular size because I like my cardigans loose and layerable. This works in summer, winter, and everything in between (and because of its multifunctionality, I have this in a cropped version, too)." — Katherine J. Igoe, Contributing Editor
Nadaam Fancy Cashmere Cropped Cardigan
"I've been hunting for a basic black cardigan for many moons. My sweater collection is full of rainbow-colored and playful styles, but I still needed a neutral, no-fuss, no-frills cardigan that I could wear without a second thought. And at long last, I finally found one: NAADAM's cropped cashmere cardigan. The sweater is made of 100-percent Mongolian cashmere but is incredibly affordable at only $150. It offers the deliciously soft, high-end feel you'd get from a luxury piece but at a fraction of the cost." — Emma Childs, Fashion Features Editor
Gap CashSoft Balloon Sleeve Cardigan
"Don't make the mistake of sleeping on Gap's knitwear. I know the brand may not be the first you think of for quality sweaters, but they are seriously good and easy on the wallet. Gap just released their CashSoft collection, which is made to have that cozy cashmere feeling without the price tag and need for dry cleaning. Their CashSoft cardigan just shot up to the top of my wishlist thanks to its chic silhouette and comfy feel. Add the matching skirt, and you've got the fall outfit of my dreams." — Brooke Knappenberger, Associate E-Commerce Editor