A No-Nonsense Guide to Fall 2023's Sweater Trends
Spoiler alert: classic, easy-to-wear knits take the top spot.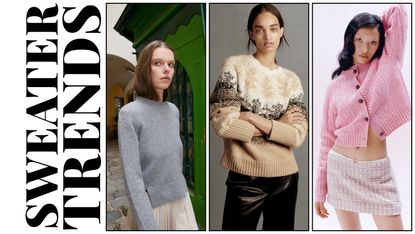 (Image credit: Future)
Considering that Mother Nature's (hopefully) subjected us to the last of her heat waves, now's the moment to do a pulse check on your sweater collection. How are your turtlenecks looking? Have your cardigans teetered into threadbare and tatty territory? The start of the season is the best time to take stock of your knitwear, assessing what's good to keep, what's best to donate, and what new additions you're looking to acquire. If you're leaning towards the latter, allow the fall 2023 sweater trends to offer guidelines and inspiration along your shopping journey.
After studying the seasonal runways and consulting with retail insiders whose fingers are permanently placed on the industry's pulse, Marie Claire curated a straightforward guide on fall sweaters. From the best new knitwear brands on the scene to the forever silhouettes that offer foolproof polish, keep scrolling to discover all you need to know about shopping this season's knitwear.
What to Look For
Kate Bellman, the Women's Managing Fashion Editor at Nordstrom, breaks down the season's sweater landscape to Marie Claire: "With no foreseeable end to the Quiet Luxury moment, fall 2023 is the season to invest in the timeless classic piece you'll have forever," she details, inviting you to splurge on timeless, high-quality kits. "You can't go wrong with luxe cashmere or classic patterns in your favorite wear-everyday silhouette," Bellman offers.
Fall 2023's fashion trends signify that it's the season of shopping smarter, not harder, so, as Bellman describes, you want to seek out sweaters that naturally fit into your daily uniform and possess intrinsic staying power. A timeless cable-knit sweater, a traditional Fair Isle, or a cardigan in an easy-to-style neutral shade—those are the fall basic buys to keep a lookout for.
Best Sweater Brands
As for what are the best sweater brands worth shopping, Brigitte Chartrand, the VP of Womenswear Buying for SSENSE, has several suggestions. "I personally love sweater season despite living in Los Angeles, so some of the brands that readers should absolutely keep on their radars this season are The Row, Khaite, Maison Margiela and Acne Studios. They've always been top performers for us," she details. "Some other brands also worth looking into include Lauren Manoogian and SSENSE newcomer, Guest in Residence."
The Sweater Trends of Fall 2023
"Classic crew necks are trending really well for us this season," details Chartrand. "I love a shrunken or oversized crewneck: This SSENSE Exclusive style from Guest In Residence is the perfect in-between that also happens to hit on the color red, which is another major trend this season."
---
"We also saw a rise in preppy knit styles on the FW23 runways from brands like SHUSHU/TONG and Miu Miu," the SSENSE expert shares. Nordstrom's Bellman concurs, shouting out "moment of 90's prep with varsity pullovers and embellished cardis." You'll also want to keep a keen eye for looped boucle textures, especially when done in proper cardigan-style jackets, like Gap's navy blue iteration,
---
"When it comes to sweater trends and key silhouettes for fall, it's proven to be the season of extremes," Bellman says. "Oversized, cocooning shapes make a stitchy statement in both grandpa cardigans and textural pullovers." Roomy cable-knit turtlenecks—like this heathered gray option from minimalist maverick Nili Lotan—are another style to consider in this category.
---
Both retail experts are unanimously aligned that "shrunken silhouettes" are another key style for fall 2023. "Form-fitting cardigans and tight, cropped v-neck sweaters [are] some of our favorite ways to style knitwear this fall," describes Chartrand.
---
In keeping with fall's theme of wearable classics, Bellman adds that she's observing an uptick in traditional prints of "heritage-inspired intarsias," including Fair Isles and Breton stripes. She shouts out two sweaters, in particular: "I try to pick up a statement sweater from Molly Goddard every year, and this version is a winner with my two favorite prints, Fair Isle and stripes. I am also definitely feeling a classic striped sweater this season and love the year-round versatility of this Toteme classic."