The Very Best Underwear for Women
According to the people who wear them.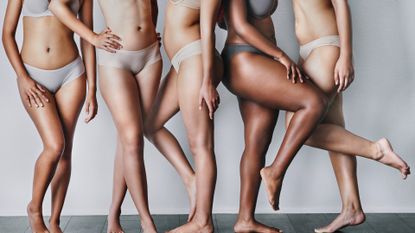 (Image credit: Getty Image)
Underwear—everyone has it, but when was the last time you built out your collection in an intentional way? It's probably been a long time. Thus, I've broken down the best underwear for women by category and selected one must-buy item from each one. Consider this the perfect starting point to building out your ultimate collection.
What to Look For
This might sound reductive, but your underwear drawer should have a few pairs for every occasion, similar to how you have a variety of bras ranging from sports bras right down to the lacy versions from a lingerie brand that you don't wear as often.
You'll of course have those cotton pairs that you rely on for day-to-day wear, but it's always nice to have a few more special-occasion-ready items like satin or silk pairs on hand that match with your favorite bras. Seamless underwear is also key for wearing under all of your sheer pieces or with leggings without panty lines. And we can't forget about having a shapewear option on hand if you so need.
Because shopping for underwear can feel daunting—there are so many options!—I broke down the 13 types of underwear you actually need. Some of the ones on this list have been tried and tested by Marie Claire editors; the ones we haven't tested come backed up by hundreds of glowing reviews. Plus, we finally broke down the difference between hipster underwear and bikini underwear, a question which has plagued me for years.
The Best Pairs of Underwear
Best Cotton Underwear
Calvin Klein Women's Modern Cotton Stretch Bikini Panty,
Calvin Klein's Modern Cotton Stretch Bikini Panty is a classic and odds are, you already have a few pairs that could do with replacing in your closet. Or, you're just a longtime fan and are looking for a new pair. Aside from the iconic logo band, this pair of underwear is soft, stretchy, has fuller coverage in the back, and doesn't ride up as you move throughout your day. One reviewer even called wearing them a "luxury experience," and I couldn't agree more.
Pros: Comes in several colors; Top-rated; Soft cotton; Stretchy material.
Cons: Only comes in sizes up to an XL.
Customer Review: "I'm picky about underwear but these are very comfortable and provide great coverage. [The] material feels thick and they don't ride up. They are one of my go-to. I'm going to order another when on sale" — Amazon
Victoria's Secret Logo Cotton Hiphugger Panty
Bikini-style underwear is designed to sit right under the hip and generally has less coverage compared to other styles. This is due to the fact that they're made with less fabric at either side. This pair from Victoria's Secret comes in 18 different colors and prints and in sizes XS through XXL. Based on the several hundred five-star reviews on the brand's website, this pair doesn't move around, is comfortable, and provides the perfect amount of support throughout the day.
Pros: Comes in a variety of colors; Soft material; Washes well; Seamless design.
Cons: Some reviewers say that they ride up in the back but that it's not uncomfortable.
Customer Review: "Softest underwear I own. I love that there are no seams and are smooth!" — Victoria's Secret
Best Thong Underwear
Hanky Panky Cotton Original-Rise Thong
"I'm not really a day-to-day thong-wearer but I do swear by these Hanky Panky lace thongs They're basically the opposite of every other thong I've tried in the past—the lace material is super soft and not itchy, they don't move around during the day, and they don't pinch or dig in on the skin. It honestly feels like I don't have anything on and they're virtually seamless despite the lace material. Plus, they come in tons of colors and prints." — Julia Marzovilla, E-Commerce Edior
Pros: Editor-approved; Soft material; Top-rated; Don't slide or move around; Lightweight; Stretchy fabric; Comes in multiple colors.
Cons: Only comes in one size.
Customer Review: "Excellent product. Well made and hold up well when properly cared for, I threw away all my other panties and just wear Hanky Panky." — Saks Fifth Avenue
Best Bikini Underwear
This pair of bikini-style underwear from Gap has over 500 glowing five-star reviews on the brand's website. The reviews say that this pair fits true to size, comes in three colors, and you can buy them in sizes XXS through XXL. They have a fuller coverage design in the back and a higher cut on the leg for less coverage in the front. The jersey cotton material is lightweight, too. Reviewers also love them for the cooling effect the fabric has.
Pros: Top-rated; Runs true to size; Comes in multipe colors; Comes in sizes up to a XXL; Lightweight feel; Has a cooling effect.
Cons: Some reviewers say they roll.
Customer Review: "Well made, comfortable, light weight and no show panty lines!" — Gap.
Best High-Cut Underwear
CUUP The Highwaist Modal Thong
Finally, a pair of underwear that does it all. This pair is feather light, has a seamless design, and doesn't move over the course of the day. You can shop them in nine colors ranging from classic black to brighter colors like lavender and sea moss green. The high-rise silhouette and minimal coverage in the back of the panty make it a dream to layer underneath shapewear or high-cut dresses. The higher rise in the front, though, provides a smoothing effect all over.
Pros: Comes in several colors; Comes in sizes up to an XXXL; Lightweight feel; Soft fabric; Runs true to size.
Cons: Can sell out quickly.
Customer Review: "FINALLY, a high waist, no-show thong that is actually high waisted. I've been searching for years for this underwear! It is truly no-show, and gives the coverage/smoothing I want in front with no panty lines or unflattering digs, anywhere. Love. It." — CUUP
Best Seamless Underwear
"Finding a pair of underwear that is actually seamless—meaning that it actually disappears under your clothes without leaving any visible seams—can be tricky. This is the only true pair of no-show seamless underwear I have ever used. I was first introduced to them as a styling assistant on set because they were a must-have for the models. I now have them in both nude and black and they're the ones I go to when I'm wearing a slightly sheer white piece or when I'm wearing black leggings for a smooth look." — Julia Marzovilla, E-Commerce Editor.
Pros: Editor-approved; Soft material; Comes in two colors; Lightweight.
Cons: Some reviewers felt the smallest size was still too large.
Customer Review: "I've been "going Commando" for over ten years and the nude girl short is still my all-time favorite. Even under the sheerest, whitest outfits, they're completely undetectable -- and they're the most comfortable underwear you'll ever own." — Bloomingdale's
Best Shapewear Underwear
SKIMS Seamless Sculpt High-Waisted Briefs
Available in 10 shades and in sizes XXS through 4X, this SKIMS shaping pair of underwear is second to none—even if you're not a Kardashian devotee. And while the fact that they're shapewear might be in the name, this pair promises all of the shaping without feeling unable to breathe. It smooths your waist and has shaping pockets around the back of the briefs to add support. The silicone band at the waist also prevents it from sliding down your body.
Pros: Comfortable; Non-restrictive; Soft; Easy to wash; Adds smoothing and lifting; Invisible under clothing; Comes in a wide shade range; Comes in a wide size range.
Cons: Can sell out quickly.
Customer Review: "I love the colour and the fabric. It's is breathable and didn't make my belly sweat. I also like the grip on the band, it holds up and doesn't roll down. I was at first skeptical but I just did it and purchased 2 Skims in one order and did not regret it." — SKIMS
Best Boyshorts
Tommy John
Tommy John Women's Boyshort Panties (3 Pack)
Boyshorts are defined but their maximum-coverage design in all areas. While some styles offer so much coverage that they're actually shorts, this pair from Tommy John sits right at the top of your hip. They come in packs of three and in several neutral colors. They're made from a cooling cotton fabric that wicks moisture and keeps you dry. With over 90 five-star reviews, these are beloved for their airy fabric, weightless feel, and the fact that they don't ride up.
Pros: Top-rated; Lightweight fabric; Moisture-wicking; Fast shipping on Amazon High coverage.
Cons: Some reviewers felt the legs rolled up.
Customer Review: "Expensive, but exactly what I wanted--soft fabric, nice fit, no chafing or bunching. If in doubt, order up in size." — Amazon
Best Lace Underwear
Journelle Lexi Bikini Panty
Lacy underwear can sometimes be itchy, but this lacey pair from Journelle is designed to feel silky-smooth on the skin. The combination of sheer paneling on the sides and lined lace front makes them wearable for everyday wear, but the subtle gold metallic finish gives them a little something extra ahead of the holiday season. You can even shop the matching lacy bra in this inky blue colorway for a festive addition to your lingerie drawer. The lined front panel helps them feel smooth on the skin.
Pros: Non-itchy fabric; Soft lace; Breathable design.
Cons: Hand-wash only.
Best Pack of Underwear
Fruit of the Loom
Fruit of the Loom Tag Free Cotton Panties
Do not overlook Fruit of the Loom—comfortable underwear is key to have in your collection! You can choose from three different types of fits with this set—regular briefs, high-cut briefs, and a low-rise brief version—and are currently available for less than $10. They're made from 100 percent cotton and have a tag-free design for extra comfort and no itching. These are the no-fuss underwear staples that you can sleep in, wear all the time, and keep in your rotation—plus, they have over 73,000 five-star reviews.
Pros: Affordably priced; Comes in several cuts; Comes in several colors; Has a tag-free design; Top-rated.
Cons: Some reviewers said they run small.
Customer Review: "Purchased these briefs & loved the product & the price so much am ordering again. Perfect fit and comfortable. Highly recommend." — Amazon
Best Period Underwear
The Period Company
Period Company The High Waisted Period. in Sporty Stretch For Heavy Flows
Period underwear is a sustainable way to take care of your periods if you get them. This pair from Period Company—the brand founded by celebrity stylist Karla Welch—is designed for heavy day one or two flow days. The four layers in the gusset can hold up to a day's worth of blood and is made from organic cotton. This sportier version has a low profile and is made from a nylon fabric that moves with your body. The material keeps you dry all day so you don't have to worry about leaks or feeling uncomfortable after a few hours of wear.
Pros: Comfortable; Moisture-wicking; Comfortable for long periods of time; Lasts a long time.
Cons: Some reviewers said that they didn't last overnight.
Customer Review: "Based on the thickness of the lining I was sure that these were going to feel like wearing a diaper. SURPRISE! They didn't! While definitely thicker than typical undergarments they weren't bothersome. I love the sporty stretch fabric; it feels supportive without compression. The pink made me smile and feel cute." — Period Company
Best High-Waisted Underwear
Parade made waves when it launched in 2019 for its affordably priced range of colorful underwear and bralettes. This pair of high-waisted panties from the brand are made from their signature Re:Play material but is outfitted with mesh panels on the side for a touch of skin. You can shop them in sizes up to 5XL and in five neutral colors. Reviewers say that this pair runs true to size and that the material is soft on the skin.
Pros: Comes in several colors; Comes in sizes up to a 5XL; Top-rated; Lightweight material.
Cons: Some reviews say that they ride up over time.
Customer Review: "I would not usually go for a brief style, but I decided to give these a shot. They're not super "high rise" so you can still wear them with midrise pants. The coverage on the rear is just right. These aren't a traditional brief style, more a "brief lite" , but I like it! They have a pretty wide gusset in comparison to other styles, but it's not uncomfortable. Overall they're comfy and easy to wear but not boring. Would buy again in a fun color!" — Parade
Uwila Warrior
Uwila Warrior Soft Silk Lace Trim Silk Briefs
Day-of-the-week underwear never gets old. This 100% silk version from Uwila Warrior is proof of that fact. They have fuller coverage—they're bordering on a boy short style—but have touches of feminine lace at the hem and on the waistband. If you have these and love them, consider shopping the option with fun day-of-the-week style trext on them. , instead of simply putting the day of the month on the front like the traditional version, these take a playful spin on the trend with words like "Humpday" for the Wednesday version and "T.G.I.F" on Friday's pair.
Pros: Comes in sizes up to a 3XL; Made from 100 percent silk; Lightweight fabric; Breathable fabric; Comes in several colors.
Cons: Some reviewers say that the silk material runs.
Customer Review: "I don't think the question is if these are great. I think the question is why haven't you bought these yet? I love mine, gorgeous color, super soft, & they make me smile." — Nordstrom
Celebrity news, beauty, fashion advice, and fascinating features, delivered straight to your inbox!