Unpacking the Immortal "It" Quality of Carolyn Bessette Kennedy
A quarter of a century later, her fashion legacy still resonates. Marie Claire speaks with the author of her new fashion biography to understand why.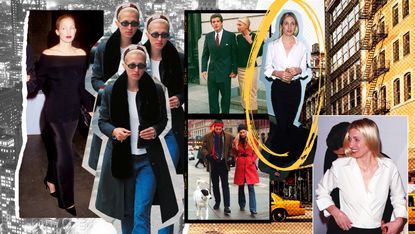 (Image credit: Future)
Nearly 25 years have passed since Carolyn Bessette Kennedy's tragic death, but her place in the fashion pantheon remains unchallenged. She's continuously cited as the pinnacle of '90s minimalism and the archetype of an American "It" girl. Her style—streamlined and crisp, occasionally avant-garde, always effortless—makes her a mainstay of mood boards. Fashion journalist Vanessa Friedman recently anointed Bessette Kennedy a "Ghost Influencer"—a quarter of a century later, and the former Calvin Klein publicist still resonates from beyond the veil.
But what is it about her style that makes it stick? How has her sartorial legacy withstood the ever-churning trend cycle and constant new crop of tastemakers?
Sunita Kumar Nair, author of "CBK: Carolyn Bessette Kennedy: A Life in Fashion," had these questions, too. "I wanted to break down how important of a muse she is and work out why she still resonates now," Nair tells Marie Claire over Zoom. "Why is she still used as a benchmark and purveyor of fine taste and fashion?" Nair spoke with lecturers at Central St. Martin's and found that countless design students still use her as a reference point. And it's not only undergrads: Most recently, Creative Director Wes Gordon cited Bessette Kennedy as a guiding influence for Carolina Herrera Spring/Summer 2024 collection; it's easy to imagine her in Gordon's strapless sheaths and billowing button-downs, her arm tucked into the nook of John-John's.
Personally, Nair is "fascinated by how she [Bessette Kennedy] chose her clothes." What does it say that a socialite of her status chose down-to-earth basics—blue jeans, slip dresses—over high-octane formalwear and the Kennedy prepster uniform? "She'd wear very high-end runway designers, like Alaïa and Prada, but reduce them to their elemental factors—to the basics of what we look at in clothing: a really good skirt, coat, or shirt. It takes quite a lot of guts to wear very simple pieces in a public framework."
But to label Bessette Kennedy's taste as "simple" feels inaccurate. Her closet was sharply tailored and pared-back but also multi-faceted and unorthodox. "The care and craft in which she curated her image created such a classic yet modern look," shares Jack Sehnert, curator of @carolynbessette (one of the myriad popular Instagram accounts dedicated to C.B.K.'s fashion archive). "Her mix of day-to-day basics with progressive and avant-garde designers was ahead of its time."
She had an enormous appreciation for the innovative Yohji Yamamoto, for instance. "She pretty much wore Yohji for most black-tie events," Nair says. One of her most recognizable outfits, worn to a Whitney Museum of American Art benefit, was a men's button-down tucked into a ruffle-hemmed black skirt from the Japanese designer's Spring 1999 women's collection. "Then she would veer into a little bit of rock chick with an Ann Demeulemeester fur coat. But in her casual outfits, she'd wear a backward baseball cap, white tee, and black sweater. I love those different sides of her—they're all the different sides of a woman but still speak to the same theme."
This identifiable throughline is part of her fashion appeal, explains the founder of @allforcarolyn (who wished to be referred only by their username), adding: "So many people resonate with her style because she created a signature dress code that's timeless and easy to replicate. People can reference and emulate her looks today and remain stylish 24 years later because the blueprint they're pulling from created a style that works and allows women to feel good in their clothes."
This appreciation for timeless essentials that work best for the wearer—what a concept!—is the same force driving the 2023 resurgence of stealth wealth. Consequently, Bessette Kennedy's easy minimalism has observed a recent spike in reverence. "As the quiet luxury trend took off this past year, we've seen Pinterest searches for icons who embody the trend, like Carolyn Bessette Kennedy, rise on the platform," says Sydney Stanback, Pinterest's senior manager of brand research. Since October 2022, searches on the image-sharing platform for "Carolyn Bessette Kennedy" are up 40 percent, and queries specifically for her "style" are up 30 percent.
But just as "simple" wasn't wholly correct, "timeless" and "minimal" aren't quite right either. Bessette Kennedy's style was more nuanced than those descriptors imply, Nair says. "Minimalism is keyed into timelessness, but I don't see them as the same," she says. "What Carolyn did very well was she didn't peg herself in a time capsule. She'd take a minimal piece—like an Ann Demeulemeester leather skirt—and then make it timeless by pairing it with a really perfect slob T-shirt, which was probably very well-made and from Helmut Lang. You then look at the outfit and think, 'Oh my God. Maybe I wouldn't wear it today, but I would maybe wear it in five or six years.'"
There's another core component of Bessette Kennedy's wardrobe: You can see yourself in a white tee—in fact, you probably own several. Princess Diana's fashion had a similar "Stars—they're just like us!" effect. "With Diana and Carolyn, there's a connectivity that people feel with them," Nair says. "Even though Diana was royalty, came from this incredible family, and wore designer clothes, she let her humanness and vulnerable side open to the public. There was an accessibility that Diana allowed. Carolyn's was in those paparazzi pictures of her walking down the street picking up her dog's poop. She's going to a gala and carrying her Hermès bag, but it's stuffed with her gym clothes. People look at that and think, 'Oh, that's how I live!' and feel a link to them. Whereas with Jackie [Kennedy] it's, 'I'm the First Lady.' Same with the late Queen. There's this distance between you and them. Carolyn bridged that gap to remind us that we're all kind of the same, really. We're all people."
Like Diana, Bessette Kennedy's story is also one that ends in heartbreak. "People tend to forget she entered the public eye in her late 20s and only lived to 33," says the curator of @allforcarolyn. For Bessette Kennedy, she's immortalized in 1999, right on the cusp of the new millennium and internet age. "The discography of images scattered across the internet is from a short period that shows a young woman with incredible taste and style growing up and entering a new phase in her life, which is maybe the most relatable thing about her."
And there is a fascination with the injustice of someone gone too soon. Their life becomes lore, their story is left open-ended, and you're left to fill in the blanks. For someone like Besette Kennedy, who posed many mysteries when she was alive, her untimely death only adds more unanswered questions. "She was an enigma; her clothes were an enigma," Nair says. "Her message was very clear, but also, it wasn't. And that's the beauty of it all: You can't ever really figure out her style. Even after [writing the book], I don't have a 100 percent answer. It's like when you look at a beautiful painting: You've got 10 people around you all saying different things about what they think the art means."
Bessette Kennedy's style was complex and complicated. But that's because she was—as all humans are. She was intensely private but married into American royalty. She never gave interviews. Only two brief clips of her speaking exist. "The mystique around Carolyn is fascinating," says @allforcarolyn. "Her aversion to the spotlight and the public attention that her relationship brought was an interesting juxtaposition. The less she spoke publicly, the more her clothes spoke for her, and her use of clothing choice as a statement is incredibly powerful."
At the heart of it, that's what shines through: Bessette Kennedy's clothing was an extension of herself. It's not just the minimalism or casual femininity or luxury of a perfectly tailored blazer; it's the Carolyn-ness that makes her fashion persevere. "Her friends told me, 'Oh, she would just throw it all together. That's always how she dressed: She never would sit there and work it out,'" Nair says. Bessette Kennedy never looked like she was trying too hard because she didn't have to try at all. Dressing came naturally, as personal style does when someone's well acquainted with themselves. "She was very true to herself in that way. That's a great indicator of her confidence in herself," adds Nair.
We can follow TikTok tutorials to imitate the stealth-wealth look. We can study her outfits and dive into the pages of Nair's book, but ultimately, we can't crack the code. The secret to her style lies with Carolyn because it was unequivocally hers.
But what we do have is her fashion archive. And though it's small—Sehnert believes there are 15 to 20 photographed looks in total—it's strong. Nair quotes another "C.B.K." contributor: "Like Alastair McKimm from i-D said, '[Her style] was a gift she gave to us.' And I think that's just really nice."
---
CBK: Carolyn Bessette Kennedy: A Life in Fashion by Sunita Kumar Nair is available for purchase Nov. 7.
Marie Claire email subscribers get intel on fashion and beauty trends, hot-off-the-press celebrity news, and more. Sign up here.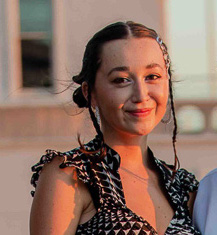 Emma Childs is the Fashion Features Editor at Marie Claire, who writes trend reports, long-form reported features, and style guides. She previously wrote for TZR, Editorialist, Elite Daily, and Mission Magazine and studied Fashion Studies and New Media at Fordham University. When she's not writing fashion deep-dives, you'll find her stalking eBay for designer vintage and perusing HBO Max (in her heart, it'll always be *HBO* MX).