Coco Jones Has Been Waiting for This Moment
The R&B star has had her eye on fame since childhood. Now, with a fresh start in the music industry, she's trying to do it by being herself.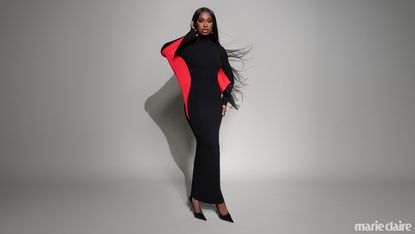 (Image credit: Kat Irlin)
Coco Jones has become the queen of efficiency. She'll bribe her glam team for a beat face in 30 minutes or less ("I'm like, Come on, come on. We can go eat after this. Free me from the chair!"). She'll film TikToks in the car or even in the glam chair during those mad-dash makeup sessions. Or she'll squeeze in a manicure while doing an interview (as I recently learned). "Just got to fit it in when I can fit it in," she says, as a fluorescent-lit Lower East Side nail salon comes into focus behind her over Zoom.
While navigating the queries of the nail technician who is touching up her talons with a French mani, Jones, sporting a casual cream pullover and black leggings, is whispering responses to my questions, her sighing interspersed with giggling as she leans into the delirium that comes with exhaustion. When we speak in early September, it's in the midst of New York Fashion Week and the day before she wraps her first, nearly sold-out, solo tour (she'll be back on the road for the second leg in October). She may be overwhelmed at the moment, but she's laser-focused on her dreams. "I want a certain outcome in my career, which means that a lot of times the things that I have to do are stacked on top of other things that I have to do, which sometimes makes me feel overwhelmed. But I look at it like it's all temporary, and I know my why and I just do it," she says.
The 25-year-old singer, whose real name is Courtney Michaela Jones, may now be considered a rising star in music, but she isn't anything close to new to the entertainment industry. At this point, she's somewhat of a veteran—a Disney star whose childhood love of singing earned her fame before her teen years.
Jones can trace her musical beginnings to growing up in Lebanon, Tennessee, where she sang at church. But it wasn't until she began participating in talent competitions and school plays that she really got the music bug. "When I was a kid, I just wanted to do anything. So I was like, Whatever. I'll sing about broccoli, or I'll be the broccoli. I just want to perform," she laughs, panning to the camera.
Her tone shifts as she recalls that her parents were initially apprehensive of her dreams. In retrospect, she understands. "If my own kid wanted to start being in the industry, I'd be like, Here we freaking go. It's a lot of scrutiny. It's a lot of opinions. It's a lot of rejection on a little kid," says Jones. But while they were apprehensive, they also couldn't overlook Jones's talent; her drive: An unstoppable force who had envisioned a career like Beyoncé's and who wouldn't hesitate grabbing the mic on stage. "My parents had no choice because they watched my purpose. They saw it, and they just knew what had to be done."
That also meant she would miss "a lot" of school. "I would tell my friends every year, at summer break, This is your last year with me. I'm gonna go be Hannah Montana," she says. It was her catchphrase for five years. "I just knew I wanted to be somewhere else doing something bigger and I will do whatever [I have to] to get there."
Soon she began traveling to Nashville regularly for talent competitions. "I started working with some producers who really believed in me and worked with me for free for years," she says. At just nine, she was introduced to casting at Disney and began pursuing acting and songwriting. Her big break came when she was featured as Radio Disney's "Next Big Thing" when she was 12. That led to her signing a record deal with Hollywood Records.
Over the years, she secured a few recurring TV roles, but her path with Disney stalled, and she was dropped by Hollywood Records. In a 2020 video that went viral, Jones opened up about how the experience with Disney and childhood stardom altered her career trajectory. It was terrifying, she says, to make that video. "I didn't know if I would get blacklisted," she says. "But I kind of thought, What's my reason not to do it? It's not like I have any opportunities at this time, so why not just say what's my life?" Luckily the video had the opposite effect. "It kind of gave me a new wave of relevancy," she says, before adding, "I think people wanted to support my reality."
While the video alone didn't immediately open the floodgates with opportunities, it gave Jones "momentum." Between the video itself and someone sharing a clip from it on TikTok, suddenly she had higher engagement across her social media channels. When she saw the response to her video on social media, she began to nurture a fanbase there. That's when music executives began noticing her. "I would do remixes of songs, and they would go viral," she says. Now, she's grown a following of more than six million users across Instagram and TikTok. But she hasn't let it go to her head. "If you make [social media] your personality, you're going to be lost dot com," Jones says with a laugh.

By 2022, she was inching closer to her artistic dreams once again. She took on a well-received acting role in the Peacock series Bel-Air and signed her first major label deal since Hollywood Records with High Standardz and Def Jam Recordings, offering a reintroduction to music with her EP What I Didn't Tell You. With the vulnerable, gospel-tinged R&B project, Jones says, she needed to "test the water of all these different sounds and subject matters." The release helped her earn her first No. 1 hit on Billboard's Mainstream R&B/Hip-Hop Airplay chart with the sultry "ICU." And thanks to the buzz surrounding Usher's Vegas residency paired with the popularity of artists like SZA, Victoria Monét, and Jazmine Sullivan, Jones has been at the helm of a recent R&B renaissance—a return to the electric '90s heyday of the genre.
It's enabled her to feel "more creatively confident" as she digs into her full-length album, which she's hoping will be released summer 2024. But when asked for specifics surrounding the record, Jones plays coy, noting that she's always inspired by '90s R&B acts like Aaliyah and Destiny's Child and that she's now "more confident" in her style. "I think initially, I was a little overwhelmed with so much new happening, and I just wanted people to like my music really bad," she says of her earlier work. Now, she's much-less concerned with projecting an image and more focused on being herself, explaining "I just want to put my authentic spin on everything."
Before she dives further into an album, however, Jones is headed back on the road. While the stage is where she feels most comfortable, she can't say the same for touring. Jones craves consistency, and that's the antithesis of the touring environment. "There's no rhythm besides that performance every night," she says. While she enjoys seeing and interacting with her fans, she needs motivation along the way. She's come to rely on advice from "girls that I can relate to who are on tour," like Ella Mai for instance. "Ella talked to me about how she balances [everything in her career] for her peace of mind," she says of the singer. "It's really insightful to see another young woman's perspective on being here in this industry."
Now more self-assured, having Beyoncé's career or being Hannah Montana is no longer Jones's goal—her journey is singular. She's learned to stop comparing her path with specific people because "that just messes with my happiness."

She aspires to be respected as an actress, a businesswoman, a performer and a singer. "I don't know how the hell I'm gonna get to that point," she says. "But at the end of the day, I can only be Coco Jones."
---
Photographer: Kat Irlin | Art Director: Brittany Holloway-Brown | Entertainment & Talent Director: Neha Prakash | Fashion Director: Sara Holzman | Stylist: Jan-Michael Quammie | Stylist Assistant: Eric Ellison | Beauty Director: Deena Campbell | Makeup Artist: Diana Shin | Hair Stylist: Devontae Washington | Manicurist: Ada Kiss | Producer: Luciana De La Fe
Marie Claire email subscribers get intel on fashion and beauty trends, hot-off-the-press celebrity news, and more. Sign up here.
Ilana Kaplan is a writer and editor based in Brooklyn. She covers music, culture and entertainment and has written for Rolling Stone, The New York Times, NPR, GQ and more.