8 Ingenious Ways to Style a Silk Scarf
Don't let it go to waste.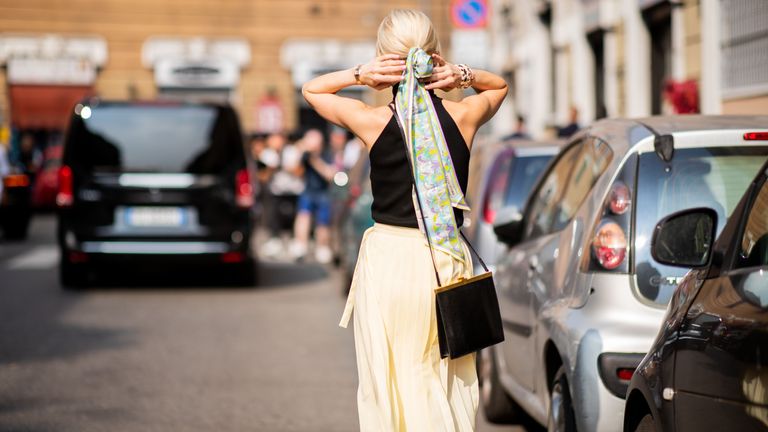 (Image credit: Christian Vierig)
I have five silk scarves hanging on the hooks of my closet door. Every time I put one on and check myself out in the mirror, I take it off again. My excuses for not wearing them range from, "The color doesn't match my outfit today" to "It's too hot to wear this right now, I'll save it for fall," (Inevitably, when fall comes around I still don't have one on.) I love my silky, printed scarves, so the only real conclusion I can draw for not accessorizing with them is this: I have no idea how to actually style one.
Thankfully, Julia Gall, Marie Claire's Accessories Director tackled this very problem in the magazine's September issue. Ahead, see 8 new ways to style a classic silk scarf.
1. Make It Into a Bow
Skip the statement necklace and let your scarf become the centerpiece of your outfit. Wrap the scarf twice around your neck then it knot into a pretty bow that sits right below your chin. The look kind of resembles a pussycat blouse, except the bow can be taken on or off. Wear it to the office with a blazer.
Credits: Donna Karan top, $125; Jennifer Fisher earrings, $125, Bulgari scarf, $460; Hair and makeup: Mia Santiago at See Management
2. Loop It Around Your Shoulders
To the untrained eye, this silk scarf almost looks like it's part of the shirt. In reality, the piece is simply tied around a part of the tank—brilliant. The next time you're wearing a plain sleeveless tank, give this style hack a try to instantly elevate your top.
Credits: AG Jeans, $78; DSquared2 scarf, $395; Hair and makeup: Mia Santiago at See Management
3. Use It as a Sunglasses Strap
Never misplace your sunglasses again. Tie the scarf ends to your shades so they're always within your reach. Even better news? When you want to detach the two, your scarf reverts back to being the centerpiece for your neck. Alternatively, you can also attach a small camera to the end of your scarf instead of sunglasses.
Credits: Coach scarf, $195; Versace sunglasses, $295; Hair and makeup: Mia Santiago at See Management
4. Tie It Around Your Wrist
Tying a silk scarf around your wrist or even around the wristband of your watch is an effortless way to highlight the accessory. It's more unexpected than a bracelet or, in my case, a hair tie. If you're worried the scarf is too long, loop it a few times around your wrist then knot tightly to create a bow that hangs off to the side.
Credits: Rag & Bone scarf, $125; Michele watch, $995; Hair and makeup: Mia Santiago at See Management
5. Belt It
Instead of using a belt to cinch in your trench coat, wrap a scarf around your waist. It serves the same function, but looks dressier and more chic. If your trench comes in a classic beige color, pick a neckerchief with prints or colors to brighten up your whole outfit.
Credits: Burberry coat, $1,990; Salvatore Ferragamo scarf, $380; Hair and makeup: Mia Santiago at See Management
6. Turn It Into a Bag
If your scarf is long enough, you can turn it into a temporary bag. This unconventional (but genius) style hack allows you to repurpose an old scarf you otherwise would have never worn. You likely won't be able to stash heavy items in it, but it's a good makeshift tote for your everyday belongings like a wallet and keys.

Credits: Equipment top, $228; Hermès scarf, call for pricing; Hair and makeup: Mia Santiago at See Management
7. Wrap It Around Your Handbag
Instead of decorating your handbag with keychains, wrap a scarf around the straps. This look has been spotted on street style stars and is a quick way to update your everyday accessory. To avoid a bulky/messy look, wrap the silk scarf tightly around the chain or leather straps.
Credits: The Row jacket, $2,190; Levi's top, $35; Donna Karan pants $95; Chanel bag with scarf, $2,700; Hair and makeup: Mia Santiago at See Management
8. Wear It as a Shirt
To pull off this look, you'll need two scarves. One scarf serves as the back piece while the second covers up your front. In order to make the whole thing stay up, knot each corner of the scarves together. Since your makeshift top will likely be cropped, wear high-waisted bottoms if you don't want to feel too exposed. This model rocked a skirt, but I personally would opt for high-waisted black skinny jeans for a more casual ensemble.
Credits: Dolce & Gabbana scarves, $345 each; Fendi skirt, $2,900; Jennifer Fisher earrings, $185; Hair and makeup: Mia Santiago at See Management