12 Bags You'll See Everywhere This Fall—Shop Them Now
Trade in your oversize work tote for a chic pyramid bag.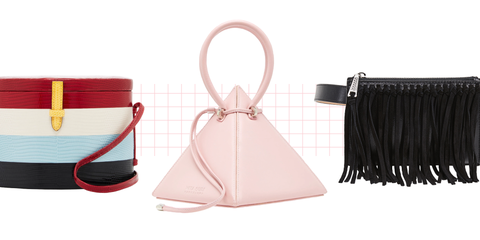 Design by Morgan McMullen
In the market for a new handbag? (When are we not, tbh?) You've come to the right place. We've got a few more weeks left of summer before fall officially rolls in, and with that, a new season of clothes and accessories to shop. Don't be bummed if your woven bag or pineapple printed tote doesn't match your furry coat or suede knee-high boots: Autumn whisks in a fresh selection of purses, from mini designer creations to shearling-covered pieces. Ahead, the hottest bag selections for next season that will keep you up all night shopping.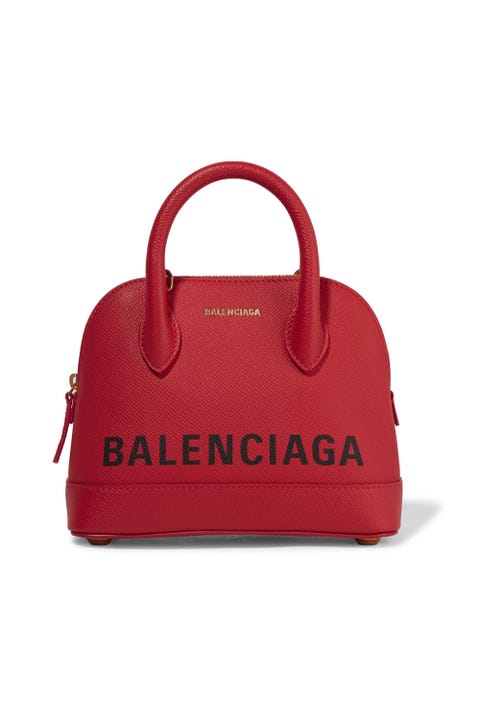 A Mini Bag
Balenciaga, $1,790
After the debut of Jacquemus's "Le Sac Chiquito" micro bag earlier this year to much fanfare, other designers are following suit. Enter Demna Gvasalia of Balenciaga, who designed this tote out of red textured leather and printed the brand's name across the bottom in bold lettering. Get accustomed to traveling light, though, as this tiny bag can only hold the bare necessities: a cellphone, a cardholder, keys, and chapstick.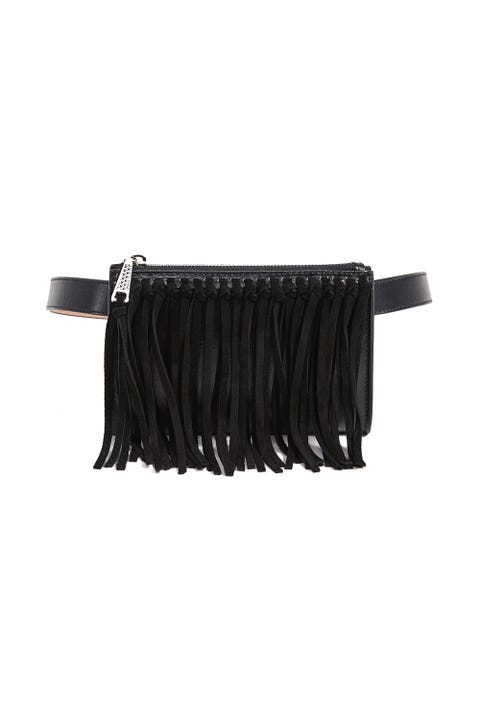 A Belt Bag
Rebecca Minkoff, $98
A Belt bag is really just your dad's favorite fanny pack reinvented. The updated designs feature textures like suede or leather and distinctive details such as fringe or studs. You can wear the bag around your waist or slung diagonally across your shoulders à la Kendall Jenner or Kaia Gerber. This trend hit its peak in spring/summer, but for fall there are countless fresh options, like this Rebecca Minkoff number.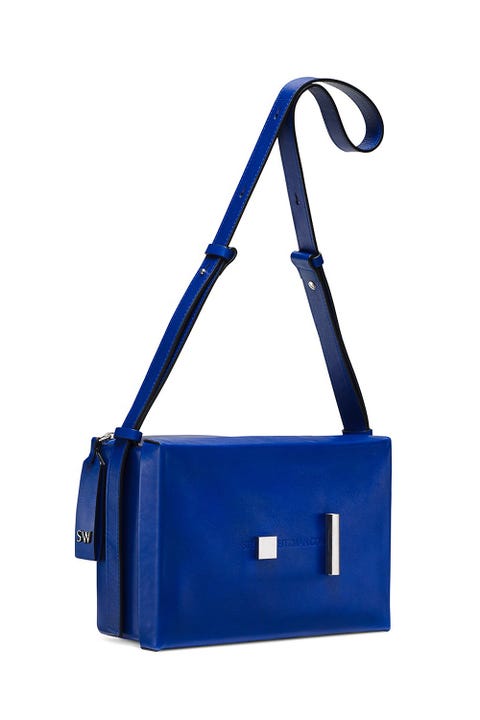 A Structured Bag
Stuart Weitzman, $950
Stuart Weitzman's new signature handbag silhouette is called "The Shoebox," which is perfect if you're obsessed with its footwear. This particular shoulder bag style comes in two colors and is accented with square studs and cylinder hardware details. You can dress this handbag up with an LBD or down with jeans and a tee—I prefer the latter.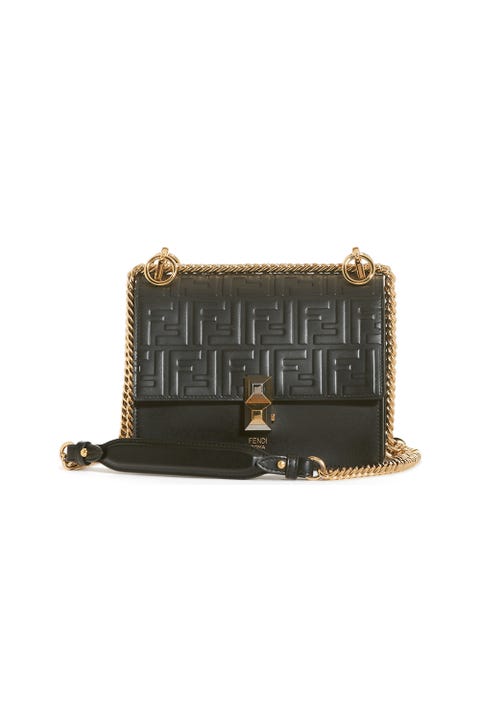 A Logo Bag
Fendi, $2,290
Next season, you'll see the return of logos. Brands are stamping their iconic monograms on clothes, shoes, and bags. (Dior even brought back its iconic logo saddle bag!) My personal favorite is this trendy, but not overly splashy Fendi flap bag. The black embossed double F logos blend in with the smooth calfskin leather for some subtle branding.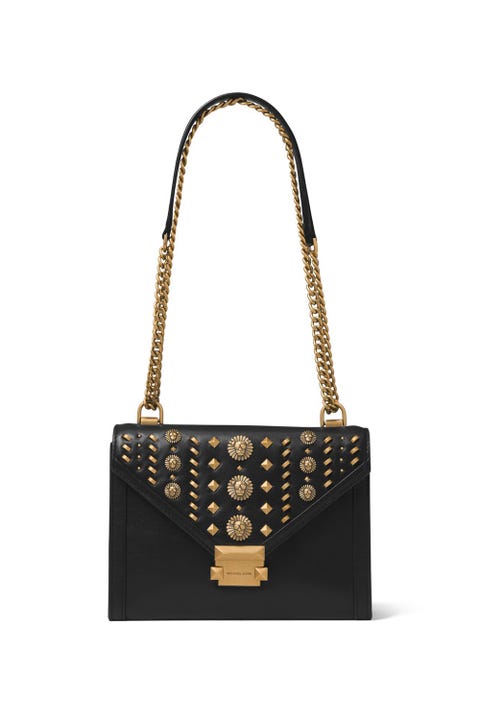 A Chain Bag
Michael Michael Kors, $398
Fashion Week designers like Tom Ford and Versace presented chain strap bags on the Fall '18 runways, so expect others to release their own versions. Michael Kors combined traditional gold hardware with leather for his bag's straps and even included lion head designs inspired by the designer's astrological sign, making the item a trendy must-have for fashion lovers. Wear it with your favorite summer dress now, then a denim jacket once the weather gets cooler.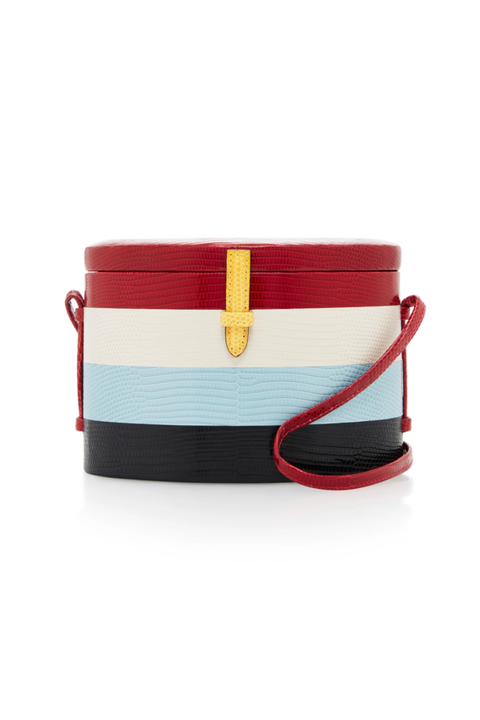 A Trunk Bag
Hunting Season For Carolina Herrera, $975
Brands are finding ways to make vintage trunk-inspired handbags feel relevant in 2018. Take Hunting Season x Carolina Herrera's limited-edition multi-striped crossbody bag. While the silhouette looks old school, the array of playful colors and reptilian texture make it feel new. If you're not a fan of the hues, the label offers three more color options, ensuring every shopper gets what she desires.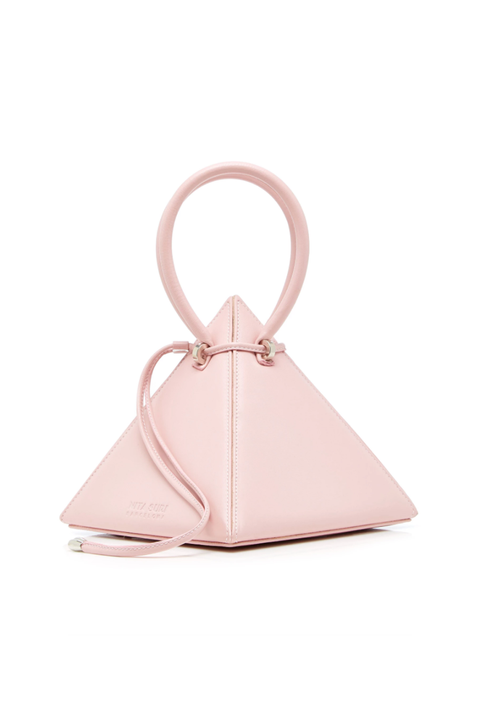 A Pyramid Bag
Nita Suri, $725
The focus for fall handbags is shape: You have the pouch, the trunk, and now the pyramid silhouette. First spotted on the Moschino and Marni fall runways, this architectural bag is constructed with sharp, elegant lines and adds a mystical feel (perhaps because you'll think of ancient Egypt?) to any outfit. Give your favorite black crossbody a rest and reach for this funky new design to step up your fashion game.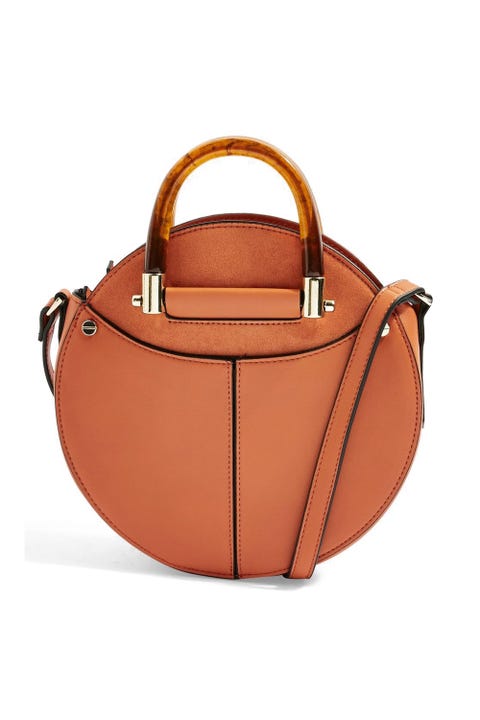 A Circle Bag
Topshop, $55
You likely saw the woven circle bag make the Instagram rounds this summer. Come fall, that circular shape will still be popular but instead of raffia, expect leather. The material is more polished and richer—perfect for the cooler months ahead. I plan to ditch my massive work tote for this cute circle bag on the weekends.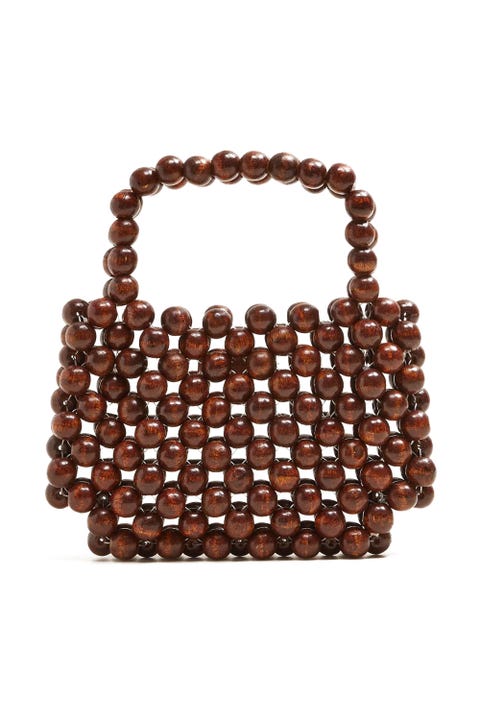 A Beaded Bag
Mango, $70
Nineties-inspired fashion is alive and well, with beaded bags in dazzling rainbow colors quickly becoming a cult accessory for spring and summer. If you've yet to buy one, though, fall is the perfect time to finally scoop this style up. Autumn will bring deeper shades (think: coffee and chocolate). I personally have my eye on this $70 Mango piece.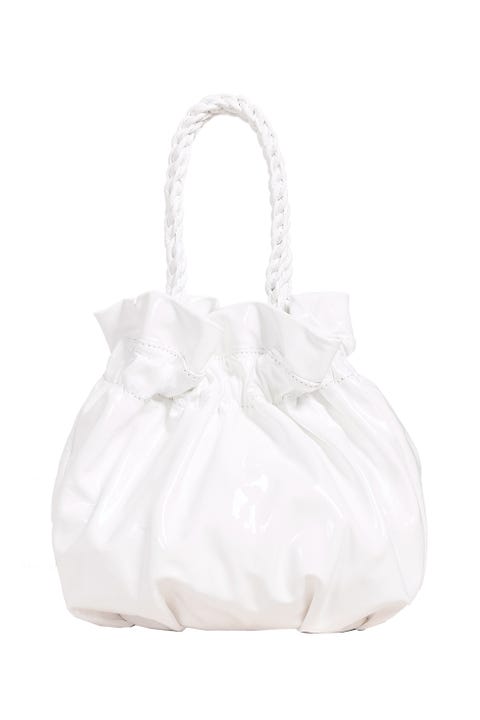 A Pouch Bag
Staud, $275
Pouch bags—their silhouettes remind me of soup dumplings—are in, and I 100-percent support the trend. One of my favorites is Stand's "Grace" bag, which is made with cowhide and a patent finish. A braided strap forms a cute little handle for you to tote this tiny bag (it only measures 8.75 inches in height and 6.75 inches in length) around to parties.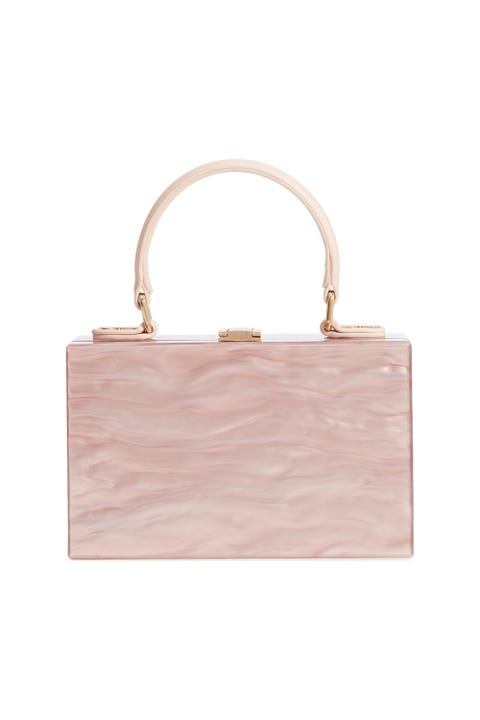 A Top Handle Bag
Like Dreams, $68
If you need an occasion bag, this feminine box clutch with a pale pink top handle fits the bill. Designed to look like an abalone shell (notice the smooth, glossy finish), this structured accessory is fancy enough for all those fall weddings you'll attend. Best of all, the bag looks expensive, but the price is actually quite modest.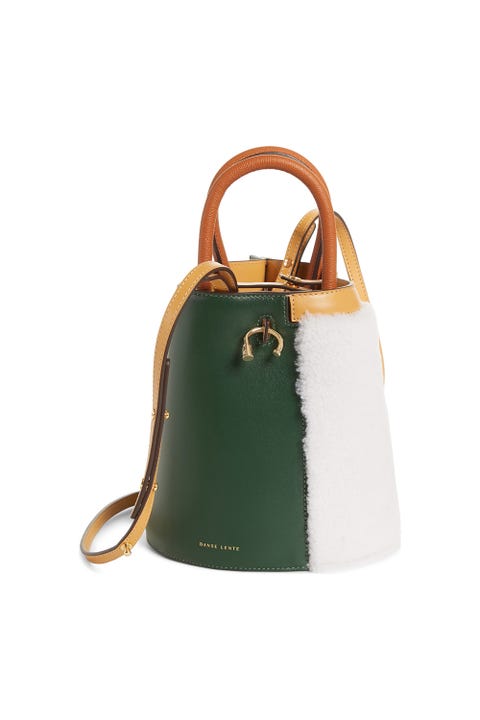 A Shearling Bag
Danse Lente, $470
Anyone else want to pet the plush white shearling on this bag? Danse Lente's use of mixed materials and cool structural shapes make its shoulder totes look and feel different than other ones on the market. This bucket bag will make a serious street style statement for September Fashion Week, so I'm already adding it to my checkout cart.
This content is created and maintained by a third party, and imported onto this page to help users provide their email addresses. You may be able to find more information about this and similar content at piano.io