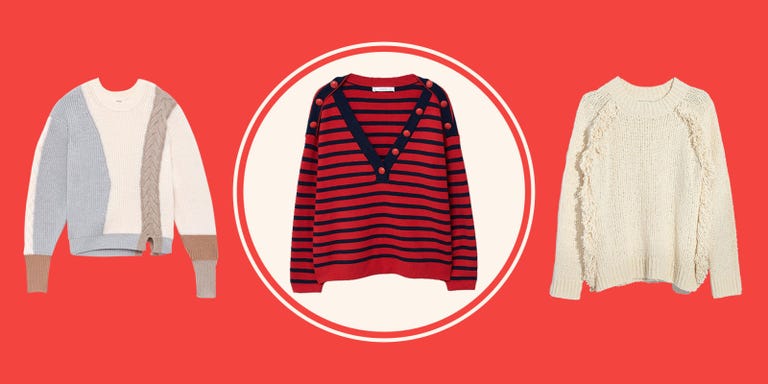 Perhaps even more addicting than the ever-present pumpkin spice latte, this season, we're packing on heavy-knit sweaters in the most cozy of silhouettes. They're impossibly comfortable, keep us snug, and are just the right amount of blasé. From easy pullovers to cocoon-like turtlenecks, these 10 styles are chic and economical in equal part.
Prada meets moths meets pre-stretched-out in all the right places.
Zara, $50
BUY IT: zara.com.
If it ain't broke, buy it in a dusty rose.
Uniqlo, $30
BUY IT: uniqlo.com.
Sweater girl in the front, Bad Sandy in the (open) back.
Topshop, $68
BUY IT: topshop.com.
Boxy, sailor-y, Chloé dreams on a Cheez-Its budget.
& Other Stories, $55
BUY IT: stories.com.
Loop trim running along the torso is like icing on the periphery of a cake. But for boobs.
Madewell, $88
BUY IT: nordstrom.com.
Believe it—that's seven whole dollars, for which you get a pretty lilac jumper with a slightly longer back hem. Sold.
Joe Fresh, $7
BUY IT: joefresh.com.
Wear tucked partway into a big skirt with sneakers. Yes, you are Lily Allen.
H&M, $50
BUY IT: hm.com.
The fear with such a tight weave is marshmallow-iness, but that's not the case with this guy, which is surprisingly well-hanging. (I did not say "well-hung," that would be weird.)
COS, $36
BUY IT: cosstores.com.
Admittedly not the *most* affordable, but factoring in both the design-to-price ratio and the cable-to-no-cable ratio might change your mind.
Aritzia, $165
BUY IT: aritzia.com.