The 24 Best Sweaters on Amazon, According to Reviews
Five-star reviews for days.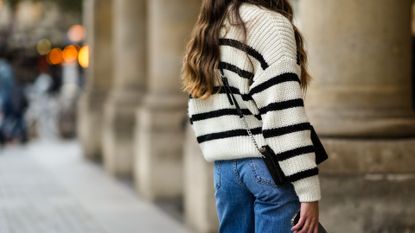 (Image credit: Getty Images)
The best sweaters are every-season staples, so it makes sense to add one (or two) new ones to your collection every year. (Then again, I shop and write about fashion and shopping for a living.) But before you brace yourself for a hit on your credit card, here's a little secret: You can find affordable, and adorable, sweaters on Amazon. For less than $50, you can score a cozy-cute Amazon sweater to wear while you sip your coffee on the weekends or layer with a tee for your outdoor adventures.
To help you out and save you time, the editors here at Marie Claire did our best to find the best sweaters on Amazon with an interesting design that still feel wearable—and if you want simplicity, we found some everyday basics, too. After all, the only thing better than scoring an affordable find is receiving said find in 48 hours via Prime.
Ahead, shop the best sweaters on Amazon, all of which are available for under $50, and all of which have countless five-star reviews. Don't take our word for it, either: We included some of said glowing reviews right here, which should save you hours of scrolling. Consider this article your stress-free way to find the comfiest, coziest sweaters on Amazon—no hassle required.
Deals on Sweaters on Amazon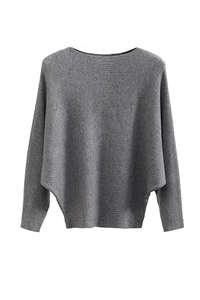 Ckikiou Womens Lightweight Oversized Boat Neck Sweater $67 $26 at Amazon
Our favorite oversized sweater is on sale and we couldn't be happier. This top-rated pick features a chic boat neckline and batwing sleeves, perfect for days at the office or dinner dates. It's also over 50 percent off, which is practically a steal in my opinion.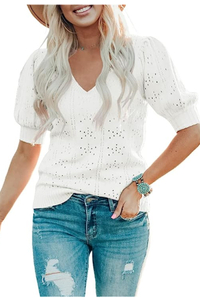 Foshow Womens Puff Short Sleeve Sweater $42 $26 at Amazon

Not every sweater needs to be the warm and cuddly variety. Some, like this one, serve as a cute top on their own. Buy it now while it's on sale to layer under jackets and coats, then wear it well into the spring and summer.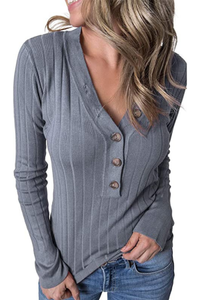 MEROKEETY Long Sleeve V Neck Ribbed Button Knit Sweater $50 $24 at Amazon
For easy styling in a pinch, this is the sweater for you. Its slim fit makes it the perfect top to tuck into jeans, yet it'll keep you warm just like your coziest sweater. Reviewers say it's not too hot, and not too cold, making it the ideal top for tricky fall eather.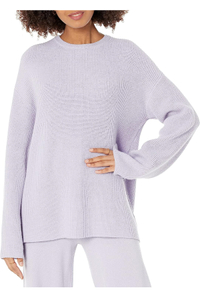 The Drop Women's Alice Crewneck Back-Slit Ribbed Pullover Sweater $45 $31 at Amazon
For those weekends you don't want to leave the house, might I recommend this oversized pick from Amazon's in-house label The Drop? It's thick, warm, and looks so put together with the matching pants (which are also on sale, might I add).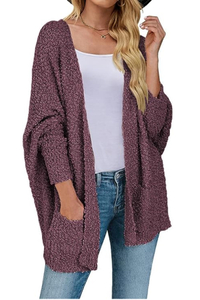 MEROKEETY Women's Fuzzy Popcorn Batwing Sleeve Cardigan $42 $27 at Amazon

There's been plenty of days I dread leaving my bed, but alas I have to. On those days, this is the sweater that comes in handy. It's blanket-soft and looks great with a pair of jeans or leggings. I immediately added this color to my cart when I saw the sale price.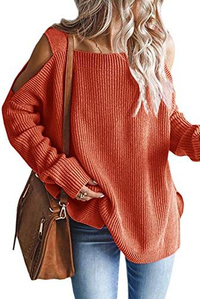 MaQiYa Cold Shoulder Oversized Sweater $37 $28 at Amazon
When it's near-freezing out, it's seemingly impossible to look and feel sexy. A sweater with peek-a-boo cutouts is the solution. This sweater shows off a peek of skin at your shoulders, yet has the look of a big comfy sweater.
The Best Sweaters on Amazon
Best Sweater on Amazon for Warm Weather
Ermonn Womens Crochet Cardigan Sweater
For chilly nights by the bonfire or after evening swims in the pool, this is the perfect cardigan to throw on. With its lightweight crochet knit, it'll keep you not too warm and not too cool, not to mention it has the perfect boho style for summer. Reviewers also say it's a great addition to your carry-on bag for chilly airplanes.
Pros: Comes in 26 colors; Inclusive sizing.
Cons: Hand-wash only.
Customer review: "This is perfect for the beach evenings and for putting over tank tops in the summer. It's not as roomy as I expected but it works. It's a great summer sweater to add style and layers and a tad of warmth." — Amazon
The Best Oversized Sweater on Amazon
Ckikiou Womens Lightweight Oversized Boat Neck Sweater
This is the kind of casual, oversized sweater that you can wear with jeans and booties when you leave your house—but you can also easily wear with a pair of black leggings and fuzzy socks once you're back home and hanging out in your apartment. This fuzzy pick is textured, warm, and is great for those who love neutrals. It comes in 42 colors plus a few striped print versions in shades of red, yellow, and gray, too.
Pros: Comes in 42 colors and prints; Top-rated on Amazon.
Cons: Hand-wash only; Only comes in one size;
Customer Review: "This long-sleeved pullover is a steal for the price! It's attractive and very comfortable. It can be worn casually with jeans or dressed up with slacks. Purchase one, you won't be disappointed." — Amazon
Best Short-Sleeve Sweater on Amazon
Foshow Womens Puff Short Sleeve Sweater
Not every sweater in your wardrobe has to be reserved for winter. If you don't believe me, check out this cute option. With adorable puff sleeves and an eyelet pattern, which also makes this top more breathable, this sweater is a nice update to your basic tees. If you're not a fan of the v-neck or puff sleeves, no problem—there's options without either detail.
Pros: Comes in 16 colors; Fits true-to-size.
Cons: May run long on petite frames.
Customer review: "I love the color of this top for fall, but it can really be worn anytime of the year. Looks nice for business casual work, a weekend brunch with friends or just running errands on a weekend. It's just as flattering for a fuller figure as it is on the model in the picture and fits as sized." — Amazon
Best Color Block Sweater on Amazon
Dokotoo Color Block Sweater
This adorable striped chunky sweater from Dokotoo comes in a whopping 37 different colors and has hundreds of glowing five-star reviews, with one shopper even dubbing it "the best sweater on Amazon," bar none. Other glowing reviewers recommend choosing your normal size when shopping. Other tips that I found for you in the massive comments section? This sweater lasts better if you air-dry it! The only downside is that it's made to be hand-wash only, so don't drop it in the washing machine!
Pros: Comes in 30+ colors; top-rated on Amazon.
Cons: Handwash-only; Air-dry preferred.
Customer Review: "This has quickly become one of my favorite sweaters. It's so comfortable, fits as expected, and has not worn out or faded in the 2 months that I have had it and worn it about a dozen times." — Amazon
Best Cozy Sweater on Amazon
Alinfu Casual Crewneck Knit Sweater
This is the kind of chunky sweater that you'll reach for on a weekly basis and without even thinking about it. And over 1,400 five-star reviews can't lie—this sweater is near universally adored. The silhouette runs long to hug your butt, but will definitely shrink if you wash it and put it in the dryer (naturally). To keep it in its oversize condition, you should hand-wash it and let it air-dry. For an easy look for winter, style your sweater with brown over-the-knee boots and black leggings.
Pros: Runs true-to-size; Top-Rated on Amazon.
Cons: Hand-wash only; Runs long; Only comes in three colors.
Customer Review: "A nice comfy sweater that's warm! The fabric isn't extremely soft but it isn't scratchy either. If you want an oversized look I recommend sizing up one. The fabric is also a bit stretchy as well." — Amazon
The Best Sweater on Amazon for Layering
Amazon Essentials Lightweight Long-Sleeve Mockneck Sweater
This simple turtleneck sweater from Amazon's own Amazon Essentials brand is on the thinner side, which makes it easily layer-able underneath your itchier wool sweaters and over top of thinner summertime slip dresses. You can shop it now in sizes XS through 6X, and in 21 different colors and prints including this navy blue option, a simple black version, and a festive red shade. The over 4,000 five-star reviews on Amazon can't lie—this one is a real cold-weather winner.
Pros: Inclusive size range; Comes in 21 colors and prints; Machine-washable.
Cons: Some reviewers say the imagery isn't accurate of the color you receive.
Customer Review: "Fits as expected. Washs and drys nicely and kept it's shape. Soft and comfy with the perfect thickness for me." — Amazon
Best Sweater on Amazon for Lounging
The Drop Women's Alice Crewneck Back-Slit Ribbed Pullover Sweater
If you tend to roll out of bed in your PJs to work from home, throwing on a nice loungewear set can make a world of difference in your mood. This sweater, along with the matching pants, will make you feel so much more put together for your Zoom meetings or even if you're just hanging around the house. It's made from a thick plush knit to keep you warm and cozy, not to mention the color options are to die for.
Pros: Comes in several colors; Sizes range from XX-Small to 5X-Large; Machine-washable
Cons: Some reviewers note the sleeves run long.
Customer review: "The sweater fabric is soft and smooth and just the right weight. The style is amazing and I feel good when I'm wearing it out, or around the house!!" — Amazon
Best Soft Cardigan Sweater on Amazon
MEROKEETY Women's Fuzzy Popcorn Batwing Sleeve Cardigan
I don't know about you, but the perfect sweater to me is two things: warm and as close to wearing a blanket as can be. This cardigan checks both of those boxes. The sherpa-like knitted material and oversized fit means wearing this cardigan feel just like being swaddled in a blanket, only it's socially acceptable to leave the house in it. Another bonus? It has pockets, which you can never have too many of.
Pros: Comes in multiple colors; Has pockets; Machine-washable.
Cons: Some reviewers note the colors do not match the on-site description.
Customer review: "I bought this for an Alaskan cruise I just took. It was exactly what I was looking for! It is oversized and I was able to wrap it around to keep me warm while sitting on the deck!! I am so very pleased!!!" — Amazon