The 12 Best Embellished Sweaters to Brighten Dark Winter Days
Comfortable and glamorous are not mutually exclusive.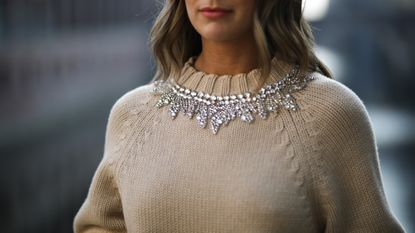 (Image credit: Jeremy Moeller/Getty Images)
Turtlenecks interwoven with shimmer from Tory Burch, glittery knit gowns from Proenza Schouler, and crystal-trimmed sweater sets from Paco Rabanne—according to the Resort 2023 offerings, embellished sweaters are a leading look-at-me style for the winter season. The trend takes your best sweaters up a notch by incorporating festive, eye-catching adornments, like a sprinkling of lustrous pearls or a smattering of tonal sequins. Furthermore, it's a method of ensuring the season's gloom and doom doesn't zap all the joy out of getting dressed. Because what's more joyful than light-reflecting shimmer and shine?
Below, we compiled our favorite takes on the trend that are still high function (as in they're versatile options that will keep you toasty), but their touch of glitz makes them high fashion, too. Scroll on for our edit of the best embellished sweaters for women and some insight from a fashion stylist on everything you need to know about the statement style.
Why Are Embellished Sweaters Trending?
"Embellished sweaters aren't exactly new (see: the never-ending number of pearl appliqués used in the mid to late 2010s)," Heather Newberger, stylist and fashion writer, shares over email. "However, I attribute the recent uptick in the trend to how people are thinking differently about showing up not only for themselves but also for the world at large over the last few years. Using your wardrobe to stand out has increasingly become the norm as more and more people embrace their new work-from-home lifestyles. So while we may be wearing sweatpants more than ever, we're also putting more work into our outfits when we leave the house, too," shares Newberger, pointing to maximalist sweaters with personality-filled detailing, like rhinestone embellishments, glittery yarn, or jewel buttons.
What to Look For in an Embellished Sweater
"Light is at the forefront of the embellished sweater trend, which takes its cue from the holiday season that celebrates it," explains Newberger, saying you should look for bejeweled adornments like crystals, rhinestones, and diamanté.
"Pearls aren't going anywhere either—in fact, it's actually quite the opposite. Intrinsically we think of pearls skewing feminine, but this year men have been wearing them more than ever. The popularity of male peal necklaces has become pervasive, and I'm sure I'm not the first to suggest they may be the latest incarnation of the early 00s puka shell choker. Regardless, this has opened up a new space for both men and women to bring peals into their lives on a more casual basis, whether they be on sweaters as decorations, buttons, or both."
"Shiny yarns are also more ubiquitous this season, and have been helpful in creating a middle ground for those of us who want to glow, but aren't ready to add any additional features."
The Best Embellished Sweaters
Best Overall
& Other Stories Decorative Rhinestone Embellished Sweater
With a sweater like this sleek option from & Other Stories that comes with a built-in necklace, Newberger encourages you to let the shimmer do all the work for you. The end result is a luxe, polished, and high fashion effect—but with minimal effort required on your part. As for a specific outfit to try, the stylist recommends "pairing your embellished sweater with something clearly casual—such as denim, in any of its many forms—for a more relaxed look that will balance out the glitz of your top."
Best Splurge
Paco Rabanne Cable-Knit Crystal-Embellished Cropped Cardigan
"Texture is everything in 2022," the stylist articulates. "I'm really interested in sweaters that mix unique knits with classic embellishments. Paco Rabanne is having a lot of fun with texture by mixing contrasting silhouettes with knits of different decades," says the stylist. "Case in point: Creating a cardigan in 50's fashion but using a 19th-century cable knit and finishing it off with crystal embellishments reminiscent of the decade before."
Best Embellished Holiday Sweater
Tory Burch Tinsel Mockneck Sweater
"Both shimmer and shine are strong tentpoles of the winter months," says Newberger. "You don't often don't see people wearing embellished sweaters during the fall months (they come across as a bit gauche), but once we get into the dark days of December, embellishments begin to appear as a way to illuminate the months ahead." This Tory Burch sweater is inherently wintery with its blue tinsel fabrications, making it festive and fashionable. In short: It's a polished way to dabble in holiday dressing. Where's the eggnog?
Best Striped Embellished Sweater
Boden Ribbed Funnel Neck Sweater
If you're looking to turn heads and kick-start conversations throughout the cold-weather season, look no further: This sparkle-thread Boden stunner is a sartorial mood boost that'll curb your seasonal affective disorder in its track—because, let's be honest, we all need a dose of dopamine during winter's darkest and gloomiest days. And for those not partial to oversized fits (Gen Z's obsession with the '90s-reminiscent look is leading to a surge in baggy silhouettes), you'll be fond of this funnel neck sweater's figure-hugging snug fit.
Best Pearl Embellished Sweater
If you're a bit more minimal and prefer classic style as opposed to unconventional, go for some subtle embellishments via a sweater adorned with milky pearl beads—like this option from H&M, for instance. In addition to paying homage to one of recent years' favorite color trends, sage green, it's a timeless style you'll find yourself continuously reaching for season after season. Now, as for styling this pearly piece, try teaming it with front-pleat wide-leg trousers or bootcut jeans and leather ankle booties.
Best Embellished Sweater for a Holiday Party
Autumn Cashmere Embellished Cashmere Sweater
"Embellishments will always heighten your outfit, so I find it important to consider the occasion you're attending before choosing how best to style," says Newberger. "As an example, a really easy way to style yourself is to take a color cue from your top. Pull whatever hue is used the least, and bring it into your bottoms. For instance, if you're wearing a black sweater encrusted with silver gems—like this one from Autumn Cashmere—pair it with silver slacks. I'd reserve this look for a festive holiday party instead of a casual brunch, though. (Don't forget to scoop up a The Outnet promo code before you hit checkout.)
Best Embellished Cropped Cardigan
You know Hill House Home for its smocked Nap Dresses that epitomized the pandemic's #cottagecore moment. But the cult label's knitwear selection is also worth your consideration. Take, for instance, this emerald green cropped cardigan adorned with lively crystal buttons. It's an adorable and versatile option (think of all the darling outfits you can style: Paired with a slip skirt! High-rise jeans! Or even atop a tiered maxi dress!) that both taps into the embellished trend while remaining timeless with its cable-knit pattern.
The Aprés Ski Sweater
Mango Crystal Detail Sweatshirt
This ivory sweater from Mango embellished with crystal snowflakes and beading belongs on a ski trip to Aspen. The light-reflecting appliqués will make you the chicest girl in the lodge. For a ski-chic outfit, team this wintery mockneck sweater with formfitting black snow pants (yes, cute winter sports fashion exists), an ultra-fuzzy pair of snowboots, and the warmest beanie you own. From there, all you would need is a hot toddy.
Best Minimal Embellished Sweater
Intermix Bronte Embellished Wool-Cashmere Sweater
"Take your color cue a different way," says Newberger when styling an embellished sweater in a neutral hue. "Does the gold purse you usually reserve for weddings match the buttons on your new cardigan? Do you happen to have shiny black boots that play well off your dark shimmery sweater?" In the case of this wool sweater from Intermix, opt for leather trousers and pile on white accessories to coordinate with the bright embellishments.
The Indie Offering
Puppets and Puppets Sequin Logo Embroidered Wool Sweater
In case you missed it: Puppets and Puppets is an up-and-coming NYC-based indie brand that's gaining more and more industry acclaim with each season. Known for its whimsical and artistic offerings, it's a ready-to-wear label for the fashion weirdos—and now's your chance to get in on the fun. This sequin logo sweater is a bit more minimal than the brand's traditional quirky-chic aesthetic (see: its chocolate chip cookie bags or clown-like peplum mini dresses), but it still offers plenty of playful flair that'll prove you're a one-of-a-kind dresser.
Best Embellished Sweater Vest
ATM Anthony Thomas Melillo Sequin Sweater Vest
The shimmery silver sequins make this ATM Anthony Thomas Melillo sweater vest an absolute head-turner. And given its showy, look-at-me nature, it also makes for an ideal option for evening looks—think date nights, going out for cocktails, or special evening occasions. For an elevated after-hours ensemble, try pulling this sleeveless cream number over a slip dress and slipping into slingback pumps. And, of course, it works for daytime, too, especially when teamed with medium-wash jeans and your favorite pair of sneakers.
Best Embellished Fair Isle Sweater
J. Crew Cashmere Fair Isle Cardigan Sweater
If a classic Fair Knit sweater is a bit too conventional for your liking (hey, there's certainly no shame in wanting to stand out and make a statement!), this high-shine number is the perfect twist. It's made with buttery soft, responsibly-sourced cashmere (J. Crew partners with sustainable agricultural nonprofit Trade Foundation for its cashmere production). And its light-reflecting metallic thread and chunky rhinestone buttons guarantee your winter style will garner heaps of compliments, as you'll be decked out in glitz and glam.
Meet the Expert
Heather Newberger is a fashion stylist, author, and television commentator. Her mission is to help people find joy and self expression through clothing. An imaginative and discerning creative, Heather's inspired point of view uniquely reflects her commitment to championing all genders, shapes, and sizes. She is devoted to creating inclusivity within the fashion industry. Heather's first book "How to Date Your Wardrobe" is available for purchase wherever books are sold.
Marie Claire email subscribers get intel on fashion and beauty trends, hot-off-the-press celebrity news, and more. Sign up here.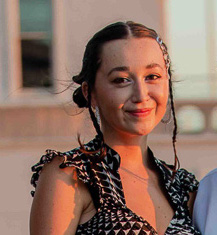 Emma Childs is the Fashion Features Editor at Marie Claire, who writes trend reports, long-form reported features, and style guides. She previously wrote for TZR, Editorialist, Elite Daily, and Mission Magazine and studied Fashion Studies and New Media at Fordham University. When she's not writing fashion deep-dives, you'll find her stalking eBay for designer vintage and perusing HBO Max (in her heart, it'll always be *HBO* MX).