Embellished Sweaters to Brighten Up Those Dark Winter Days
Comfortable and glamorous are not mutually exclusive.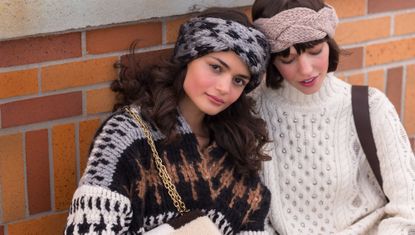 (Image credit: KAT IRLIN)
With the sparkle of the holiday season comes something a little less jolly…freezing temperatures. That means its time to break out the winter armor. Armor may sound dramatic, but trying to remain stylish when it's absolutely frigid outside is not an easy task. Don't let the cold take the joy out of getting dressed. (That's my winter mantra!) Take your easy, timeless, and, above all, warm chunky knit sweaters up a notch with some festive embellishments, like a sprinkling of metal studs or a smattering of tonal sequins. All our picks, below, are still high function (go-with-everything basics that will keep you toasty), but the touch of glitz makes them high fashion, too. Classic with a spin—my favorite way to dress.
A version of this story appears in the Holiday 2019 issue of Marie Claire.
subscribe here (opens in new tab)
Shelby Comroe is the Credits Editor and Fashion Assistant at Marie Claire covering all things fashion and giving credit where credit is due. Check her out @shelbycomroe on Instagram if buying designer handbags is your idea of a retirement plan!