Embellished Sweaters to Brighten Up Those Dark Winter Days
Comfortable and glamorous are not mutually exclusive.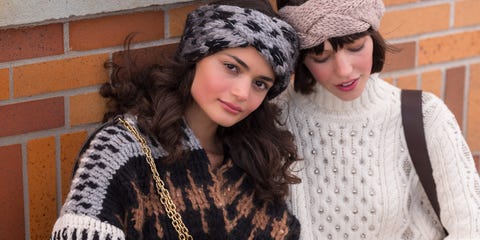 With the sparkle of the holiday season comes something a little less jolly…freezing temperatures. That means its time to break out the winter armor. Armor may sound dramatic, but trying to remain stylish when it's absolutely frigid outside is not an easy task. Don't let the cold take the joy out of getting dressed. (That's my winter mantra!) Take your easy, timeless, and, above all, warm chunky knit sweaters up a notch with some festive embellishments, like a sprinkling of metal studs or a smattering of tonal sequins. All our picks, below, are still high function (go-with-everything basics that will keep you toasty), but the touch of glitz makes them high fashion, too. Classic with a spin—my favorite way to dress.
1
Pearl Dot Puff Sleeve Sweater
& Other Stories
stories.com
$89.00
Sometimes jeans and a sweater is the best you can do when it's freezing. Let the pearls do all the work for you here—stylish with minimal effort.
2
Crystal Embellished Sweater
Dice Kayek
dicekayek.com
€780.00
This sweater is festive and fashionable—the chic way to do in holiday dressing. Where's the eggnog?
3
Katherine Embellished Sweater
Big chunky sweaters can be hard to accessorize. No need to stress with this embellished turtleneck, though. It practically comes with a built-in necklace.

Brunello Cucinelli
brunellocucinelli.com
$945.00
This cashmere, mohair, and silk sweater belongs on a ski trip to Aspen. The subtle hint of shiny pailettes will make you the chicest girl in the lodge.
5
Metallic Thread Sweater
If you're a bit more minimal, go for some subtle sparkle via a sweater made with metallic thread.
Miu Miu
modaoperandi.com
$3,800.00
Grandpa sweaters are good, but a little sparkle makes them even better. The oversized silhouette will look great with jeans or leather trousers.
Frame
frame-store.com
$75.00
The shimmery sequins make this crewneck evening appropriate. Pull over a chic slip dress to further elevate your night out look.
8
Studded Hand-Knit Cable Cashmere Sweater
Michael Kors
michaelkors.com
$345.00
If a classic cable-knit is a bit too sweet for your liking, this studded Michael Kors Collection sweater is the perfect twist.
9
Crystal-Embellished Cable Knit Cardigan
Philosophy di Lorenzo Serafini
intermixonline.com
$750.00
This baby blue cable-knit cardigan is adorable and versatile. The crystal embellishments bring this sweater to life.
10
Crystal-Embellished Wool Cardigan
Gucci
net-a-porter.com
$4,400.00
If you're looking to turn heads at your holiday party this season look no further: This rhinestone-encrusted Gucci greatness has got you covered.
•••
A version of this story appears in the Holiday 2019 issue of Marie Claire.
This content is created and maintained by a third party, and imported onto this page to help users provide their email addresses. You may be able to find more information about this and similar content at piano.io