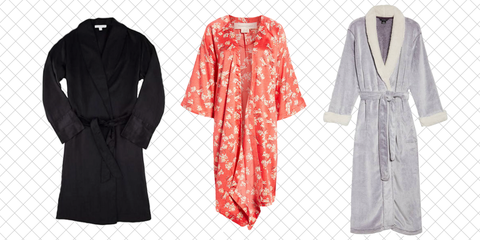 Design by Morgan McMullen
Name a better feeling than coming out from a long shower, rubbing lotion all over your body (moisturize, people!), and throwing on a comfy robe before heading to the couch for a Netflix binge? I'll wait. We take our bathrobes very seriously here at MarieClaire.com—so much that some of us have three different kinds, depending on the occasion. Not all robes are created equal (there are a lot of different styles out there), but we've invested in solid picks over the years that come highly-recommended for everyone to live their best faaahncy lives in.
Here, the bathrobes that will convince you to ditch the towel wraps and t-shirts, according to our editors.