25 Group Halloween Costumes That Are Office Appropriate
Dressing up at work doesn't have to be boring.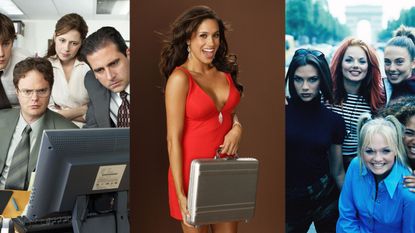 (Image credit: Getty Images)
Dressing up for Halloween at work throws you into a tricky predicament: You need to find a costume that's cute but won't get you in trouble with your boss—or, worse, HR (sorry, sexy cat costume from last year). Plus, before you whip out the face paint and the fairy wings, consider that you'll have to wear your full getup on your morning commute. But since dressing up with other people is more fun than going it alone, you should grab your coworkers and make Halloween a true group effort. Nothing promotes team bonding like deciding which wigs to wear or who will be which character from your favorite sitcom. Ahead, find 25 of the best group Halloween costumes that will win you and your coworkers a place in the costume contest (but also won't make you look crazy while sitting at your desk and actually getting work done).
1.The Cast of 'The Office'
This one might be obvious, but it's super easy to copy when you're in, well, the office. While you might not have a camera following you and your coworkers around every day, you should still stock up on your "World's Best Boss" mugs just in case. Bonus points for going as "hole punch Jim" for some added flair.
Gravity Shades New Non-Prescription Premium Aviator Clear Lens Glasses, $7
Dunder Mifflin Baseball Hat, $23
The Office World's Best Boss Ceramic Mug, $16
2.The Cast of 'The Wizard of Oz'
Make everyone's favorite childhood costume more modern with fashionable updates. Swap out the ruby slippers for a more subtle patent leather pair, and transform into the lion with a brown fuzzy coat that you'll be wearing all winter anyway.
I.AM.GIA Pixie Coat, $118
Repetto Rose Mary Jane Pumps, $365
Heroine Sport Marvel Legging, $99
Blue Plaid Square Neck Cami Dress, $23
3.The Briefcase Girls from 'Deal or No Deal'
Never forget that Meghan MArkle was once a briefcase girl on Deal or No Deal before her big break on Suits. All you need to copy the look is a briefcase each, some colored paper, and megawatt smiles. Put on the same dress in a single color, and you'll be good to go.
7.3 Inch Aluminum Laptop Attaché Briefcase, $57
4.The Cast of 'Ghosbusters'
If boiler suits are already your go-to fall outfit, then this costume will be super easy to copy. Complete the look with custom patches. Now, the only ghosts you'll be fighting this Halloween are the ones of exes past.
Alex Mill Expedition Jumpsuit, $198
Ghostbusters Name Tags & No Ghost Sign Logo Applique Patches, $12
5.The Cast of 'Mad Men'
The outfits on Mad Men are some of the best in TV history, so there's no good reason not to get dressed up in your '60s best this Halloween. From shirt dresses to dainty silk neckerchiefs, it only takes a few items to achieve vintage outfit perfection.
Diane Von Furstenberg Addilyn Silk Crêpe de Chine Dress, $398
SHOP IT

Navy Tie-Neck Blouse, $316
Black Halo High Waisted Pencil Skirt, $230
6.The Cast of 'Orange is the New Black'
Here's another super easy costume to copy. Bid Piper and the rest of Litchfield Penitentiary adieu with your best all-orange or all-beige getup this year.
Abercrombie and Fitch Puff Sleeve Utility Jumpsuit, $32.99
7.Harry Potter, Ron Weasley, and Hermione Granger from 'Harry Potter'
Delight your inner Potterhead this year and get dressed up in the Gryffindor garb you've been secretly hiding in the back of your closet since middle school. The costumes might get more relaxed later in the series, but I'm still obsessed with these adorable house uniforms.
Harry Potter Gryffindor Patch Knit Scarf, $20
Hermione Granger's Wand, $23
ASOS DESIGN Round Glasses in Gunmetal With Clear Lens, $16
8.The Cast of 'Pretty in Pink'
While everyone else is dressed up in their best The Breakfast Club-inspired looks, consider going as something a little more underrated: the cast of Pretty in Pink. Molly Ringwald stars as Andie Walsh, the tie-dye obsessed OG fashion girl caught between her love for her best friend, Duckie, and her preppy dream boy, Dale. Cue the oversized blazers, mixed prints, and wildly teased hair.
Zara Plaid Double-Breasted Blazer, $119
Rebecca Minkoff Pink Tie Dye Dress, $89
H&M Easy-Iron Slim Fit Shirt, $34
9.The Belcher Family From 'Bob's Burgers'
If you're looking for a funny costume option, allow the Belcher family from Bob's Burgers to serve as your inspiration. Grab some chunky square-framed glasses and a pink bunny and you'll totally nail the look. Tina Belcher's awesome dance moves not included.
Bob's Burgers Louise Pink Bunny Ears Hat, $14
Classic Oprah Square Eyewear Non-prescription Thick Glasses Frame, $14
Everlane T-Shirt, $18
10.The Spice Girls
Spicing up your life has never been so easy. Whether you're a Posh Spice or a closeted Sporty Spice lover, grab your girls and go all out. While wearing Ginger's infamous flag dress might not work for the usual 9-5, there's no denying the appeal of dressing up like the world's most popular girlband.
Norma Kamali Tube Mini Dress, $98
ASOS DESIGN Sweat Suit, $51
Ginger Power 1990s Union Jack British Flag Dress Costume, $21
Baby Spice Vintage Spice Girls Logo Tee, $13
ASOS Leopard Print Jumpsuit, $22.40
11.The Cast of 'Mean Girls'
Halloween might fall on a Saturday this year, but that doesn't mean you shouldn't wear pink. But don't stop at The Plastics for your Mean Girls costume inspiration. Grab "the best people you'll ever meet" and add Janis and Ian into the mix, too.
A Little Bit Dramatic Tank, $10
Pink Pleated Mini Skirt, $16
Aeropostale Men's Solid Uniform Logo Rugby Polo Shirt, $25
ASOS Crew Neck Sweater, $45
12.The Cast of 'Sex and the City'
You can't really go wrong with dressing up as Carrie, Miranda, Charlotte, and Samantha this Halloween. Plus, you might be able to find some of the items in your wardrobe.
Veronica Beard Vest, $237
Chimi Square Sunglasses, $98
Nanushka Dress, $275
Magda Butrym, $984
13.The Cast of 'Friends'
Another fun group Halloween costume idea: The cast of Friends. Why not organize your group to dress up as the most loved cast of all time?
ASOS Black Vest, $32

SHOP IT
Agolde Denim Vest, $155
Banana Republic Sweater Top, $55
14.The Cast of 'Now and Then'
Now and Then had many '90s summer looks that can easily be turned into a costume this Halloween, and I'm sure you'll find some of these pieces in your summer wardrobe. Look for crop tops, a matching printed set, printed t-shirts, and jumpsuits.
Sleeper Floral Set, $220
Free People Corset Top, $68
Free People Ribbed Tee, $28
Mango Denim Short Jumpsuit, $59.99
15.The Cast of 'Heathers'
Do you have an office clique and an obsession with blazers? Then you don't have to think twice about your group Halloween costume.

Nasty Gal Double Breasted Blazer, $42
ASOS Yellow Blazer, $50
Aritzia Power Blazer, $198
Eliza J Black Velvet Blazer, $118
16.Supermodels
Get your girl gang together to catwalk down the hallway in your office with gold gowns.
Galvan Metallic Dress, $478

SHOP IT
17.The Cast of 'Toy Story'
Toy Story will forever be a go-to when planning Halloween costumes, especially if you're planning to get a large group together. You'll find that everyone connects with a character.

Buzz Lightyear T-Shirt,$19.99
Woody T-Shirt,$20
Jessie T-Shirt, $20
18.Charlie's Angels
The outfits from Charlie's Angels can be put together from all the black pieces in your wardrobe. Don't forget to get a picture of your Charlie's Angel pose.
ASOS Black Vest, $32

SHOP IT
ASOS Black Blazer, $56
19.The Cast of 'The Addams Family'
If you can't figure out who how many people will be part of your group costume, The Addams Family are a good option. They'll forever make a good Halloween costume with pieces that can be re-worn and styled daily.
Tommy Hilfiger Black Shift Dress, $89

SHOP IT
Halston V-Neck Gown, $395
SHOP IT

Monki Black and White Striped Shirt, $16
20.The Cast of 'Hamilton'
If you can't stop listening to the Hamilton soundtrack and don't have a Halloween costume yet—we found it for you. Get your friends, family, or colleagues together to recreate members of the Hamilton cast.
Tailcoat Jacket, $32
Victorian Medieval Dress, $49
21.The Cast of 'The Avengers'
Superheroes always make the best Halloween costumes, don't they?
Black Widow Costume, $46
Capitan America Costume, $47
Hulk Smash Hands, $27
Iron Man Gloves, $11.24
Julia Marzovilla is the E-Commerce Editor at Marie Claire, where she covers everything from the latest beauty and fashion launches and sales to celebrity outfits and news. She also creates shopping guides that span every vertical on the site. Prior to joining the Marie Claire team, she contributed similar shopping stories to sites such as Bustle, InStyle, The Zoe Report, Who What Wear, and STYLECASTER. In her spare time, Julia can be found creating shopping guides for all of her friends, spending too much money on yet another pair of black boots, and cooking in her far-too-small kitchen.