53 Celebrity Airport Outfits That Make Absolutely No Sense
Gowns, pasties, and oversized sombreros.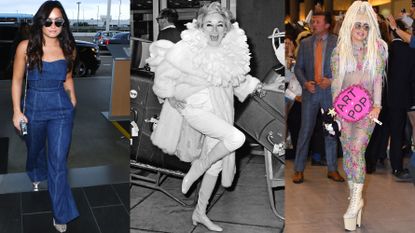 (Image credit: Getty Images)
For us regular people, standard airport attire involves our comfiest sweats and sneakers, perfect for catching a few Zzzs while squeezed into a seat designed for a doll. (Although if you want to be both chic and comfortable while flying, check out our tips for elevating your airport style.) But when it comes to celebrities, many choose fashion over function, and most times, the looks make no sense. From Paris Hilton to Cardi B, these celebrities have made some questionable choices when it comes to airport dressing. Click through to see 53 of the wildest, most nonsensical travel looks over the years.
1. Brigitte Bardot, 1965
Arriving at Paris' Orly airport after a trip to Mexico, Bardot's all smiles. But something tells us her seat mates were less than thrilled about her choice of hat?
2. Phyllis Diller, 1968
When this photo was taken, American comedian Phyllis Diller had just arrived at London's Heathrow airport with 35 (!) suitcases. Which is perhaps why she's wearing an absurd amount of fabric around her neck...so she doesn't have to check a 36th bag?
3. Nicolas Cage, 2004
Before he was stealing the Declaration of Independence, Cage gave us an airport look that can only be described as leather cowboy.
4. Miley Cyrus, 2010
Long sweater, teeeeeeny shorts.
5. Lady Gaga, 2011
Though we love the monochrome look Gaga wore to Tokyo's Narita airport, her stilettos are maniacally high.
6. Candice Swanepoel, 2012
Shearling and short shorts. If she's trying to confuse us about where she's heading, it's working.
7. Ashley Greene, 2012
Dragging hems are not your friend when you're going somewhere with people movers, escalators, and a generally gross floors.
8. Khloé Kardashian, 2015
I get it: jumpsuits SEEM like practical airplane wear, very Top Gun and casual chic! But then you have to pee and you're topless in an 2x2 plane bathroom or gross airport stall with your sleeves around your ankles and...never again.
9. Serena Williams, 2016
Like we said, very Top Gun.
10. Kim Kardashian, 2012
Having to carry your skirt as you walk is glamorous when you're strolling a red carpet. When you're hustling through the airport, it's just dumb.
11. Candice Swanepoel, 2013
Candice appears to be stepping on the hem of her maxi skirt, but that doesn't stop her from powering through her airport walk like the supermodel that she is.
12. Lady Gaga, 2012
At Tokyo's Narita airport in 2012. Never not wearing ridiculous airport shoes.
13. Lady Gaga 2014
Two years later and again at Tokyo's Narita airport, still wearing ankle-breaking airport shoes, but this time she's paired them with...a sparkly, nude bodysuit?
14. Nicole Scherzinger, 2012
How on earth is she not paranoid that she's stepping on the back of her dress the entire time?
15. Taylor Swift, 2014
On the flip side of the Too-Long Hem, you have Teeny Tiny Shorts, which you don't want to wear either, because a) You've got SO MUCH of your bare skin exposed to the gross airplane seat and b) HOW are you not cold?
16. Kim Kardashian, 2014
"My go-to comfy airplane outfit always involves a skin-tight pencil skirt," said no one, ever.
17. Lady Gaga, 2014
Arriving in Istanbul in...this...in 2014. She's in a league all her own.
18. Lady Gaga, 2014:
At South Korea's Gimpo Airport, this time, wearing cheeks appliques that makes her look like a Pokémon character.
19. Cate Blanchett, 2014
Even always-appropriately-dressed Cate Blanchett fell prey to the jumpsuit's seductive charm.
20. Lady Gaga, 2015
Didn't even make it to curbside check in before tripping in these shoes.
21. Kim Kardashian, 2015
Instead of bringing a blanket, Kim is practically wearing one. We hope the rest of her outfit is just as comfortable.
22. Steven Tyler, 2015
We're pretty sure dogs are technically considered luggage, but we guess they can be airport accessories too.
23. Erykah Badu, 2015
Who would win in a fight: Badu's hat here or Pharrell's that he wore to the 2014 Grammys?
24. Ariana Grande, 2015
She's also wearing The Practical-Until-You-Have-to-Pee Jumpsuit, but it's her footwear that kills us.
25. Kate Hudson, 2015
Like, that scarf isn't going to keep you warm on the overly air conditioned plane when you're wearing hot pants.
26. Pamela Anderson, 2015:
It's basically a butterfly cocoon, but chic.
27. Lady Gaga, 2015
Impractical train + crotch-baring slit. Double weird airport outfit whammy.
28. Cate Blanchett, 2020
So chic until you realize you have somehow have to get comfortable in your very small airport seat white wearing a leather jumpsuit.
29. Victoria Beckham, 2015
Don't get me wrong, Victoria looks great here. But a matching two piece suit and heels to the airport feels like she's doing the most.
30. Kesha, 2016
A feather dress seems great in theory, but we'd be freaking out that some would come loose.
31. Paris Hilton, 2016
The heiress needs to take her sunglasses off and watch where she's stepping in this gown and heels situation.
32. Bai Ling, 2016
I don't want even to see the person in the seat next to me wearing open-toed shoes or too sheer leggings, but underboob?! That's a whole other level.
33. Chris Pine, 2016
Only Pine could wear overalls with a straw fedora hat and make it look normal, and for that, we thank him.
34. Kesha, 2016
Though Kesha loves her airport maxi dresses, she tightly clutches on to this one just in case she takes a tumble.
35. Paris Hilton, 2016
This time, Paris chose a maxi dress with a slit in the front to give her legs some additional walking room.
36. Pixie Lott, 2016
When life gives you lemons, you make....a lemon-printed ensemble, down to the bag and shoes?
37. Demi Lovato, 2016
Super cute! But a denim jumpsuit combo sounds rather uncomfortable.
38. Kesha, 2017
From the very high platforms to the overalls to the black hat, we don't know how Kesha did it.
39. Rihanna, 2018
Rihanna had us until the oversized jacket that looks like it could fit a family of four... But it's RiRi so obviously we're down to support this 'fit.
40. Bella Thorne, 2018