7 Valentine's Day Outfit Ideas for Anything You're Planning
Go beyond the pink or red dress.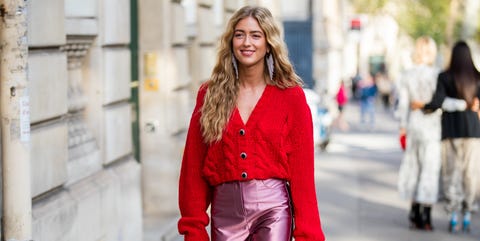 Christian Vierig
Getty Images
It's tough to master holiday dressing without falling into clichés, especially when it comes to Valentine's Day. Because you shouldn't have to worry about dressing yourself in something other than head-to-toe heart prints, we've come up with alternative outfits that don't scream cheesy. These looks stay true to the romantic spirit of V-Day, with pops of pink and red here and there, but feel like ensembles you can wear all year round. We've even suggested ways to incorporate heart designs into your outfit, should you want, without it feeling overdone. Since your outfit is taken care of, the only thing left now is to solidify those date night plans with your partner.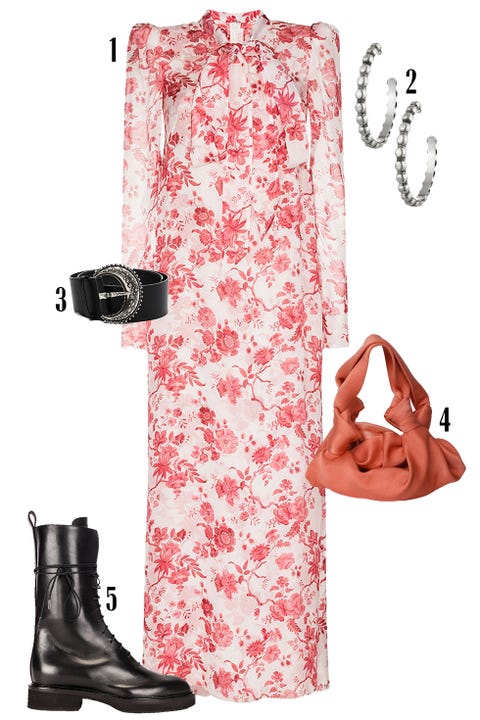 Design by Morgan McMullen
Festive Florals
Nothing screams romantic like a high-neck floral dress. This specific dress by The Vampire's Wife is called the "Unconditional Floral Dress" and is inspired by the John Lennon quote 'Love is a flower, you've got to let it grow." So, a dress named after unconditional love…I can't think of anything more perfect for Valentine's Day. To avoid the clichés, toughen up the look with edgy accessories that can take you from day to night depending on your plans.
Shop the look: 1.The Vampire's Wife dress, $1,315; 2. Danijo hoops, $170; 3. Etro belt, $324; 4. The Row bag, $495; 5. Khaite boots, $1,240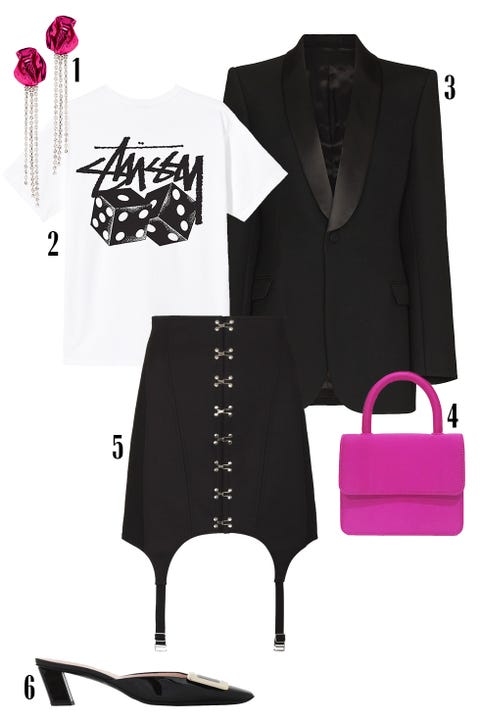 Design by Morgan McMullen
Out From Under
Finding the perfect date night look is tough. The key is to pay tribute to the holiday with subtle touches like pops of pink and a corset-style mini skirt. The corset detail feels lingerie-esque, which is appropriate for Valentine's Day, but when styled with a laidback t-shirt and a chic oversized tuxedo jacket the outfit is sexy without being too literal. Slip on some chic mules and top it off with some festive accessories to add a pop of color.
Shop the look: 1. Sterling King earrings, $349; 2. Stussy t-shirt, $40; 3. WARDROBE.NYC tuxedo blazer, $995; 4. Gelareh Mizrahi bag, $495; 5. Dion Lee skirt, $690; 6. Roger Vivier mules, $750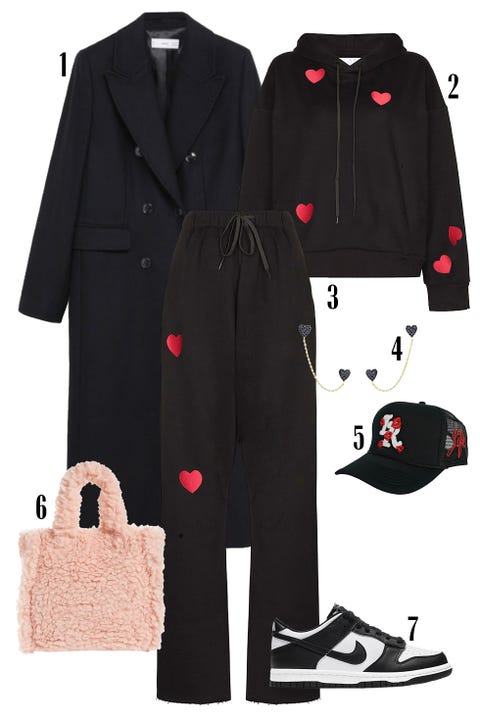 Design by Morgan McMullen
V-Day The Cool Way
So you think head-to-toe hearts on V-Day is lame? I beg to differ. Start with a Natasha Zinko heart-print sweatsuit paired with Nike dunks. Add some more loved-up accessories like a La Ropa trucker hat and some edgy chain black heart earrings. A sleek black coat and a shearling pink bag tie this 'fit together. By incorporating streetwear elements, rocking head to toe hearts has never been cooler.
Shop the look: 1. Mango coat, $170; 2. Natasha Zinko hoodie, $398; 3. Natasha Zinko track pants, $361; 4. Guys n Gals earring, $25; 5. La Ropa hat, $59.99; 6. Stand Studio bag, $230; 7. Nike sneakers, $249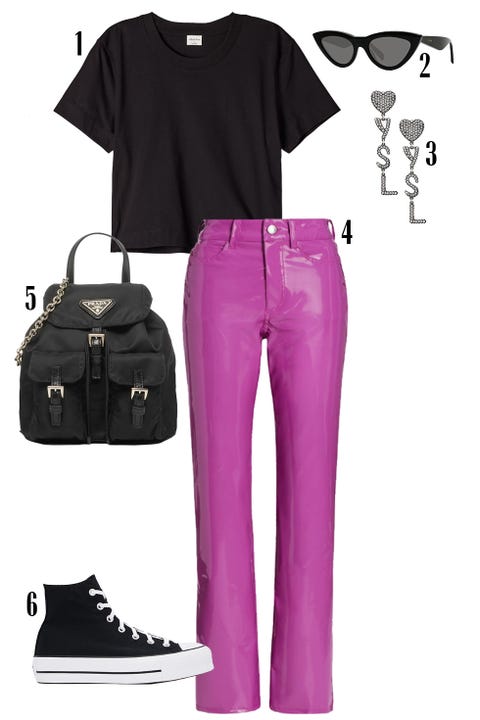 Design by Morgan McMullen
Loved Up With an Edge
I call this look loved-up with an edge—perfect for my cool girls out there. Offset the bold bottoms with a simple black tee, platform sneakers, a mini backpack, and some sleek sunnies for a festive daytime look. Transition to your nighttime plans by swapping in some sexy stilettos and an evening bag. Regardless of your itinerary, crystal heart earrings are the ideal V-Day accessory. Bonus tip for my girls in a cold weather climates: Add a cropped black puffer jacket.
Shop the look: 1. Wilfred t-shirt, $30; 2. Celine sunglasses, $390; 3. Saint Laurent earrings, $795; 4. Simon Miller pants, $395; 5. Prada backpack, $1,320; 6. Converse platform sneakers, $70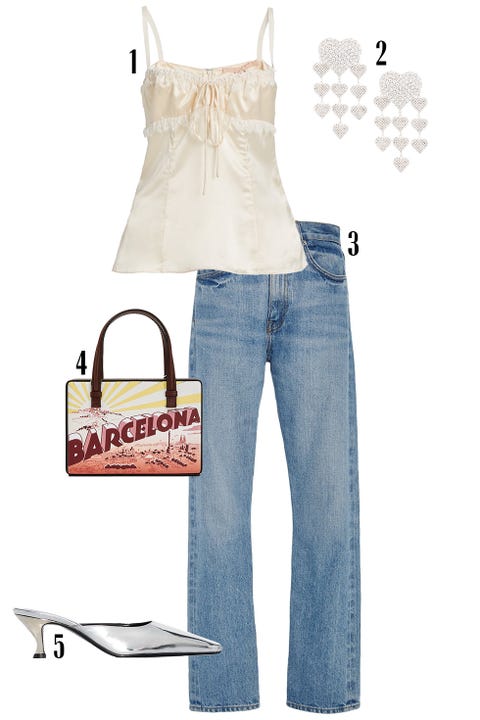 Design by Morgan McMullen
Simple is Sexy
Sometimes, the thought of outfit planning makes you want to cancel your plans altogether. Before you completely give up, go back to the basics. Take the pressure off of yourself when it comes to your Valentine's Day outfit. Simple is sexy, and in my opinion there is nothing sexier than a little slinky top and some jeans. The satin and lace combo on the top gives the look a romantic feel. Accessory-wise, rock a metallic mule, a fun little bag, and some kitschy heart earrings to add an extra something.
Shop the look: 1.Brock Collection top, $600; 2. Alessandra Rich earrings, $167; 3. Brock Collection jeans, $475; 4. Loewe bag, $2,700; 5. Kwaidan Editions mules, $587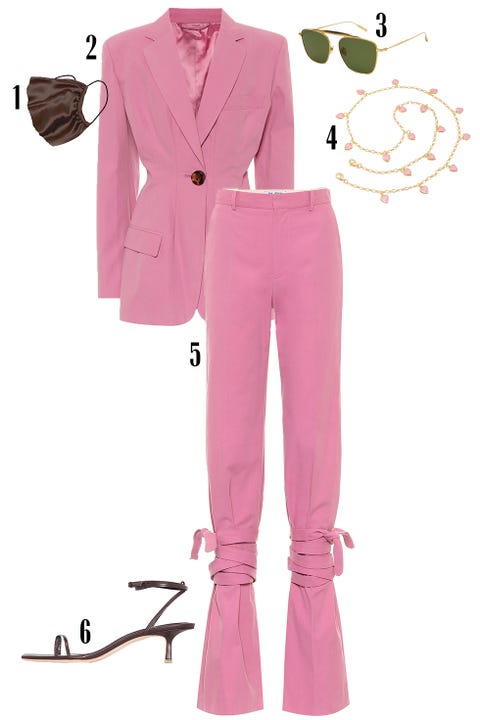 Design by Morgan McMullen
A Pink Power-Suit
Valentine's Day should be about self-love, and that's not limited to couples. If you're spending the day with your girls you should feel confident and sexy, and nothing screams boss like a good power suit. This pink one cinches in at the waist and ties at the bottom, perfect for showcasing some strappy sandals or cool kicks. Complete your look with cool girl sunnies, a silk mask, and a mask chain with hearts—because it's the day of love, after all.
Shop the look: 1.KES pack of 5 face masks, $67; 2. The Attico blazer, $779; 3. Amavii sunglasses, $225; 4. Frasier Sterling mask chain, $28; 5. The Attico pants, $359; 6. Studio Amelia sandals, $324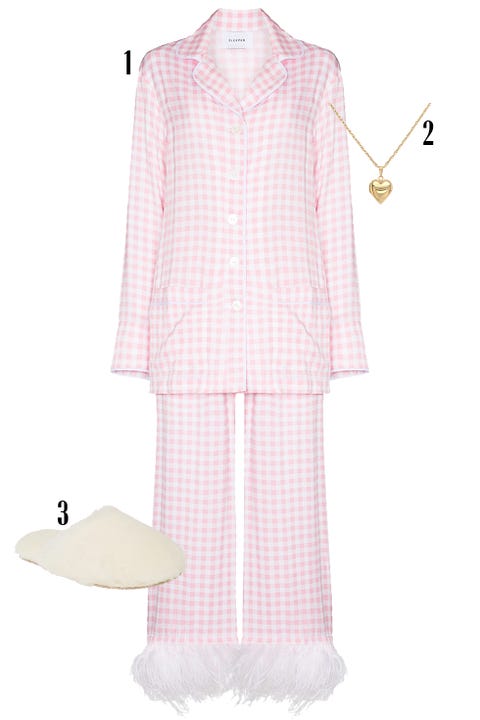 Design by Morgan McMullen
The "I'm Staying in PJ Set"
In my opinion, going out on Valentine's Day sucks. The combination of pre-fixed menus and below freezing temperatures is just not my idea of fun. So why not stay in? If you're looking for a reason to rock a feathered pajama set, this is your opportunity. Pair your set with a sweet locket and some cozy slippers.
Shop the look: 1. Sleeper PJ set, $251; 2. AARYAH locket, $250; 3. Patricia Green slippers, $90
This content is created and maintained by a third party, and imported onto this page to help users provide their email addresses. You may be able to find more information about this and similar content at piano.io