Fashion Editors Remember Their First "It Bags"
I took a look back and enlisted the help of MC staffers as well as some fashion insider friends to share their stories of their very first It Bags.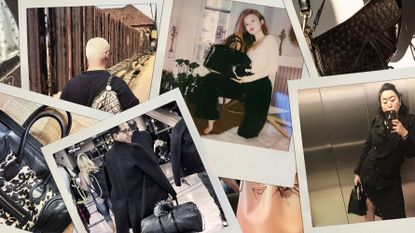 (Image credit: Hearst Owned)
Marie Claire Newsletter
Celebrity news, beauty, fashion advice, and fascinating features, delivered straight to your inbox!
Thank you for signing up to Marie Claire. You will receive a verification email shortly.
There was a problem. Please refresh the page and try again.
Sometimes we have got to look back in order to move forward—and fashion is probably the greatest place to take a trip down memory lane. In these recent days of slowing down and reflecting, I've been finding myself thinking about not only happier times, but also about the fashion items from the past that really excited me and the concept of fanatic shopping. I'm not talking about trying to jump onto trendy styles and shapes per se, but being on the hunt for that ONE thing you have got to have. The thing that gives you the rush, the chase, and the satisfaction of conquering the piece that you were fixated on. Handbags are perfect for that: They're one-size-fits-all, universally for all-ages (both North West and her Grandma Kris Jenner have Birkins, okay?) and I've always thought you could be dressed like a total slob, but if you have a strong handbag game, you're still kinda chic. There are more "It Bag" phenomena than I can even count. I credit celebrity obsession going hand-in-hand with that fanatic handbag obsession. The getting on a wait-list, call-around-to-every-store-in-the-country, burning with envy kind of obsession. Handbags are also great time capsule pieces. They can speak to what mattered to you culturally and practically in your life, the people you admired, and how you saw yourself fitting into in your social environment. Fascinating fashion anthropology! Because I'm a highly sentimental person, I took a look back and enlisted the help of MC staffers as well as some fashion insider friends to share their stories of their very first It Bags.
1/12
Aya Kanai, Editor-in-Chief, Marie Claire
THE BAG: Hervé Chapelier tote
When I was in high school I met a new friend who went to another school who I thought was the coolest person I'd ever met. She had an Hervé Chapelier tote that she used as her school bag. She had been to Paris (what?!) and got this bag there. I didn't even know how to get one. I recently bought several on eBay and I am thrilled! Every time I wear one people bring up their stories of the late 90's. I love it.
2/12
J Errico, Fashion Director, Marie Claire
THE BAG: Louis Vuitton Spring 2001 Keepall in collaboration with Stephen Sprouse in hunter green
It was an absolute must for me. Before all this "collab culture," Marc Jacobs (at Louis Vuitton) was the first to marry high fashion with art—street art no less—and I had to have it. I went to the store in SoHo and got on the list straight away. I paid $700-800 for it. At the time that was a lot of money for me. Now, a Keepall starts closer to $2000 and goes up from there. I still use it all the time. It has never, and will never be out of style. It's a collector's item and it makes me happy every time I use it. I don't even put it away in my house, I leave it out so I can look at it. I'm really working on getting that perfectly broken-in patina.
3/12
Julia Gall, Accessories Director, Marie Claire
THE BAG: Nicky Hilton and Samantha Thavasa collaboration star bag
Like any good suburban high school student in the early aughts, I was OBSESSED with tabloid culture and that of course meant being very hip to Kitson's latest offerings including the Nicky Hilton and Samantha Thavasa collaboration. The details on this bag are impeccable: The star zipper charms couldn't be cuter and the expandable zipper was crucial in case I wanted I carry six Lancôm Juicy Tubes instead of four. To be honest, this bag is still really cute—stars never really go out of style. I think it could be fab in the summer paired with a white cotton hippie dress.
4/12
Wanyi Jiang, Design Director, Marie Claire
THE BAG: Givenchy Antigona
I saw Karmen Pedaru carry it during fashion week in 2011 and thought I NEED THIS BAG what IS IT, and zoomed in on it in Photoshop. I bought it full price from Bergdorf Goodman and carried it until the strap literally broke off. I had it refurbished, but then Miranda Kerr wore it and it kind of became too popular to be 'It' anymore.
5/12
Tina Craig, founder of Bag Snob and U Beauty
THE BAG: Dior saddle bag
I'll never forget my first Dior purchase: It was in July 2000, on a trip to Paris with my grandmother and favorite aunt. I had been dreaming of a Dior saddle bag for a long time, mostly thanks to Carrie Bradshaw. I loved the way she insouciantly tucked it under her arm, as if it was almost nothing special, but there was no mistake: This bag, originally released in 1999, all swerving lines and asymmetry, was singularly unique. When I came across the ostrich variation in Galleries Lafayette, I was still weighing the investment. My aunt encouraged me to get it. "Dior never goes out of style," she insisted, and she was right! Twenty years later, it's a mainstay in my closet yet again, now with a personal update — a woven guitar strap from the house's 2019 season. Times may change and grow more complicated, but great bags never do. When they've got the elusive X-factor, they always come back around.
6/12
Miguel Enamorado, Fashion Director, Harper's Bazaar
THE BAG: Louis Vuitton keepall in damier graphite
It was 2011 and I finally got my Louis Vuitton Keepall. It was the new damier graphite version from newly appointed creative director (of Louis Vuitton menswear) Kim Jones.
7/12
Tiffany Reid, Fashion Director, Bustle Digital Group
THE BAG: Celine Luggage bag
I have spent money on plenty of bags since, but this was the first time I spent my own assistant dollars on a bag. I was poor! I never wear it, the bag is trashed now since 2011.
8/12
Rebecca Ramsey, Fashion Director, New York Magazine & The Cut
THE BAG: Louis Vuitton pochette
I bought this bag for myself when I graduated high school and wore it all the time as a college freshman, with tanks, scarf tops (ha!), denim jackets, and even a fleece (it was in Ann Arbor after all). Though the strap was short and I couldn't fit much more than a cell phone (which were giant in the 2000s), I like to think that my love for this pochette was the gateway to my large collection of pouches and tiny bags. One if the "It Bags" that still feels relevant today, I may just dig it out of storage now.
9/12
Karla Martinez de Salas, Editor-in-Chief, Vogue Mexico & Latin America
THE BAG: Celine Classic Box Bag in black and gold
After I left my job at W Magazine and moved to Mexico (in 2016), I thought about what bag I wanted to buy. I bought one bag that I have worn for years since. I still use it so much!
10/12
Mickey Boardman, Editorial Director, Paper Magazine
THE BAG: Stella McCartney Falabella
I'm a cruelty-free vegetarian, but also a shopaholic fashion lover, so it can sometimes be tough to participate in the It-Bag phenomenon. That's why the Stella McCartney Falabella was the answer to my It-Bag prayers. It's totally fabulous and totally cruelty-free. This is the bag I couldn't live without when it was launched in 2010. I had many Stella bags before then, but this was Stella's signature bag. I bought one right away and still have it. Since then I've gotten five or six other Falabellas and even more Stella bags in other styles. I used to buy whatever bags I could find at other brands but now I'm a "Stella Only" boy. I think the Falabella is timeless. People go crazy for them whenever I carry them and they recognize them as Stella. Although, one time I was walking near Penn Station [in New York City] and a middle-aged women ran out of a deli to tell me she loved my handbag. She asked where I got it and I said, "It's Stella McCartney." She looked confused and I said, "She's a famous fashion designer who is vegetarian." Nothing. "Her father was in the Beatles." Still nothing. She asked, "Was it expensive?" I told her it was. "It wasn't over $100 was it?" I said it was over $1000! She literally screamed and was outraged. "A thousand dollars for a handbag???? It is pretty though!"
11/12
Harling Ross, Brand Director, Man Repeller
THE BAG: Mansur Gavriel bucket bag
I remember they would sell out almost immediately every time Mansur Gavriel did a drop (in 2015), so one of my colleagues at the time had to make the purchase for me because I was in a meeting. It was very high-stakes. I still have it. I don't carry it as incessantly as I used to, but it makes me nostalgic every time I do. I think Mansur Gavriel is genius when it comes to creating "sticky" classics (i.e. wardrobe staples that latch onto your psyche to the extent that you can't stop thinking about them), like their monogrammed ballet flats a few seasons ago, so I wouldn't put it past them to reinvent the wheel in a way that nods to this prior iteration while also turning it into a current must-have.
12/12
Sasha Charnin Morrison, Style Director, CBS Watch
THE BAG: Givenchy George V gold-studded shopping tote
I really wanted the bag because truth be told, I'm influenced by a great look and anything that's close to what Mary Kate Olsen wears, I love. She walked around Paris in a jacket from fall 2007 Givenchy by Riccardo Tisci collection and I just about lost my mind. When I found out the jacket I coveted CAME AS A BAG I went batshit bananas. I think at the time it was $425. I was hemming and hawing over the price (!) and then...it sold out. Oy. Demented me texted Tina [Craig of BagSnob] with advice for where to find this thing: Any chance a store outside NY? No luck. After a massive womanhunt for this insanity, I hunted down the press director [of Givenchy] and somehow like a CSI 7th Avenue sleuth, she found the last one from Intermix for me and all was well with the world. But then my co-worker at the time really wanted this thing, too. Like REALLY CRAVED IT. And back then I felt compelled to GIVE. HER. THE. BAG. I don't know what came over me, it was a wash of good vibes or something but it was a nice gesture and then I went about my business and that was that. I guess it was about 2 years later and I saw a picture of the stylist and designer, Rachel Zoe walking down the street in LA with THE BAG. My co-worker didn't want to give it up. Why would she? I told my husband Will, who I have known since high school, about my drama. He looked at me and said "why don't you offer a trade?" Duhr. YES! I offered a trade. She chose one of the five bags I had. She was happy and I was elated. I will never sell it or trade even if you tried to pry it from my hands...If you can get it from my mighty kung fu grip! It's so rare and that's what excites me. It has nothing to do with quality or craftsmanship. It's not timeless or classic. It's just super special.
Celebrity news, beauty, fashion advice, and fascinating features, delivered straight to your inbox!
Julia Gall is the former Style Director at Marie Claire, covering all things fashion, as well as styling tips, wardrobe upkeep and sustainability. Check her out at @juliasgall.