The Shoes to Wear With Every Kind of Jeans
It's all about proportion, contrast and shapes.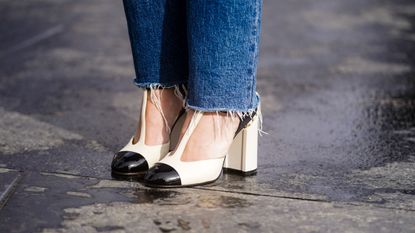 (Image credit: Edward Berthelot)
It's a no-brainer to throw on a pair of jeans and any shoe in your closet. Duh, that's why we all have multiple pairs of jeans. But why straddle the very delicate line between being "classic" and "basic"? Try out an interesting cut with a shoe style that complements it best. As we all know, not every denim shape is right for everyone, so treat this guide as a blueprint to creating the combos that work best for your shape and style. We're basically giving away style secrets here, people! But use caution: Just because there are infinite combinations of what could be paired together, doesn't mean they should be. Take the time to experiment and you'll definitely find your footing. In the list below, we dabble in color pairings, texture play, and proportion, all with the end goal of making your denim really shine.
Julia Gall is the former Style Director at Marie Claire, covering all things fashion, as well as styling tips, wardrobe upkeep and sustainability. Check her out at @juliasgall.