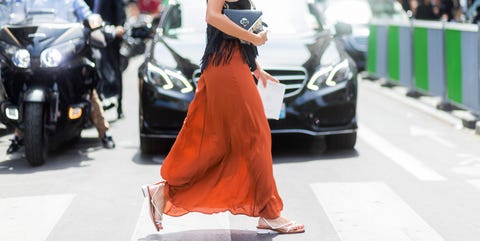 Christian Vierig
Getty Images
Before you buy a shoe (or anything, really), you're probably looking at the overall price, quality, and customer reviews. Personal accounts are important and though no two pairs of feet are alike, it gives you a good starting point. So when it comes to purchasing a new shoe for summer, I'm applying that same thought process.
I asked the Marie Claire team to send me the one shoe they're dying to have and wear for summer, whether that be a go-to sneaker or a trendy new sandal. (Seeing what's on everyone's wish list is kind of exhilarating and also somewhat revealing, right? No? Just me? Fine.) What I've discovered is that we're all practical, yet stylish, shoppers who opt for easy neutral footwear that can carry us all through summer. Your hunt for a new pair of shoes ends here. Below, read our editors first-hand accounts on their picks for the best summer shoes ever.
1
Tanya Patent-Leather Mules
By Far
net-a-porter.com
$370.00
"I have been eyeing these BY FAR sandals. There's nothing I love more than a practical heel and this one is very sensible (1.5 inches! A grass-friendly block shape!) while still being totally sexy. They're the perfect shoe for a summer wedding (gird your loins, wedding season is almost upon us!) paired with a dress or thrown on to elevate a cropped jean for Sunday brunch." —Sally Holmes, Digital Director
Coclico
coclico.com
$350.00
"Finally, the world has caught up with my love of orthopedic shoes! The pop of bright blue elastic is what sold me on the Cohen sandal by Coclico. It combines the ease of summer with my go-to hue (no matter what the season) and the little zing of color keeps it from being basic and boring. I can't wait for warmer temps and to pair the sandals with shirt dresses for work and with caftans for the neighborhood pool (I'm going full Golden Girls). Plus, Coclico offsets its carbon usage by investing in international renewable energy projects and being kind to Mother Earth never goes out of style." —Joyce Bautista Ferrari, Managing Editor
MIA
nordstrom.com
$109.95
"I want to hop on board the clog trend this summer before everyone does. This shoe from MIA is the perfect combination of a fisherman sandal with a wooden clog. Catch me clunking around at the office and on the weekends in these practical '90s-chic shoes made and designed in Sweden." —Morgan McMullen, Designer
Marc Fisher LTD
nordstrom.com
$179.95
"I'll wear a long-sleeve shirt in 80-degree weather, so naturally I refuse to give up my boots in the summer. I've been looking for a pair of white booties for a while now—ones that a) I can wear to the bar and the office, b) comfortably fit my wide feet, and c) look good with either skinny or bootcut jeans—to replace my favorite suede pair that helped me survive this brutally long winter. I'm a little hesitant about the width, but I plan on buying a size up in these Marc Fisher booties to make sure they're perfect. If all else fails, I'll go for this amazing Frye pair as my backup option." —Rachel Epstein, Assistant Editor
5
ASOS Design Hyphen Tubular Block Heeled Sandals
ASOS Design
us.asos.com
$56.00
"I honestly feel like a snakeskin-printed, twisted block heel will make me feel like the world is my runway. These slip-on sandals fall into the effortless shoe category that will instantly edge up a simple look." —Maya Allen, Beauty Editor
Birkenstock
birkenstock.com
$135.00
"I have been wearing a four strap, white, leather limited-edition Birkenstock sandal for four summers, but the sole is thinning and I would like to prolong their life a bit, so I am thinking of introducing another limited-edition Birkenstock into the fold. This crossover strap style comes in mauve in the USA and in a whitish grey in Europe. The strap style makes these shoes look a little dressier than the Arizona two strap model that has been making a comeback over the past few summers. I'm hoping the pink is neutral enough to go with most outfits." —Bridget Burns, Photo Editor
7
Ciao Bella Espadrille Mule
SOLUDOS
nordstrom.com
$84.95
"No footwear quite says summer like a pair of Soludos. Sure, the brand make booties for the fall, and excellent leather mules and loafers that are seasonless. But espadrilles—light, whimsical, easy to wear—are what they're known for. I already own a pair with a seersucker upper, but this summer I'm in the market for one of their cheekier designs, like this version with "ciao bella" emblazoned across the top. Neutral tones mean they'll match with everything, while also adding a bit of pizazz to an otherwise plain outfit. Strolling, shopping, sipping rosé—I see myself and this shoe having a lot of fun together this summer." —Danielle McNally, Features Director
8
Black Leather Strap Sandals
Ann Demeulemeester
ssense.com
$880.00
"My dream summer shoe is cool, looks like it could kick some ass, and is comfortable enough to stomp all over the city in. This summer, I'm torn between two options: Ann Demulemeester's platform sandals—preferably the non-patent version— and the Rick Owens X Birkenstock black and silver Arizona Rotterdam sandals. But I think the platforms are going to win out. I'm only 5'4'', so I'll take every extra inch I can get." —Jennifer Goldstein, Beauty & Health Director/Features Editor
9
Gita Sandal Brown Croc Embossed
Staud
staud.clothing
$325.00
"Staud, the Los Angeles It brand right now, just launched shoes, and I have to say they're even better than what I expected. I'm obsessing over this brown strappy sandal because it passes all of the tests to become my go-to shoe for summer. It's the perfect heel height, comes in an assortment of colors, and can easily dress up or down an outfit." —Adrienne Faurote, Fashion Market Assistant
10
adidas Originals Superstar Shoes
adidas Originals
amazon.com
$79.99
"It's a cliché, but I'm forever obsessed with the Adidas Superstar shoe, a.k.a. those iconic three-stripe sneakers that everyone wears. (I am, indeed, quite basic.) Right now I'm dragging out the lifespan of my beloved gold-striped pair, which have seen more snow and storms and mud than they were ever intended to, so I'm coveting a new pair for the summer. If it were up to me, these shoes are all I'd wear until it gets cold again." —Jenny Hollander, Deputy Editor
Taylor + Thomas
taylorandthomasla.com
$385.00
"When I receive packages with too much plastic or stuffing, I cringe thinking about the negative impact my purchases will have on the environment. I want to make a conscious effort to support more eco-friendly fashion brands and particularly love up-and-coming label Taylor + Thomas. Started by two female founders, Jessica Taylor Mead and Elizabeth Thomas James, the brand focuses on luxury footwear made with sustainable/vegan materials sourced from Italy and Japan. This flat stands out from your traditional ballerina styles and has a more cushioned/comfortable insole (made of corn!) for much-needed foot support. Prices might be luxe, but worth it for the quality." —Marina Liao, Fashion Editor

12
Lucia Block Heel Sandal
"I love a light-heeled sandal that goes with everything and this fits the bill. What I love about this Nisolo pair, specifically, is that the shoes come from a really responsible company. They're ethically made, meaning their producers get fair trade wages, healthcare, and a clean working environment. Plus, the brand sells direct to consumers, so you're getting what they actually cost without a silly markup. More companies should be like this." —Cady Drell, Senior Culture Editor
13
Mara Knot T-Strap Sandals
Ipanema
shopbop.com
$22.40
"I love love the rope/braided shoe trend for spring 2019. I need solid ankle support, even for my summer shoes, so I can't do the trendy slide (much to my chagrin—the '90s were my teens, y'all). This is stylish, cruelty free, 100 percent recyclable, and feels like a chic update to the other versions I used to wear, all without being too pricey." —Katherine J. Igoe, Morning News Editor

14
Kelsey Cut-Out Leather Sandals
Church's
matchesfashion.com
$461.00
"This summer the fisherman sandal is back and I can't wait to wear them a second time around (I'm pretty sure I had an identical version as a kid). I'll be pairing them with all of my summer dresses or a cropped khaki for the office." —Sara Holzman, Fashion Features Associate
15
Chuck Taylor All Star Classic Colors
Converse
converse.com
$50.00
"This summer I really must face up to the fact that my beloved Converse All Star low tops need desperate replacing. While Kristen Stewart can get away with wearing a pair that are white-turned-brown in an effortless rockstar fashion, a mere mortal like myself would just look raggedy. I'll be investing in a fresh pair because I wear my existing ones to death—they're the ultimate, classic summer sneaker for anyone who spends sunny days in lazy denim and t-shirts. Although, obviously, I will also be purposefully scuffing them up from day one, because they are so much cooler that way." —Lucy Wood, Morning News Editor
•••

For more stories like this, including celebrity news, beauty and fashion advice, savvy political commentary, and fascinating features, sign up for the Marie Claire newsletter.